U.S. Army Forces Command Trophy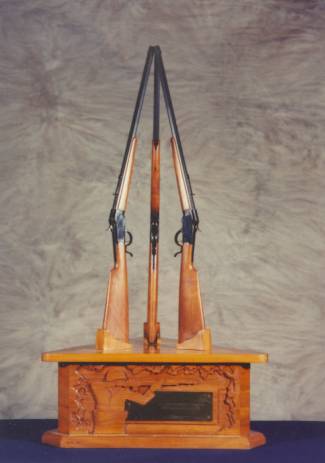 NATIONAL TROPHY INDIVIDUAL RIFLE MATCH
The U.S. Army Forces Command Rifle Trophy was presented to the NBPRP by the Commanding General, U.S. Army forces Command. The mounted rifles are circa 1900 Winchester low wall muskets, caliber .22 short with consecutive serial numbers, the highest of which was the last musket chambered for the .22 short cartridge. The trophy was designed and constructed by artisans of Rock Island Arsenal.
U.S. ARMY FORCES COMMAND RIFLE TROPHY WINNERS
AWARDED TO: ACTIVE ARMY COMPETITOR WITH HIGHEST AGGREGATE SCORE
| | | |
| --- | --- | --- |
| 2022 | SSG BEN CLELAND, USA | 995-59X |
| 2021 | SGT KADE JACHOVICH, USA | 995-50X |
| 2019 | SFC BRANDON GREEN, USA | 987-42X |
| 2018 | SFC BRANDON GREEN, USA | 996-67X |
| 2017 | SFC BRANDON GREEN, USA | 996-53X |
| 2016 | SGT AUGUSTUS DUNFEY, USA | 987-24X |
| 2015 | SGT DAVID BAHTEN, USA | 981-36X |
| 2014 | SSG BRANDON GREEN, USA | 988-47X |
| 2013 | SSG BRANDON GREEN, USA | 985-37X |
| 2012 | SPC AUGUSTUS DUNFEY, USA | 987-33X |
| 2011 | SSG COOPER TYREL, USA | 983-41X |
| 2010 | SFC LANCE DEMENT, USA | 981-34X |
| 2009 | SFC LANCE DEMENT, USA | 982-38X |
| 2008 | SPC TYREL COOPER, USA | 985-39X |
| 2007 | SFC GRANT SINGLEY, USA | 992-44X |
| 2006 | SFC LANCE HOPPER, USA | 986-37X |
| 2005 | SFC NORMAN ANDERSON, USA | 987-27X |
| 2004 | SSG NORMAN ANDERSON, USA | 785-30X |
| 2004 | SSG NORMAN ANDERSON, USA | 785-30X |
| 2003 | SFC LANCE HOPPER, USA | 983-23X |
| 2002 | SFC GRANT SINGLEY, USA | 988-45X |
| 2001 | SSG NORMAN ANDERSON, USA | 987-38X |
| 2000 | SGT LEWIS TIPPIE, USA | 959-27X |
| 1999 | SFC KEVIN McMAHON, USA | 987-36X |
| 1998 | SSG KEVIN McMAHON, USA | 886-30X |
| 1997 | SSG KEVIN McMAHON, USA | 987-39X |
| 1996 | SGT GRANT SINGLEY, USA | 982-49X |
| 1995 | SSGT RAND BENTSON, USA | 988-47X |
| 1994 | SGT LANCE DEMENT, USA | 949-30X |
| 1993 | CAPT ROBERT E. HARBISON, USA | 977-35X |
| 1992 | SFC BRUCE GILBREATH, USA | 966-23X |
| 1991 | SPC LANCE HOPPER, USA | 985-37X |
| 1990 | CAPT DAVID B. ERICKSON, USA | 990-32X |
| 1989 | SFC BRUCE GILBREATH, USA | 976-30X |
| 1988 | CPT DAVID B. ERICKSON, USA | 979-19X |
| 1987 | SSG GREG A. STROM, USA | 990-35X |
| 1986 | MAJ EDWARD L. SCHUMACHER, USA | 987-36X |
| 1985 | CPT DAVID B. ERICKSON, USA | 984-32X |
| 1984 | SSG GREG A. STROM, USA | 986-50X |
| 1983 | SSG CARL V. SPROUSE, JR., USA | 981-28X |
| 1982 | MSG WILLIAM R. LEE, USA | 980-46X |
| 1981 | CPT W. LEE DENEKE, USA | 981-40X |
| 1980 | MSG WILLIAM R. LEE, USA | 975-32X |
| 1979 | MSG WILLIAM R. LEE, USA | 949-18X |
| 1978 | MSG MARTIN D. EDMONDSON, USA | 974-26X |