The President's Rifle Trophy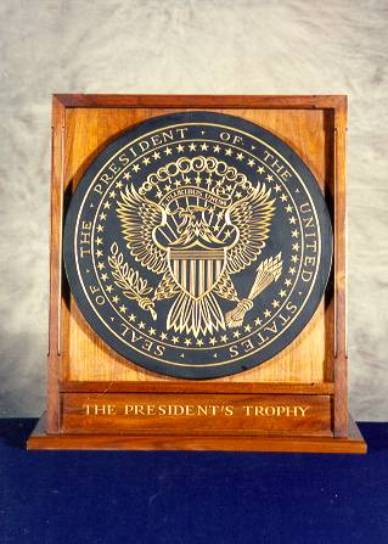 NATIONAL TROPHY RIFLE MATCH
The President's Rifle Trophy, purchased by the NBPRP in 1977, consists of a disk of black New England slate mounted on a hardwood base. The Presidential Seal is carved on the disk and gilded.
The President's Match became a National Trophy event in 1977. In prior years the NRA sponsored the match. During the period 1968-1976, the match was not a fired event; awards were based on aggregate scores of other fired matches.
THE PRESIDENT'S RIFLE TROPHY WINNERS
AWARDED TO: WINNER OF THE PRESIDENT'S RIFLE MATCH
NATIONAL RECORDS:
40 shots, SFC Brandon Green, USA, 400-20x, 2018
30 shots, SSgt Scott Threat USMC, 299-19X, 2001
| | | |
| --- | --- | --- |
| 2023 | SSG VERNE CONANT, USA | 399-20X |
| 2022 | SSG AMANDA ELSENBOSS, ARNG | 391-12X |
| 2021 | MAJ SAMUEL FREEMAN, ARNG | 396-19X |
| 2019 | SSG JOHN COGGSHALL, ARNG | 390-14X |
| 2018 | SFC BRANDON GREEN, USA | 400-20X |
| 2017 | JUSTIN UTLEY | 396-17X |
| 2016 | KEITH STEPHENS | 393-17X |
| 2015 | SSG KRISTOPHER FRIEND, USAR | 395-15X |
| 2014 | SGT AUGUSTUS DUNFEY, USA | 393-14X |
| 2013 | TROY LAWTON | 395-18X |
| 2012 | JARED PERRY | 398-16X |
| 2011 | KONRAD POWERS | 295-08X |
| 2010 | GySgt RON FUCHS, USMCR | 396-16X |
| 2009 | MARK LARAMIE | 390-13X |
| 2008 | SFC NORMAN ANDERSON, USAR | 393-13X |
| 2007 | SGT KRISTOFFER FRIEND, USAR | 392-10X |
| 2006 | SFC LANCE DEMENT, USA | 296-06X |
| 2005 | SFC NORMAN ANDERSON, USA | 297-17X |
| 2004 | MR CHRISTOPHER ATKINS of GEORGIA | 298-15X |
| 2003 | MR STANTON NOON of NEW YORK | 297-10X |
| 2002 | SFC KEVIN B MCMAHON, USA | 298-15X |
| 2001 | SSGT RICHARD SCOTT THREATT, USMC | 299-19X |
| 2000 | COL EDDIE NEWMAN, USA | 296-06X |
| 1999 | MSG JOHN CHUBB, USA | 295-10X |
| 1998 | GYSGT THOMAS B. GILBERT USMC | 298-12X |
| 1997 | SSG RICHARD S. ZOLNOWSKY, ARNG | 288-08X |
| 1996 | SGT GRANT SINGLEY, USA | 298-08X |
| 1995 | SFC JOHN CHUBB, USA | 298-12X |
| 1994 | SPC CHRISTOPHER HATCHER, USA | 296-11X |
| 1993 | SSGT KEVIN R. KISTLER, USMC | 293-11X |
| 1992 | SPC GRANT L. SINGLEY, USA | 295-14X |
| 1991 | SSGT KEVIN R. KISTLER, USMC | 297-09X |
| 1990 | SP4 LANCE HOPPER, USA | 293-09X |
| 1989 | SGT ROBERT J. TOMASIK, USMC | 295-11X |
| 1988 | MSG NELSON J. SHEW, ORNG | 297-14X |
| 1987 | SGT LOWELL D. JOHNSON, USAR | 290-08X |
| 1986 | CWO3 KENNETH R. COOPER, USMC | 296-14X |
| 1985 | CPT DAVID B. ERICKSON, USA | 298-12X |
| 1984 | SSG GREG A. STROM, USA | 296-10X |
| 1983 | TDCS RALPH J. LEGLER, USN | 296-12X |
| 1982 | COL KENNETH J. ERDMAN, USMCR | 298-10X |
| 1981 | MGYSGT RUSSELL E. MARTIN, USMC | 297-04X |
| 1980 | SP4 GREG A. STROM, USA | 297-10X |
| 1979 | PSG RICHARD M. SCHELLER, CTNG | 293-08X |
| 1978 | SPC GLEN H. HOFFER, PANG | 296-08X |
| 1977 | SP5 WILLIAM SWANTNER, USAR | 295-11X |
| 1976 | MR GARY L. ANDERSON of NEBRASKA | 997-58NF* |
| 1975 | MR GARY L. ANDERSON of NEBRASKA | 793-36NF* |
| 1974 | MR JACK P. SICOLA of CALIFORNIA | 787-36NF* |
| 1973 | MR GARY L. ANDERSON of NEBRASKA | 793-36NF* |
| 1972 | MR RONALD G. TROYER of OHIO | 785-24NF* |
| 1971 | MR RONALD G. TROYER of OHIO | 790-35NF* |
| 1970 | WO1 ROBERT L. GOLLER, USMC | 792-36NF* |
| 1969 | CAPT DONICE R. BARTLETT, USMC | 786-29NF* |
| 1968 | MR MIDDLETON TOMPKINS of CALIFORNIA | 789-29NF* |
| 1967 | SSGT ARPAIL J. GAPOL, USA | 295-09X |
| 1966 | SSGT D.A. THOMPSON, USAF | 149-15V |
| 1965 | PFC L.P. BEHLING, USA | 150-17V |
| 1964 | SSGT L. BYERS, USA | 149-15V |
| 1963 | SGT CHARLES W. GROVER, USA | 15015V |
| 1962 | CPL DAVID A. LUKE, USMC | 149-10V |
| 1961 | WO EMMETT D. DUNCAN, USMC | 150-12V |
| 1960 | SGT JAMES K. AVRIT, USA | 1501-12V |
| 1959 | CPL PHILLIP T. TOLOCZKO, USA | 149-14V |
| 1958 | MR. AMMON E. BELL of PENNSYLVANIA | 149-16V |
| 1957 | LT JOE A. DECKERT, USAF | 147-19V |
| 1956 | MSGT VIRGIL MILLER, USMC | 149-22V |
| 1955 | SGT EMMETT DUNCAN, USMC | 150-16V |
| 1954 | MR. FREDERICK J. WILLING of NEW YORK | 147-13V |
| 1953 | DELBERTO A. FAULKNER, USMC | 149-18V |
| 1952 | RALPH G. COX, USMC | 149-17V |
| 1951 | LT ARTHUR C. JACKSON, USAFR | 198-15V |
| 1940 | CPL THADDEUS A. FERENC, US INF | 146 |
| 1939 | SGT THOMAS J. JONES, USMC | 147 |
| 1938 | SGT EDWARD V. SEESER, USMC | 146 |
| 1937 | SGT CLARENCE J. ANDERSON, USMC | 147 |
| 1936 | CPL VALENTINE J. KRAVITZ, USMC | 147 |
| 1935 | SGT JOHN BLAKELY, USMC | 147 |
| 1931 | SGT R.A. HERIN | 145 |
| 1930 | SGT R.L. SPEERS, 17TH INF | 146 |
| 1929 | ENS CLARENCE E. COFFIN, USN | 147 |
| 1928 | SGT HARVEY R. KING, USMC | 146 |
| 1927 | CPL OREN J. TOBEY, USMC | 196 |
| 1926 | SGT JOHN M. THOMAS, USMC | 196 |
| 1925 | LT BRUCE C. HIEL, US ENGINEERS | 194 |
| 1924 | LT LOUIS V. JONES, US INFANTRY | 190 |
| 1923 | LT PIERSON E. CONRADT, USMC | 192 |
| 1922 | CAPT E.W. KING, COAST ARTILLERY CORPS | 191 |
| 1921 | MR O.B. EMSHWILLER of MINNESOTA | 243 |
| 1920 | LT MICHAEL FODY US CAV | 296 |
| 1919 | SGT J.B. RHINE, COAST ARTILLERY CORPS | 289 |
| 1918 | SGT H.J. HAFFNER | 285 |
| 1916 | CPT W.GARLAND FAY, COAST ARTILLERY CORPS | 290 |
| 1915 | SGT ANDREW HAGEN, USMC | 247 |
| 1913 | CAPT WILLIAM H. CLOPTON, US CAV | 266 |
| 1912 | CPL CEDRIC LONG, MANG | 235 |
| 1911 | CPL CALVIN A. LLOYD, USMC | 281 |
| 1910 | SGT W.A. FRAGNER, USMC | 283 |
| 1909 | MIDSHIPMAN ANDREW D. DENNY, USN | 316 |
| 1908 | SGT ARTHUR BREST | 304 |
| 1907 | SGT W.A. BERG, DCNG | 310 |
| 1906 | PVT E.C. SIMPSON, CTNG | 193 |
| 1905 | SGT C.E. ORR, OHNG | 292 |
| 1904 | PVT HOWARD GENSCH, NJNG | 192 |
| 1903 | LT KELLOGG KENNON VENERABLE CASEY, NYNG | 192 |
| 1902 | PVT G.E. COOK, DC NG | 189X210 |
| 1901 | LT H.H. LEIZER, DCNG | 137 |
| 1900 | CAPT WALTER F. WHITTEMORE | 262 |
| 1899 | LT F.C. WILSON, GANG | 267 |
| 1897 | F.C. BATTEY, GANG | 190 |
| 1896 | SFT THOMAS J DOLAN, NY | 178 |
| 1895 | SGT WILLIAM BOYLE, NYNG | 126 |
| 1894 | SGT C.W. DICKEY, DCNG | 64 |