GySgt Carlos Hathcock Trophy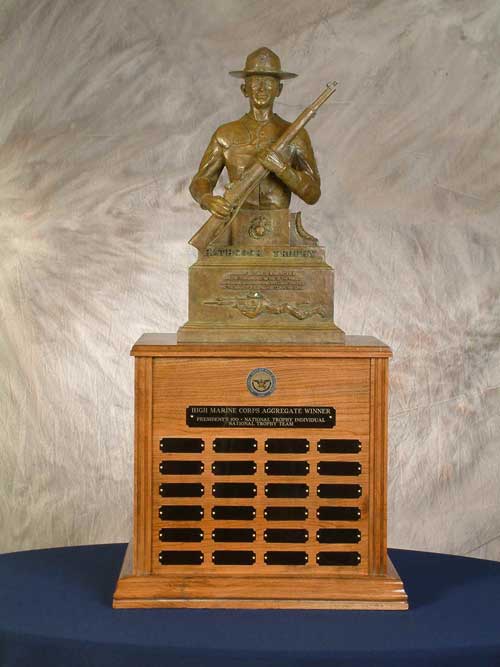 NATIONAL TROPHY INDIVIDUAL RIFLE MATCH
The GySgt Carlos Hathcock Trophy was added to the National Trophy collection in 2003. Jim Vose and Ken Odom, along with donations from citizens and the shooting industry, funded the trophy.
AWARDED TO: THE MARINE CORPS COMPETITOR WITH THE HIGHEST SCORE IN THE AGGREGATE OF THE PRESIDENT'S MATCH, THE NATIONAL TROPHY INDIVIDUAL MATCH AND THE NATIONAL TROPHY TEAM MATCH.
| | | |
| --- | --- | --- |
| 2022 | GYSGT CHAD RANTON, USMC | 1271-52X |
| 2021 | Sgt CHRISTOPHER WILLIAMS, USMC | 1283-51X |
| 2019 | SSgt STEPHEN FERGUSON, USMC | 1278-43X |
| 2018 | SSgt STEPHEN FERGUSON, USMC | 1277-49X |
| 2017 | SSgt TIMOTHY SNYDER, USMC | 1276-33X |
| 2016 | SSgt TIMOTHY SNYDER, USMC | |
| 2015 | SSgt TIMOTHY SNYDER, USMC | 1275-41X |
| 2014 | MSgt JULIA CARLSON, USMCR | 1278-51X |
| 2013 | MSgt JULIA WATSON, USMCR | 1282-52X |
| 2012 | MSgt JULIA WATSON, USMCR | 1270-35X |
| 2011 | Sgt MARK WINDMASSINGER, USMC | 1264-45X |
| 2010 | GYSGT RON FUCHS, USMCR | 1272-39X |
| 2009 | CWO2 DUANE LEDFORD, USMC | 1257-33X |
| 2008 | Sgt ARIN PRESTON, USMC | 1270-41X |
| 2007 | GySgt JULIA WATSON, USMCR | 1276-63X |
| 2006 | SSgt DANIEL DUITSMAN, USMC | 1279-38X |
| 2005 | GySgt JULIA WATSON, USMCR | 1268-40X |
| 2004 | MSgt ALEXANDER ARRIETA, USMC | 1067-27X |
| 2003 | Sgt JEROME BOSTICK, USMC | 1278-55X |