Gold Cup Trophy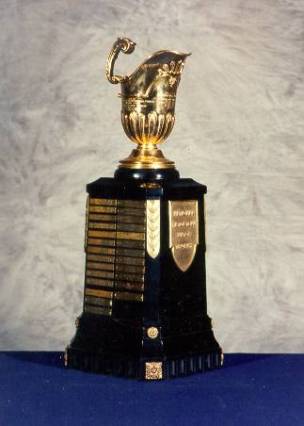 NATIONAL TROPHY PISTOL TEAM MATCH
The Gold Cup Trophy was presented to General John J. Pershing by the Minister of War of the Republic of China to be used as the first place award in the pistol match among the Allies at Le Mans, France in 1919. The American Expeditionary Force (AEF) Pistol Team won the award and then presented it for annual competition in the National Trophy Pistol Team Match.
The Gold Cup Trophy is a helmet-shaped gold cup, engraved and mounted on an ebony base.
GOLD CUP TROPHY WINNERS
AWARDED TO: WINNING TEAM IN THE NATIONAL TROPHY TEAM PISTOL MATCH
NATIONAL MATCHES RECORD: U.S. Army Western, 1158-36X, 1963
| | | |
| --- | --- | --- |
| 2023 | USAMU BLUE | 1130-34X |
| 2022 | USAMU BLUE | 1118-35X |
| 2021 | USAMU BLUE | 1117-36X |
| 2019 | NCRPA | 1109-30X |
| 2018 | USAMU BLUE | 1120-29X |
| 2017 | USAMU BLUE | 1112-26X |
| 2016 | USAMU BLUE | 1143-45X |
| 2015 | USAMU BLUE | 1150-43X |
| 2014 | USAMU BLUE | 1124-24X |
| 2013 | USAMU BLUE | 1134-08X |
| 2012 | USAMU BLUE | 1141-43X |
| 2011 | US ARMY BLUE | 1126-33X |
| 2010 | USAMU BLUE | 1141-32X |
| 2009 | US ARMY BLUE | 1142-41X |
| 2008 | US ARMY BLUE | 1116-23X |
| 2007 | US ARMY BLUE | 1126-33X |
| 2006 | USMC SCARLET | 1133-37X |
| 2005 | USMC SCARLET | 1114-30X |
| 2004 | USAR BLACK | 1102-29X |
| 2003 | USAMU BLUE | 1115-32X |
| 2002 | USAR BLACK | 1112-23X |
| 2001 | USAR BLACK | 1118-32X |
| 2000 | USMC SCARLET | 1117-32X |
| 1999 | USAMU BLUE | 1125-07X |
| 1998 | USAMU BLUE | 1114-25X |
| 1997 | ALL GUARD GOLD | 1130-32X |
| 1996 | ALL GUARD BLUE | 1112-23X |
| 1995 | USMC SCARLET | 1124-29X |
| 1994 | NATIONAL GUARD BUREAU BLUE | 1111-33X |
| 1993 | USMC SCARLET | 1126-26X |
| 1992 | USMC GOLD | 1133-30X |
| 1991 | USMC SCARLET | 1115-30X |
| 1990 | USMC SCARLET | 1121-35X |
| 1989 | USMC SCARLET | 1130-27X |
| 1988 | USMC SCARLET | 1129-23X |
| 1987 | ALL NATIONAL GUARD BLUE | 1126-27X |
| 1986 | ALL NATIONAL GUARD BLUE | 1132-33X |
| 1985 | US ARMY BLUE | 1127-37X |
| 1984 | US MARINE CORPS GOLD | 1135-38X |
| 1983 | ALL NATIONAL GUARD BLUE | 1114-28X |
| 1982 | US MARINE CORPS TARAWA | 1132-26X |
| 1981 | ALL NATIONAL GUARD BLUE | 1120-26X |
| 1980 | US MARINE CORPS CAMOFLAGE | 1129-32X |
| 1979 | US ARMY BLUE | 1119-34X |
| 1978 | US ARMY BLUE | 1135-32X |
| 1977 | US ARMY BLUE | 1126-39X |
| 1976 | US ARMY WESTERN | 1097-26X |
| 1975 | US ARMY BLUE | 1131-24X |
| 1974 | US ARMY BLUE | 1130-21X |
| 1973 | US ARMY BLUE | 1140-41X |
| 1972 | US ARMY | 1143-39X |
| 1971 | US ARMY WESTERN REGION | 1139-32X |
| 1970 | US MARINE CORPS RED | 1149-44X |
| 1969 | US ARMY MTU BLUE | 1136-35X |
| 1967 | US ARMY BLUE | 1144-35X |
| 1966 | US AIR FORCE SILVER WESTERN | 1149 |
| 1965 | US ARMY BLUE | 1143 |
| 1964 | US ARMY MTU BLUE | 1128 |
| 1963 | US ARMY WESTERN | 1158-36X |
| 1962 | US ARMY WESTERN | 1129 |
| 1961 | US ARMY BLUE | 1132 |
| 1960 | US ARMY PACIFIC | 1132 |
| 1959 | US MARINE CORPS BLUE | 1127-26X |
| 1958 | US ARMY | 1128 |
| 1957 | US ARMY | 1136 |
| 1956 | US MARINE CORPS | 1221X1200 |
| 1955 | US ARMY | 1137X1200 |
| 1954 | US ARMY GREY | 1108X1200 |
| 1953 | US ARMY | 1103X1200 |
| 1952 | US MARINE CORPS | 1116 |
| 1951 | US MARINE CORPS | 1088 |
| 1949 | US MARINE CORPS SCHOOL | 1085 |
| 1947 | LOS ANGELES POLICE | 1068 |
| 1940 | US INFANTRY | 1343 |
| 1939 | US MARINE CORPS | 1315 |
| 1938 | US INFANTRY | 1335 |
| 1937 | LOS ANGELES | 1332 |
| 1936 | LOS ANGELES POLICE | 1264 |
| 1935 | US MARINE CORPS | 1264 |
| 1931 | US CALVRY | 1261 |
| 1930 | US MARINE CORPS | 1304 |
| 1929 | US MARINE CORPS | 1256 |
| 1928 | US MARINE CORPS | 1315 |
| 1927 | US MARINE CORPS | 1259 |
| 1925 | US INFANTRY | 1201 |
| 1924 | US INFANTRY | 1313 |
| 1923 | US INFANTRY | 1313 |
| 1922 | US MARINE CORPS | 1236 |
| 1921 | US MARINE CORPS | 1318 |
| 1920 | US MARINE CORPS | 1330 |