General Patton Trophy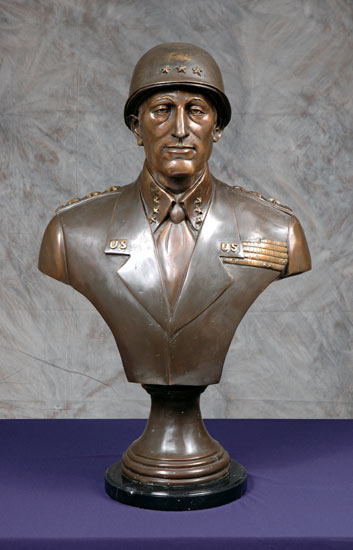 NATIONAL TROPHY PISTOL TEAM MATCH
The U.S. Armed Forces Command Trophy was retired in 2009. The General Patton Trophy was donated by a loyal CMP supporter who admires the men and women who defend our country and our freedom. The anonymous donor earned their Distinguished Pistol Shot Badge in 1992 and has been a competitor in every recent National Matches. The Patton Trophy honors the well-known World War II General.
US ARMY FORCES COMMAND TROPHY WINNERS
AWARDED TO: ACTIVE ARMY COMPETITOR WITH HIGHEST AGGREGATE SCORE IN THE NTI-NTT AGGREGATE.
NATIONAL RECORD: SFC Patrick Franks USA, 588-28X, 2015
| | | |
| --- | --- | --- |
| 2023 | SFC RYAN FRANKS, USA | 580-22X |
| 2022 | SFC RYAN FRANKS, USA | 585-23X |
| 2021 | SSG RYAN FRANKS, USA | 572-22X |
| 2019 | SFC GREG MARKOWSKI, USA | 583-20X |
| 2018 | SSG GREG MARKOWSKI, USA | 581-22X |
| 2018 | SSG GREG MARKOWSKI, USA | 581-22X |
| 2017 | SFC JAMES HENDERSON, USA | 568-14X |
| 2017 | SFC JAMES HENDERSON, USA | 568-14X |
| 2016 | SGT RYAN FRANKS, USA | 579-21X |
| 2016 | SGT RYAN FRANKS, USA | 579-21X |
| 2015 | SFC PATRICK FRANKS JR, USA | 588-28X |
| 2015 | SFC PATRICK FRANKS JR, USA | 588-28X |
| 2014 | SSG PATRICK FRANKS JR, USA | 569-19X |
| 2014 | SSG PATRICK FRANKS JR, USA | 569-19X |
| 2013 | SSG PATRICK FRANKS JR, USA | 577-23X |
| 2013 | SSG PATRICK FRANKS JR, USA | 577-23X |
| 2012 | SSG PATRICK FRANKS JR, USA | 578-23X |
| 2012 | SSG PATRICK FRANKS JR, USA | 578-23X |
| 2011 | SFC JAMES HENDERSON, USA | 576-18X |
| 2011 | SFC JAMES HENDERSON, USA | 576-18X |
| 2010 | SFC JAMES HENDERSON, USA | 580-18X |
| 2010 | SFC JAMES HENDERSON, USA | 580-18X |
| 2009 | SSG JAMES HENDERSON, USA | 588-25X |
| 2009 | SSG JAMES HENDERSON, USA | 588-25X |
| 2008 | SSG ROBERT PARK III, USA | 573-17X |
| 2008 | SSG ROBERT PARK III, USA | 573-17X |
| 2007 | SSG JAMES HENDERSON, USA | 586-23X |
| 2007 | SSG JAMES HENDERSON, USA | 586-23X |
| 2006 | SFC ADAM SOKOLOWSKI, USA | 575-13X |
| 2006 | SFC ADAM SOKOLOWSKI, USA | 575-13X |
| 2005 | SGT ROBERT PARK II, USA | 579-13X |
| 2005 | SGT ROBERT PARK II, USA | 579-13X |
| 2004 | SSG TRAVIS HINRICHSEN, USA | 559-11X |
| 2004 | SSG TRAVIS HINRICHSEN, USA | 559-11X |
| 2003 | SSG THOMAS ROSE, USA | 571-20X |
| 2003 | SSG THOMAS ROSE, USA | 571-20X |
| 2002 | SSG THOMAS ROSE, USA | 556-12X |
| 2002 | SSG THOMAS ROSE, USA | 556-12X |
| 2001 | SFC ROGER JACOBSON, USA | 565-15X |
| 2001 | SFC ROGER JACOBSON, USA | 565-15X |
| 2000 | SFC ROGER JACOBSON, USA | 577-13X |
| 2000 | SFC ROGER JACOBSON, USA | 577-13X |
| 1999 | PVT ADAM SOKOLOWSKI | 571-12X |
| 1999 | PVT ADAM SOKOLOWSKI | 571-12X |
| 1998 | SPC THOMAS A. ROSE | 565-10X |
| 1998 | SPC THOMAS A. ROSE | 565-10X |
| 1997 | CAPT STEVEN KING, USA | 560-19X |
| 1997 | CAPT STEVEN KING, USA | 560-19X |
| 1996 | SGT ROGER JACOBSON | 548-07X |
| 1996 | SGT ROGER JACOBSON | 548-07X |
| 1995 | SFC ROSCOE CASTLE | 554-13X |
| 1995 | SFC ROSCOE CASTLE | 554-13X |
| 1994 | SFC GARY W. MARSH, USA | 556-14X |
| 1994 | SFC GARY W. MARSH, USA | 556-14X |
| 1993 | SFC GARY W. MARSH, USA | 562-10X |
| 1993 | SFC GARY W. MARSH, USA | 562-10X |
| 1992 | SGT ROGER JACOBSON, USA | 556-08X |
| 1992 | SGT ROGER JACOBSON, USA | 556-08X |
| 1991 | MSG RONALD D. HALE, USA | 553-18X |
| 1991 | MSG RONALD D. HALE, USA | 553-18X |
| 1990 | SFC JIMMIE W. McCOY, USA | 565-15X |
| 1990 | SFC JIMMIE W. McCOY, USA | 565-15X |
| 1989 | SSG GARY W. MARSH, USA | 567-19X |
| 1989 | SSG GARY W. MARSH, USA | 567-19X |
| 1988 | MSG ROGER H. WILLIS, USA | 571-18X |
| 1988 | MSG ROGER H. WILLIS, USA | 571-18X |
| 1987 | SSG WILLIAM ALBRECHT | 569-14X |
| 1987 | SSG WILLIAM ALBRECHT | 569-14X |
| 1986 | MSG ROGER H. WILLIS, USA | - |
| 1986 | MSG ROGER H. WILLIS, USA | - |
| 1985 | MSG THOMAS R. WOODS, USA | 573-17X |
| 1985 | MSG THOMAS R. WOODS, USA | 573-17X |
| 1984 | SFC JAMES R.I. LAGUANA, USA | 578-18X |
| 1984 | SFC JAMES R.I. LAGUANA, USA | 578-18X |
| 1983 | SFC THOMAS R. WOODS, USA | - |
| 1983 | SFC THOMAS R. WOODS, USA | - |
| 1982 | MSGT ROGER H. WILLIS, USA | 564-18X |
| 1982 | MSGT ROGER H. WILLIS, USA | 564-18X |
| 1981 | MSGT BONNIE HARMON, USA | 570-16X |
| 1981 | MSGT BONNIE HARMON, USA | 570-16X |
| 1980 | PFC CLINT HILBERT, USA | 576-23X |
| 1980 | PFC CLINT HILBERT, USA | 576-23X |
| 1979 | ENS PATRICK W. CORKILL, USN | 542-13X |
| 1979 | ENS PATRICK W. CORKILL, USN | 542-13X |
| 1978 | SGT JIMMIE W. McCOY, USA | 286-07X |
| 1978 | SGT JIMMIE W. McCOY, USA | 286-07X |