Fleet Admiral Nimitz Trophy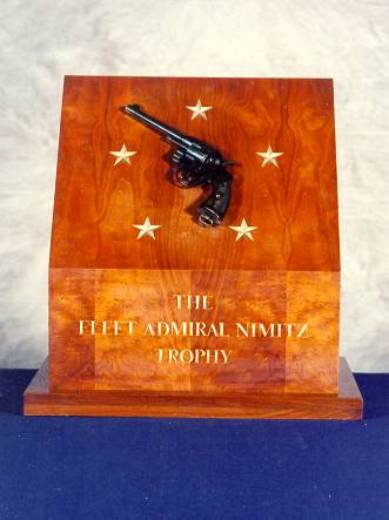 The Fleet Admiral Nimitz Trophy was presented to the NBPRP by the US Navy through private subscription among the officers and enlisted members of the Navy and Naval Reserve. The trophy is the pistol presented to Fleet Admiral Chester W. Nimitz in 1905 by his classmates, The Youngsters in his Company *05, at the US Naval Academy. Admiral Nimitz carried the pistol during WWII.
FLEET ADMIRAL NIMITZ TROPHY WINNERS
AWARDED TO: NAVY COMPETITOR (ACTIVE OR RESERVE) WITH HIGHEST AGGREGATE SCORE IN THE NTI-NTT AGGREGATE.
NATIONAL RECORD: AO2 Michael Kiger USNR, 577-18X
| | | |
| --- | --- | --- |
| 2023 | CDR JAMES SHAMBLEY, USN | 520-5X |
| 2022 | CDR PHILLIP GEIGER, USN | 558-19X |
| 2021 | FCCM BRIAN REED, USN | 523-8X |
| 2019 | CDR JONATHAN MARVELL, USN | 516-08X |
| 2018 | FCCS BRIAN REED, USN | 542-08X |
| 2017 | SENIOR C BRIAN REED, USN | 513-08X |
| 2016 | FCCS BRIAN REED, USN | 538-09X |
| 2015 | CDR MATT BARTEL, USN | 535-08X |
| 2014 | CDR MATT BARTEL | 527-07X |
| 2013 | CDR STEVEN KILLINGSWORTH, USNR | 537-12X |
| 2012 | LT RAY RICHARD, USN | 547-11X |
| 2011 | CDR STEVEN KILLINGSWORTH, USNR | 534-10X |
| 2010 | CDR STEVEN KILLINGSWORTH, USNR | 532-09X |
| 2009 | CDR GINO CELIA, JR, USNR | 538-13X |
| 2008 | LCDR MATT BARTEL, USN | 544-06X |
| 2007 | CPO MICHAEL CORNWALL USN | 551-13X |
| 2006 | CDR STEVEN KILLINGSWORTH, USNR | 562-13X |
| 2005 | CDR GINO CELIA, USNR | 549-08X |
| 2004 | CDR GINO CELIA, USNR | 560-16X |
| 2003 | SCPO GREG SILVEY, USN | 571-20X |
| 2002 | CAPTAIN TREVOR JONES, U.S. NAVY | 559-17X |
| 2001 | BU2 DON STONIER, USNR | 556-09X |
| 2000 | CDR JERRY BISH, USNR | 538-12X |
| 1999 | MCPO MICHAEL COPPINGER, NAVY | 545-08X |
| 1998 | CDR JEROME D. BISH, USNR | 540-13X |
| 1997 | CDR TED CARTER, USN | 545-07X |
| 1996 | ET-1 PAUL CHANDLER, USN | 543-11X |
| 1995 | CDR JERRY BISH, USNR | 559-13X |
| 1994 | BU2 DONALD STONIER, USNR | 555-18X |
| 1993 | CLARENCE W. MEHLENBECK, USN | 548-12X |
| 1992 | BU2 DONALD STONIER, USNR | 556-14X |
| 1991 | LCDR CLARENCE W. MEHLENBECK, USN | 539-08X |
| 1990 | ENS KEITH E. HANZEL | 561-09X |
| 1989 | LCDR JERRY C. BISH, USN | 547-14X |
| 1988 | LT WILLIAM C. KARDITZOS, USN | 550-13X |
| 1987 | LT D.J. AILISSANDRATOS, USN | 541-12X |
| 1986 | CDR DOUGLAS L McKINNEY, USN | 544-11X |
| 1985 | CHIEF JERRY ENDRES, USN | 548-08X |
| 1984 | ATC JERRY R. ENDRES, USN | 558-16X |
| 1983 | SW1 GEORGE TREANTAFEL, USNR | 512-05X |
| 1982 | ENS BERNT L. OYDNA, USN | 563-16X |
| 1981 | LCDR RALPH DARLING, USN | 562-12X |
| 1980 | PO1 JOSEPH WITHERELL, USN | 563-11X |
| 1979 | PATRICK W. CORKILL, USN | 542-13X |
| 1978 | AO2 MICHAEL R. KIGER, USNR | 577-18X |
| 1977 | PO1 DONALD HAMILTON, USNR | 569-16X |