Alden Partridge Trophy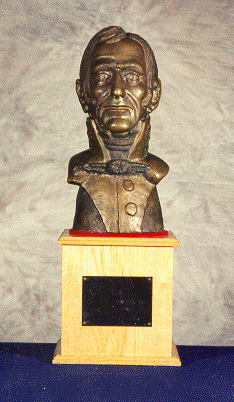 The Alden Partridge Trophy was presented to the NBPRP in 1971 by the President of Norwich University, Northfield, Vermont. The trophy is a bronze bust of General Alden Partridge, founder and first president of the university. Norwich was the first institution of higher learning to include military training as a part of its curriculum and is credited as the founding school of what is now known as the ROTC program.
ALDEN PARTRIDGE TROPHY WINNERS
AWARDED TO: HIGHEST SCORING SERVICE ACADEMY OR ROTC TEAM
Not Awarded in 2001-2009
*This trophy was made permanently inactive in 2009.
| | | |
| --- | --- | --- |
| 2000 | WEST POINT PISTOL TEAM | 749-08X |
| 1996 | COAST GUARD ACADEMY BEARS | 691-11X |
| 1995 | US COAST GUARD ACADEMY | 883-12X |
| 1994 | US COAST GUARD ACADEMY | 830-05X |
| 1993 | US MILITARY ACADEMY | 912-03X |
| 1992 | US COAST GUARD ACADEMY | 854-06X |
| 1991 | US NAVAL ACADEMY BLUE | 991-10X |
| 1990 | US NAVAL ACADEMY | 1076-12X |
| 1989 | USMA GOAT BUSTERS | 993-18X |
| 1988 | USMA GOAT BUSTERS | 1033-18X |
| 1987 | US MILITARY ACADEMY | 1035-19X |
| 1984 | US NAVAL ACADEMY MULESKINNERS | 1053-17X |
| 1981 | US NAVAL ACADEMY | 1004-10X |
| 1980 | US MILITARY ACADEMY | 1013-17X |
| 1978 | US MILITARY ACADEMY BLACK | 1076-17X |
| 1977 | US MILITARY ACADEMY | 1061-15X |
| 1976 | US NAVEL ACADEMY BLUE | 1030-18X |
| 1975 | US MILITARY ACADEMY GOLD | 1023-17X |
| 1974 | US MILITARY ACADEMY GOLD | 1025-15X |
| 1973 | US AIR FORCE ACADEMY | 1015-15X |