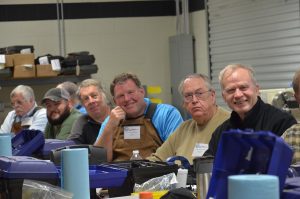 Designed for those who wish to take their passion for the venerable M1 Garand to the next level, the Advanced Maintenance Class (AMC) offers students a unique opportunity to receive unparalleled training from our knowledgeable Custom Shop Staff. Participants will be exposed to all information required to safely assemble a complete CMP Special rifle under the direct supervision of our expert gunsmiths.
With the overwhelming popularity of the AMC, we will once again have 8 classes for 2017. Each class will be a three-day event and have a capacity of 20 students. CLASSES ARE HELD IN ANNISTON, AL ONLY.
2017 AMC Class Dates:
Aug. 15-17 (Buddy Class)
Aug 18-20 (Buddy Class)
Oct 24-26
Oct 27-29
Registration for the electronic lottery used to randomly assign the 20 available seats for each class date will be open between November 21 and December 2. We will again use the CMP Competition Tracker software. This will allow individuals to register for the classes they can attend and applicants will be randomly drawn to attend the class or be placed on a waitlist. Registration for multiple classes is permitted but no applicant will be selected for more than one slot. NO FORMER AMC PARTICIPANTS MAY REGISTER FOR 2017.
A confirmation email will be sent to each accepted participant, which will include a hidden link to the CMP eStore that will be used to complete the registration process. The class must be purchased on the eStore through the sent link by Jan. 15, 2017. Failure to meet this deadline will result in forfeiture of your slot to the next applicant on a wait list.
Special "Buddy" classes:
Two "Buddy" classes will be held in August. These classes facilitate pairs of students wanting to take the class together, such as father/son, husband/wife, brothers or just friends. Only one member of the "Buddy" team may register.  You must indicate your "Buddy" and their city and state along with either their date of birth or CMP Competitor Number, upon registration. Each student attending the "Buddy" classes will have to pay the fee of $1830.00.
CMP Custom Shop:
1803 Coleman Rd, Anniston, Alabama
The three-day class is intended for individuals interested in knowing how the M1 Garand rifle functions in detail, as well as those desiring to know how to properly perform advanced maintenance procedures to their personal rifle(s). The class involves classroom lecture as well as hands-on shop time.  Tools will be provided for students to use during the class.
This class is not intended for gunsmiths or students with advanced knowledge of the M1 rifle. No prior armorer or shooting experience is required to attend the class. Students will each assemble from parts their own CMP Special rifle (manufacturer of receiver may vary depending on the current inventory available) that is included in the AMC fee.  Some of the key components of the class will include:
Component purpose and function
Use of gauges
Commercial barrel installation, chambering and headspace
Component selection and inspection
Fitting and proper assembly of a complete CMP Special rifle
Some discussion of malfunctions and their remedies
Accurizing techniques for the M1
WHAT TO BRING:
Students will only need to bring themselves, safety glasses and a shop apron.
ACCOMMODATIONS AND FEES:
Individuals who attend the AMC in Anniston, Alabama, must arrange your own housing. To find accommodations in Anniston, visit http://thecmp.org/competitions/cmp-national-matches/area-lodging-links/area-lodging-links-al/ (Ask for the CMP Rate).
There is a $1,830 fee for the class and includes the CMP Special Rifle that participants will build in the class and three lunches that are provided. The class fee of $800 will be charged to the credit card when paperwork is received ($150 of your class tuition fee should be considered as a non refundable "registration fee"). All applicants chosen for either a class, will be required to submit Form 3A by January 31, 2016. The rest of the paperwork and eligiblity requirements must be turned in the first day of the class along with the rifle payment.
Cancellation requests may be submitted by email or phone to the Custom Shop at [email protected] or call (256) 835-8455, ext. 513. Late cancellations, made within 30 days of the class start date, will be subject to forfeiture of an additional $300. The balance of the class fee plus applicable taxes for the CMP Special Rifle will be charged to the credit card provided during the class. Shipping is included in the class fee.
FOR MORE INFORMATION:
If you want more information about CMP AMC, please contact Jeremy Coppock, Custom Shop Relations Specialist, at [email protected] or (256) 835-8455, ext. 513.