CMP offers several opportunities to buy - and service - vintage rifles, including direct sales, auctions and custom gunsmithing. If you are looking to completely outfit a custom M1 Garand, this is the place for you!
CMP operations, warehousing, inspection & repair, test firing, sales order processing and distribution activities are headquartered in Anniston, Alabama.
The federal law that established the new CMP authorizes the Corporation to sell surplus .30 and.22 caliber military rifles, parts and ammunition to qualified U.S. citizens "for marksmanship". Accordingly, the CMP sells government-surplus M1 Garands, .22 caliber target rifles and small quantities of other rifles to qualified purchasers. Net revenue from CMP sales is used to fund operations and programs and to supplement a permanent endowment.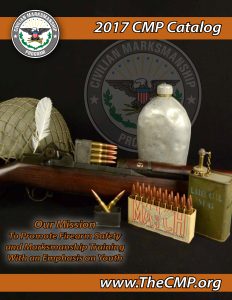 The CMP operates two successful retail stores and an on-line E-Store for eligible customers to make purchases. Click on the icons below to find out more information about the CMP Sales Program or email us at [email protected].
ORDER STATUS: Currently, most orders are shipping within 2-4 weeks. If you would like to check on your order, please email [email protected] (please include the order number (if known) in the subject line to expedite responses). Thank you for your support and patience!
10/11/17 An update on the 1911's…
We are waiting patiently and quietly to see how the NDAA 2018 turns out. All prescribed steps have been taken by CMP to fulfill the mandated requirements for receipt of the 1911s from the United States Army. CMP is in a constant state of readiness. The CMP has no further information at this time.
Thank you,
Mark Johnson
Chief Operating Officer

If you want the latest CMP Sales News, you'll find a link to subscribe to our E-mail service to receive regular updates.