Richard Weiser
Clemmons, NC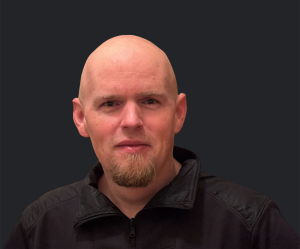 State Director Info
Background
My competitive shooting experience started in high school, where I was part of the Varsity Rifle Team at West Forsyth for four seasons. During this time, my high school friend Gabe DiCola, a highly decorated marksman, mentored me and instilled a true passion for the sport. This early mentorship laid the foundation for my lifelong involvement in shooting. I owe SGM Eugene Leadbetter, US Army (Retired), a massive debt of gratitude for the countless hours we spent fine-tuning my skills. While I crafted my skills as an athlete, I was unaware he was teaching me lessons about patience, clearing your mind, and steadying yourself under intense pressure that I would later apply to everyday situations.
After high school, I continued my passion by coaching my daughter from age eight, guiding her to become an NCAA Rifle Athlete at Jacksonville State University. When she joined the JROTC at West Forsyth, primarily to be part of the rifle team, I volunteered to coach alongside Senior Army Instructor Major Richard Sugg (Retired), US Army. We worked together to revitalize a team that had been dormant for years and remarkably led them to the National Championships within four years.
After my daughter graduated, I faced the emotional challenge of coaching at West Forsyth without her. It was a crossroads, but my passion for the sport and coaching never wavered. My friend, CMSgt Doug McIntyre, offered me a new path at this pivotal moment. He invited me to coach with him at Ronald Reagan Raiders AFJROTC Rifle Team in Pfafftown, NC.
Awards
NRA Certified Level 1 Rifle Coach and Basic JROTC Marksmanship Instructor Course
Personal Info
I am happily married and a proud parent to two children, Debi and Briana. My love for German Shepherd dogs is a significant part of who I am. Post-retirement, I aspire to breed and train service dogs for the K-9\'s for Wounded Warrior\'s Project – a cause close to my heart. My life revolves around my family, my country, my passion for shooting and my enthusiasm for technology. This blend of personal interests and professional goals defines who I am and drives my ambitions. I am the Full Stack Architect for Scopos, the creators of Orion, Athena and Rezults. I am deeply involved in revolutionizing the sport of shooting through innovative technology. Our mission at Scopos is to transform shooting into a spectator sport by integrating advanced technologies.
Reasons
The decision to pursue the role of State Director for North Carolina was deeply influenced by my late friend and the previous director, Harry Flynn. Harry and I often discussed the future of marksmanship in North Carolina, and he consistently encouraged me to consider taking over when he stepped down. Our conversations laid a strong foundation for the direction we both envisioned for the sport in our state. Before his passing, Harry expressed two wishes: to see my daughter Debi repeat as the North Carolina American Legion State Champion, achieving an unprecedented feat, and for me to step into the role of State Director. His belief in my passion for the sport and my ideas for elevating its recognition in the state was unwavering. Unfortunately, he did not live to see either achieved.
Taking on this role was not only about honoring Harry\'s wishes but also about fulfilling a personal goal to positively influence the sport, particularly among the youth. I am a staunch advocate for gun safety and deeply appreciate how the CMP\'s initiatives emphasize safety as a paramount concern. Becoming State Director represented an opportunity to drive these values and continue shaping the sport of marksmanship in a way that aligns with Harry\'s vision and my own.
Goals/Hopes
My vision for the future of junior shooting in North Carolina centers around establishing the state as a premier destination for the sport of marksmanship. A key goal is to expand and create more junior shooting programs across the state, with a particular focus on precision air and smallbore disciplines, where we currently see a lack of clubs and matches. To facilitate this, I aim to create a central website that will serve as a hub for coaches, match directors, range locations and a plethora of other resources vital to the sport in North Carolina.
While continuing my close work with JROTC programs, I am also eager to extend my support to all junior shooting programs across the state. Another significant objective is to increase the enrollment of athletes in these programs. Alongside this, I am determined to enhance the visibility of the sport in the media, raising its profile and drawing more attention and support to our young marksmen and markswomen. These efforts are all directed towards fostering a vibrant, well-supported and highly visible junior shooting community in North Carolina.
---
Ferguson, Others Spark New Records at 2022 Eastern CMP Games & Highpower Matches
CAMP BUTNER, N.C. – SSgt Stephen Ferguson, 40, of Blackstone, Virginia, set a new event record in the Springfield Match Course at the Civilian Marksmanship Program's (CMP) 2022 Eastern CMP Games & Highpower Matches, with a score of 295-13X. Ferguson edged the previous record, set by David Thompson in 2016, by only five X-shots.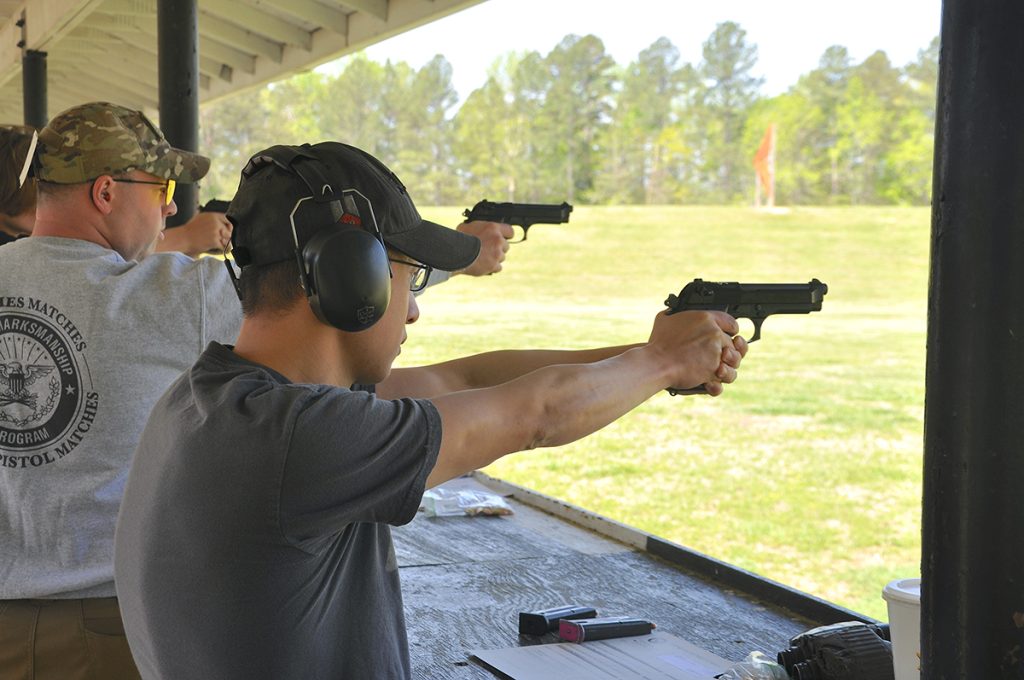 The annual Eastern Games was held April 22 to May 1 at Camp Butner in North Carolina, with over 400 participants firing in the variety of vintage, modern military, highpower rifle and pistol opportunities offered on the schedule. Designed to provide unique challenges to a wide spectrum of guests, the event is filled with recreational-style competitions and educational courses that are suitable for new and experienced enthusiasts.
Recognitions and awards for individual accomplishments, such as for Overall, High Woman, High Senior and High Junior competitors, are part of the CMP mission and are featured at each competitive event held throughout the year.
William Trowell, 58, of Raleigh, North Carolina, claimed the overall win in the As-Issued 1911 Pistol Match and commented on his positive experience during the 2022 Eastern Games, thanks to the CMP staff members' commitment to the sport and to the comfort of those in attendance.
"I saw that the CMP Support Staff was passionate in supporting the program and the shooters," he said. "Even us little shooters – to get the achievement medals in a ceremony is a big morale booster."
Trowell, who has been attending the Eastern Games since 2013, also earned the high non-distinguished honor and second place overall in the .22 Rimfire Pistol EIC Match.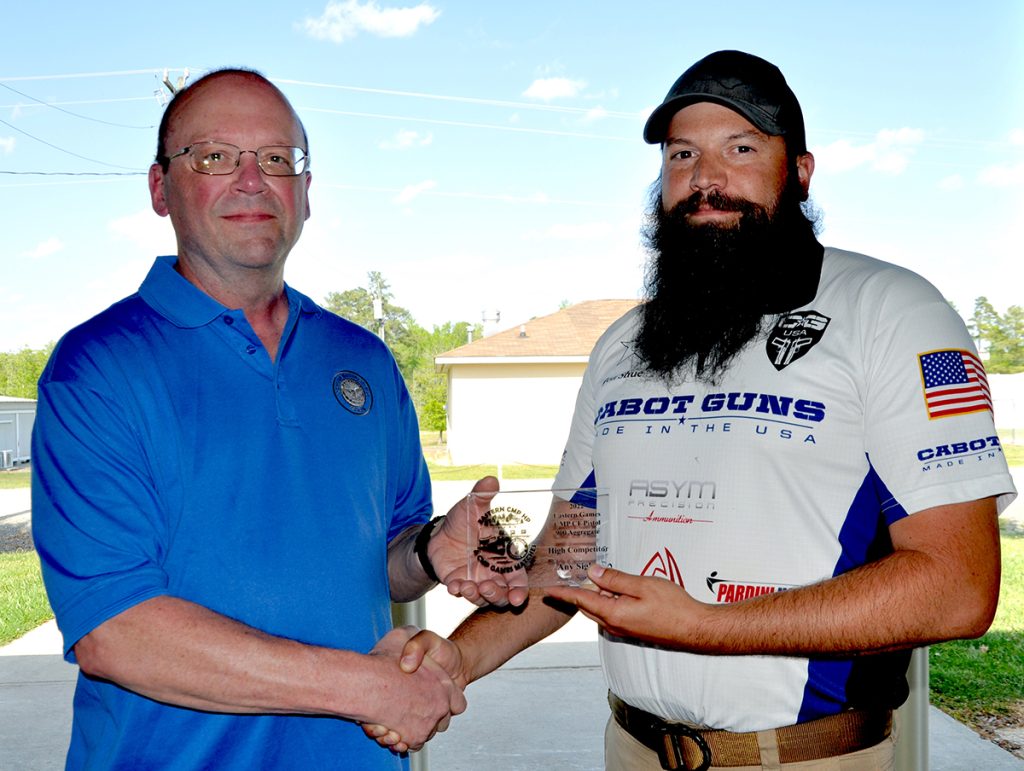 Winning the .22 competition was Jonathan Shue, 40, of Liberty, North Carolina. Shue went on to lead the Service Pistol EIC match, guiding him to the title of Overall Individual Pistol competitor of the Eastern Games event for his consistent outstanding scores.
Offered for the second year at Eastern Games was a series of pistol aggregate matches to further challenge competitors on the firing line. Overtaking the Match Pistol 2700 Aggregate, an accumulation of scores fired in the .22, .45 and Center Fire 900 Aggregates, was, again, Shue, after collecting all three 900 Aggregate wins and earning an overall score of 2628-125X.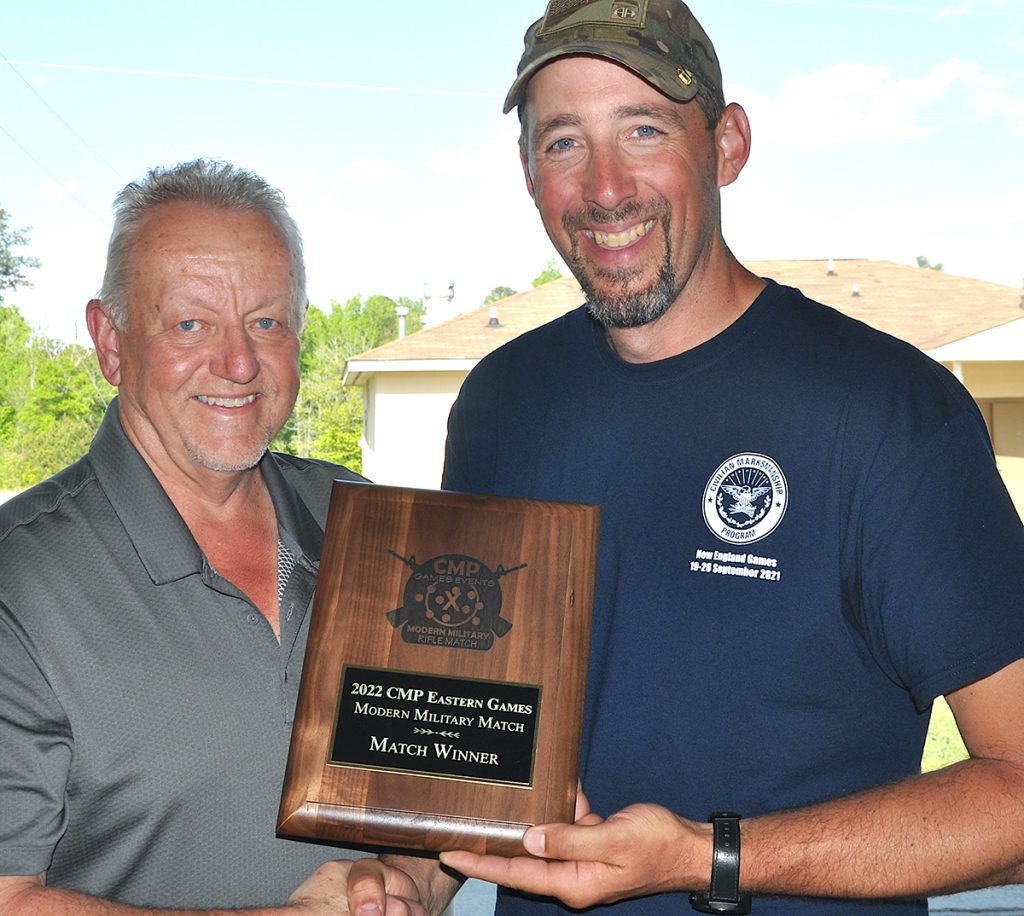 In rifle, last year's Garand Match winner, Brian Williams, 48, of Granby, Massachusetts, returned in 2022 to claim the overall win in the event as well as overall wins in the Modern Military and Carbine competitions.
Also marking a new Eastern Games Record was Keith Schachle, 63, of Jasper, Georgia, who fired a score of 293-10X in the Vintage match – surpassing his own 2017 record by one point.
In the CMP Highpower Matches, USAMU Green (SSG Ben Cleland, SFC Brandon Green, SSG Jarrod Mcgaffic, SSG David Bahten) overtook the Match Rifle 4-Man Team event with a new record score of 1981-97X, just one point above the previous record set in 2019.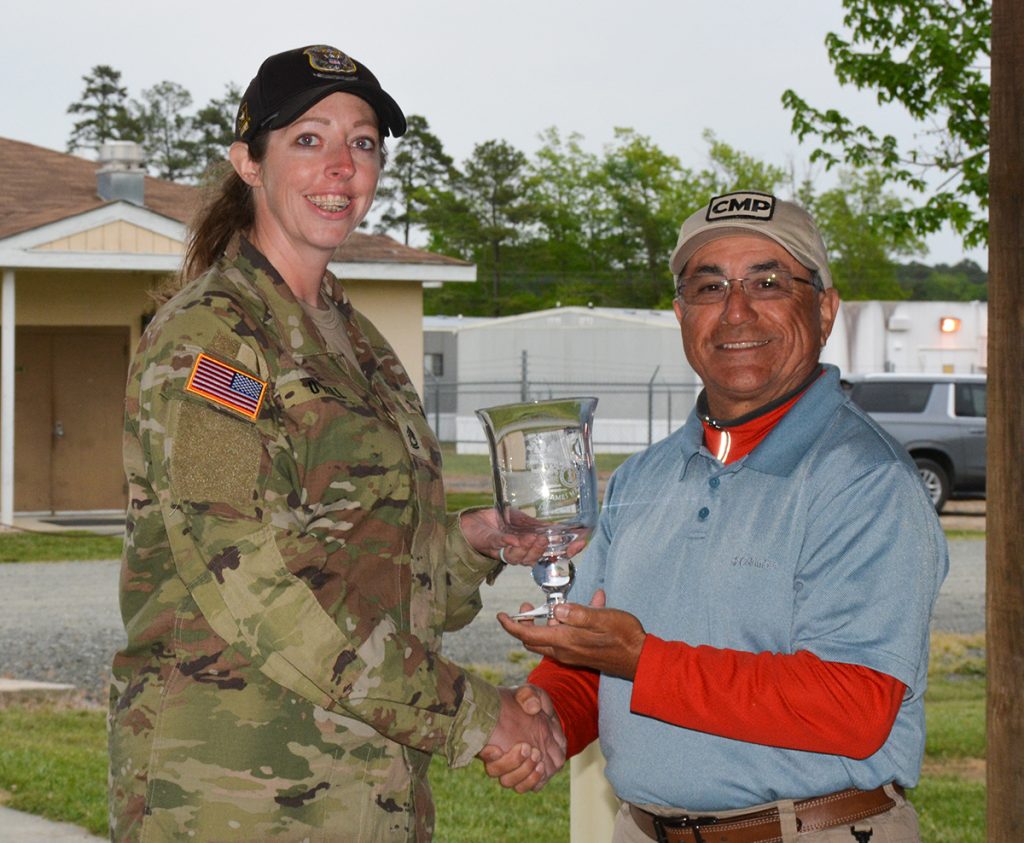 SFC Brandon Green, 37, a member of the U.S. Army Marksmanship Unit (USAMU), went on to break the CMP 2400 Aggregate Overall Match Rifle record he had originally set in 2018 – collecting a 2022 score of 2390-115X. USAMU teammate SSG Ben Cleland, 29, claimed a record of his own in the EIC Service Rifle Match after reaching an incredible score of 499-25X. Cleland dropped only one point the entire match, during the prone slow portion, while cleaning the rest of the stages.
SFC Erin O'Neill, 33, also of the USAMU, earned the Overall Service Rifle title in the 2400 Aggregate Match with a score of 2379-104X.
Daily highpower awards were also presented to the top civilian and military competitors in the Match and Service Rifle categories as well as to aggregate winners by slow and rapid fire stages. Find a complete list of results, including "High" categorical winners, on the CMP Competition Tracker page athttps://ct.thecmp.org/EasternGames22Results.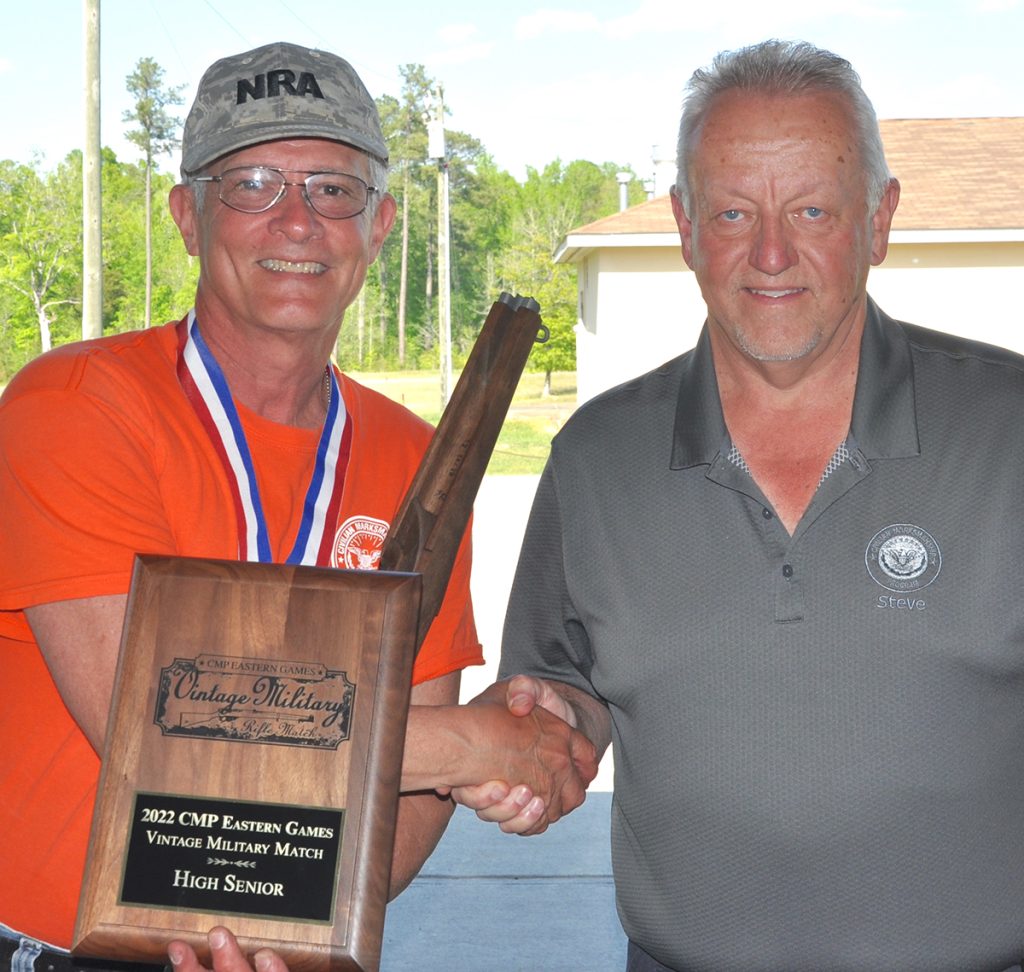 Other Notable Results of the 2022 Eastern Games & Highpower Matches:
Games Rifle:
M16 EIC Rifle: John Wilson, 49, Tampa, Florida – 379-5X
Garand: Brian Williams, 48, Granby, Massachusetts – 294-10X
Springfield: SSgt Stephen Ferguson, 40, Blackstone, Virginia – 295-13X
Vintage Military: Keith Schachle, 63, Jasper, Georgia – 293-10X
Modern Military: Brian Williams, 48, Granby, Massachusetts – 294-8X
Carbine: Brian Williams, 48, Granby, Massachusetts – 373-8X
Vintage Sniper Manual Team: Hard Leg 3 (Terrence McCoy, Michael Gugulis) – 391-20X
Rimfire Sporter:
O-Class: Ryan Ward, 25, Greenville, North Carolina – 575-14X
T-Class: : SSgt Stephen Ferguson, 40, Blackstone, Virginia – 591-29X
TU Class: Andy Miller, 47, Coshocton, Ohio – 585-27X
Games Pistol:
M9 EIC Pistol: Nicholas Madison, 30, Roanoke, Virginia – 252-3X
As-Issued 1911: William Trowell, 58, Raleigh, North Carolina – 377-7X
Military & Police Service Pistol: MSgt Nicholas Capko, 38, Fredericksburg, Virginia – 384-9X
CMP .22 Rimfire Pistol: Jonathan Shue, 40, Liberty, North Carolina – 281-10X
Pistol EIC: Jonathan Shue, 40, Liberty, North Carolina – 285-9X
Match Pistol 2700 Aggregate Any Sights: Jonathan Shue, 40, Liberty, North Carolina – 2628-125X
Match Pistol 2700 Aggregate Metallic Sights: Nate Gunn, 38, Spencer, West Virginia – 2420-37X
.22 Rimfire 900 Aggregate Any Sights: Jonathan Shue, 40, Liberty, North Carolina – 883-44X
.22 Rimfire 900 Aggregate Metallic Sights: Nate Gunn, 38, Spencer, West Virginia – 819-12
.45 900 Aggregate Any Sights: Jonathan Shue, 40, Liberty, North Carolina – 871-34X
.45 900 Aggregate Metallic Sights: Nate Gunn, 38, Spencer, West Virginia – 803-12X
Center Fire Aggregate Any Sights: Jonathan Shue, 40, Liberty, North Carolina – 874-47X
Center Fire Aggregate Metallic Sights: CDR Phillip Geiger USN, Suffolk, VA – 813-18X
Overall Individual Pistol Aggregate: Jonathan Shue, 40, Liberty, North Carolina – 1302-29X
CMP Highpower Matches:
4-Man Team:
USAMU Greenwood (Service Rifle) – 1970-81X
USAMU Green (Match Rifle) – 1981-97X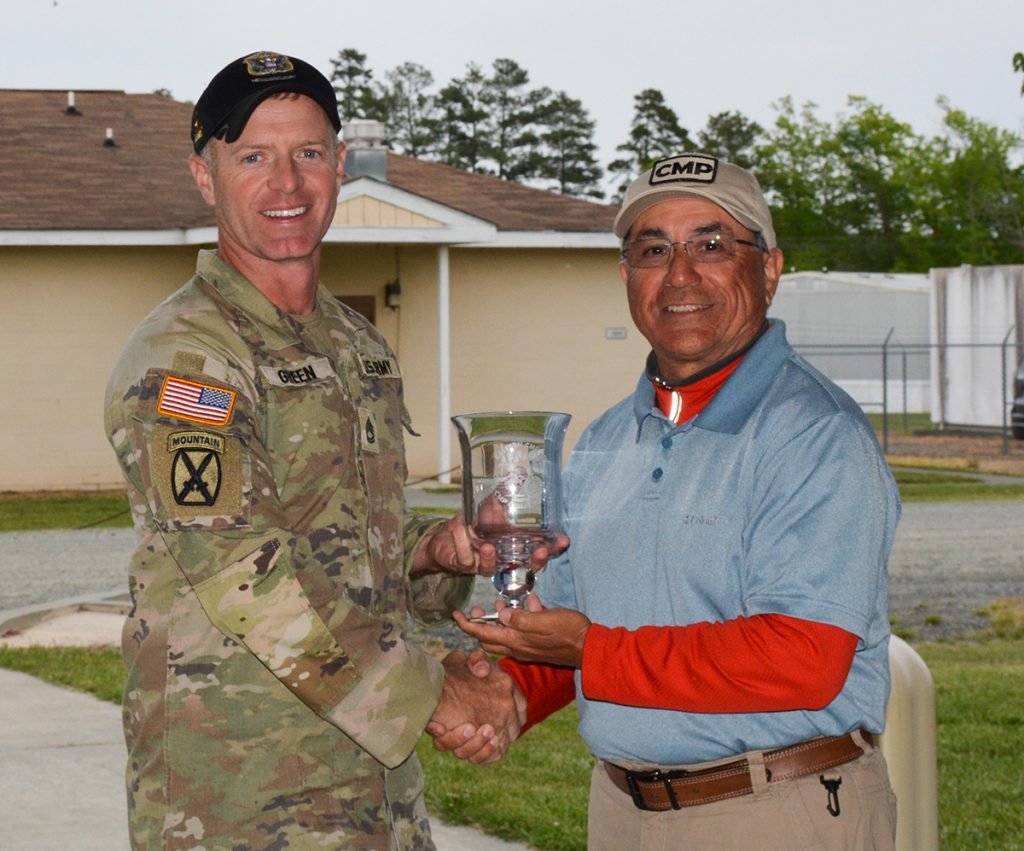 CMP 2400 Overall Aggregate:
Overall Service Rifle: SFC Erin O'Neill, 33, Fortson, Georgia – 2379-104X
Overall Match Rifle: SFC Brandon Green, 37, Box Springs, Georgia – 2390-115X
Overall EIC Service Rifle: SSG Ben Cleland, 29, USAMU – 499-25X
Photos of the event are available for free download at https://cmp1.zenfolio.com/f620606501.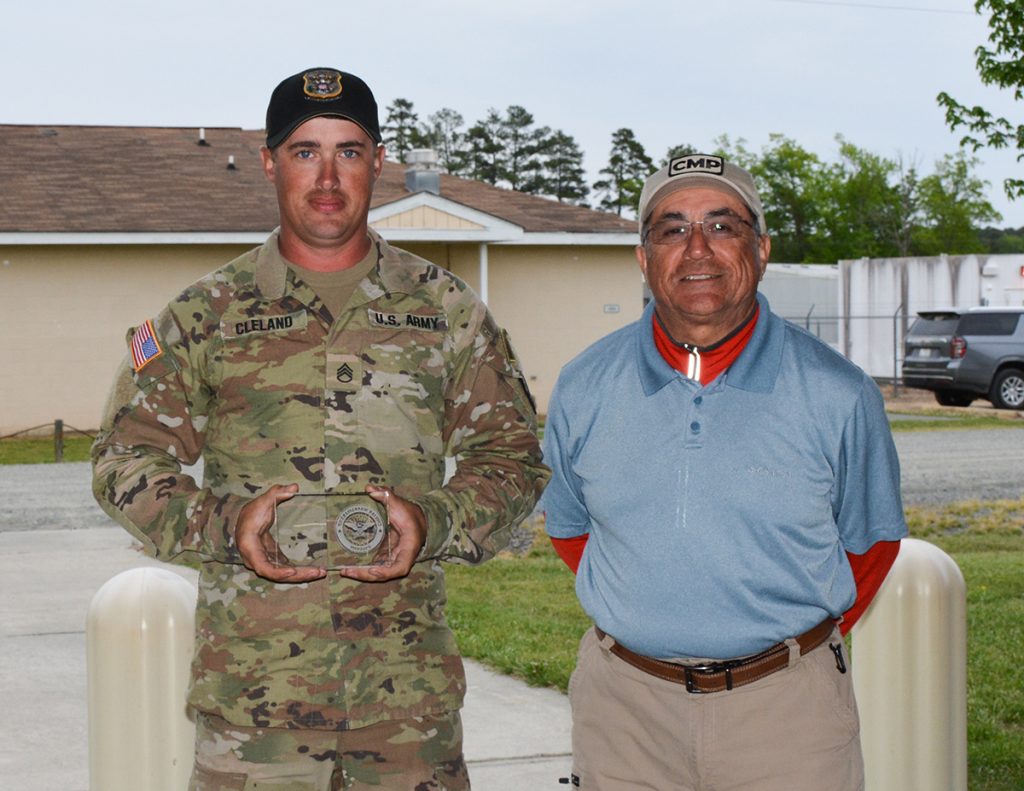 Don't forget to mark your calendars for the 2023 Eastern CMP Games & CMP HP Rifle Matches! The event will be held April 28 through May 7 – back at Camp Butner. View a full schedule of events for the upcoming Eastern Games on the CMP website at https://thecmp.org/cmp-matches/eastern-cmp-games-cmp-hp-rifle-matches/.
About the CMP Games:
The Competition Games are regional competitions held around the country throughout the year, featuring CMP's unique rifle and pistol outdoor matches. Recognized as staple events of the CMP schedule, the Games are centered around recreation-oriented competition and educational activities that are designed to accommodate experienced marksmen as well as those hoping to learn more about the sport. For more information, including a detailed glance into each Games event, visit the CMP website at https://thecmp.org/competitions/cmp-travel-games/.
Junior Haley Robinson Claims Three New Records at 2021 National Rifle Matches
Haley Robinson, 21, of Mill Spring, North Carolina, set not one, not two, but three new national records during the 2021 National Rifle Matches. The annual event was conducted by the Civilian Marksmanship Program (CMP) and held in August on the grounds of the historic Camp Perry National Guard Training Facility, where it has been set for over a century.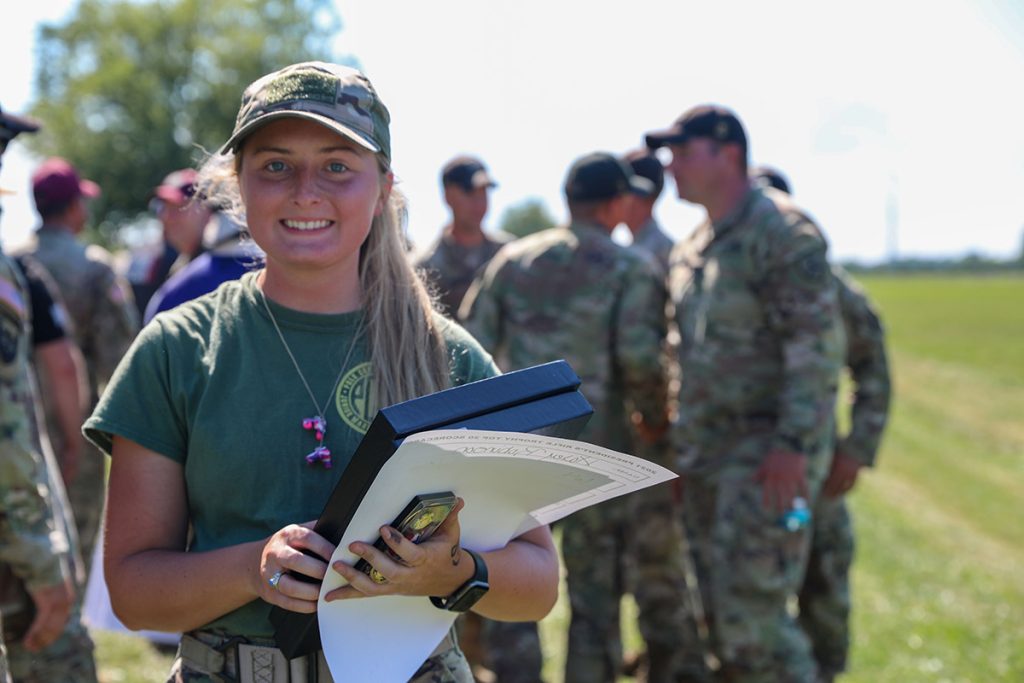 Robinson's record performances began with the President's Rifle event, where she fired a score of 395-15X to earn new High Junior and High Woman records – finishing seventh overall. She was also the only junior to appear in the 20-person shootoff that accompanies the President's Match.
"The first day, I did pretty decent, and it just stuck," she said of her President's showing.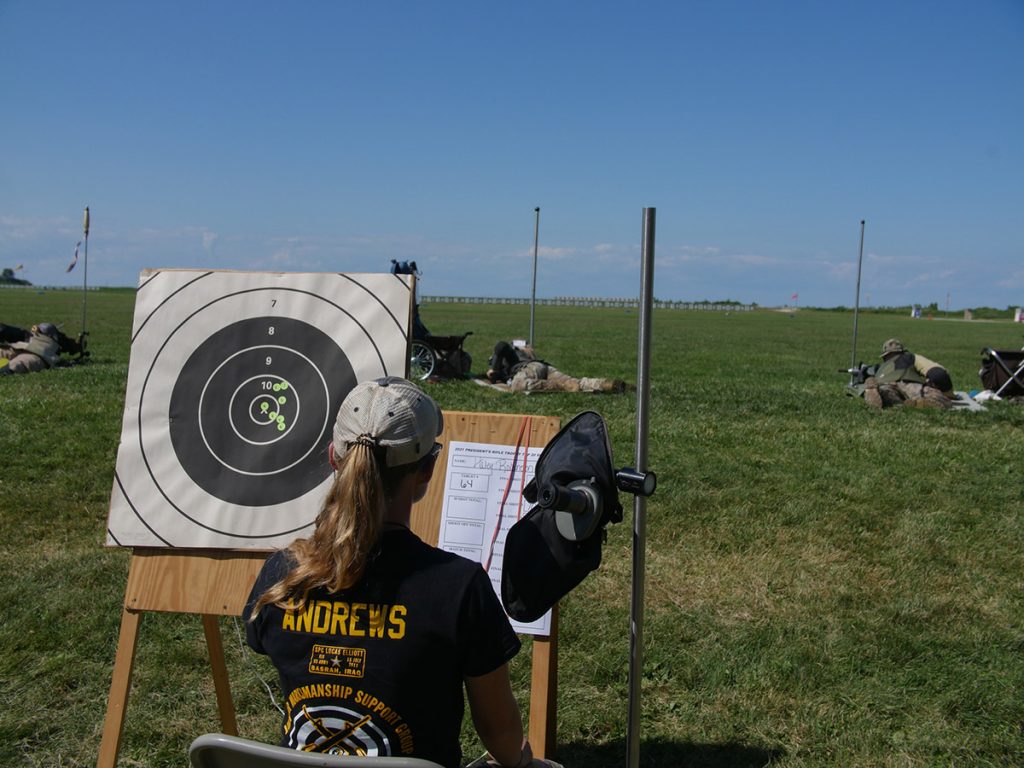 Back in 2018 (only her second trip to the National Matches) she gave herself an objective to reach the Top 20 shootoff. She inched close in 2019, reaching the President's Hundred (as one of the Top 100 competitors) in 46th place overall and earning a coveted President's Tab. She had hoped to climb her way into the shootoff the following year, but, with the cancellation of the 2020 National Matches, she wasn't given the chance.
"This year (2021), I made it my goal, and I practiced hard before we left," Robinson said. "I was nervous – very nervous – but once I got up there, after the first shot, I was calm."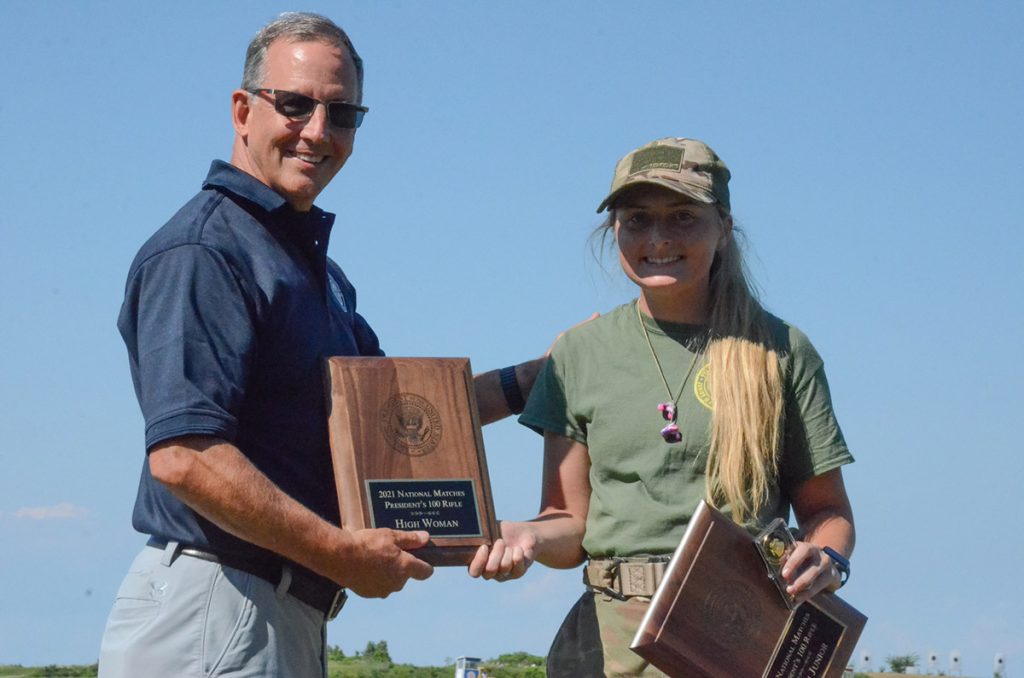 Along with her marksmanship abilities, Robinson is known for her composure on and off the firing line. She says she doesn't know exactly how she stays so relaxed, but she has a hunch.
"My dad blames it on my low blood pressure," she joked. "I'm just always calm."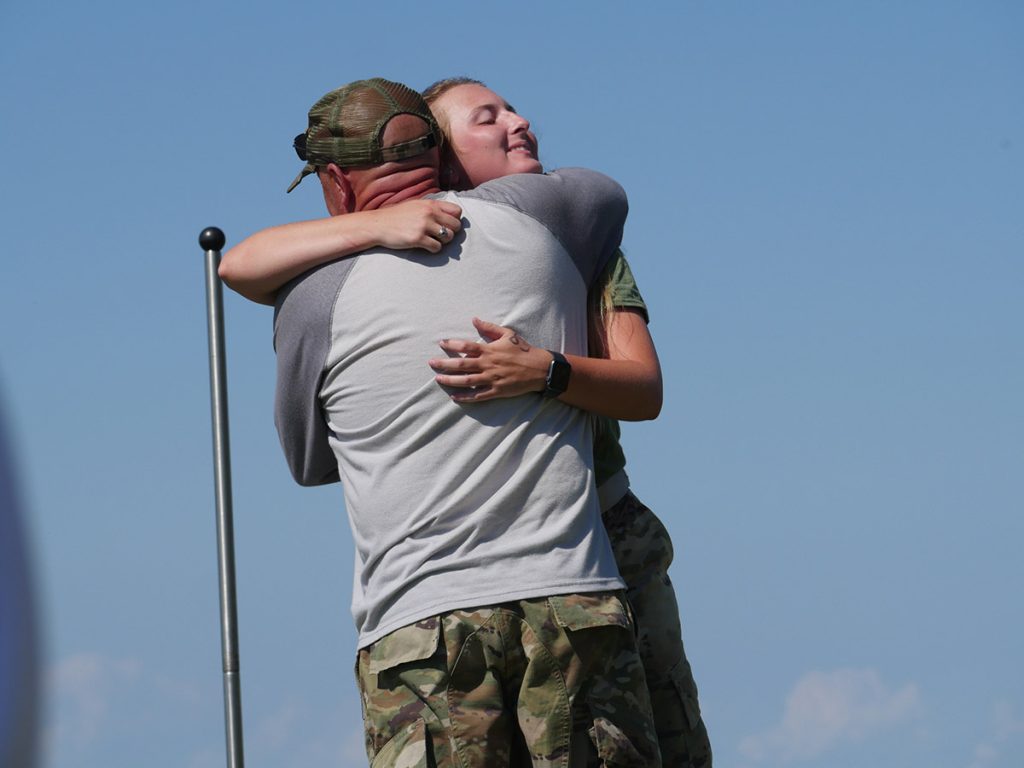 Robinson credits her dad, Bobby, for getting her started in marksmanship in 2016 (a year after he began his own journey within the sport). The following year, Robinson and her dad attended countless competitions and practiced whenever they could – talking with one another about nothing but shooting during their long truck rides from match to match. Robinson's hard work paid off when she earned her Distinguished Rifleman Badge, a lifetime goal for most marksmen, that same year.
Now that she's reached the President's Shootoff, she's got a new target in mind – winning the match.
"It's all I have left," she said with a smile.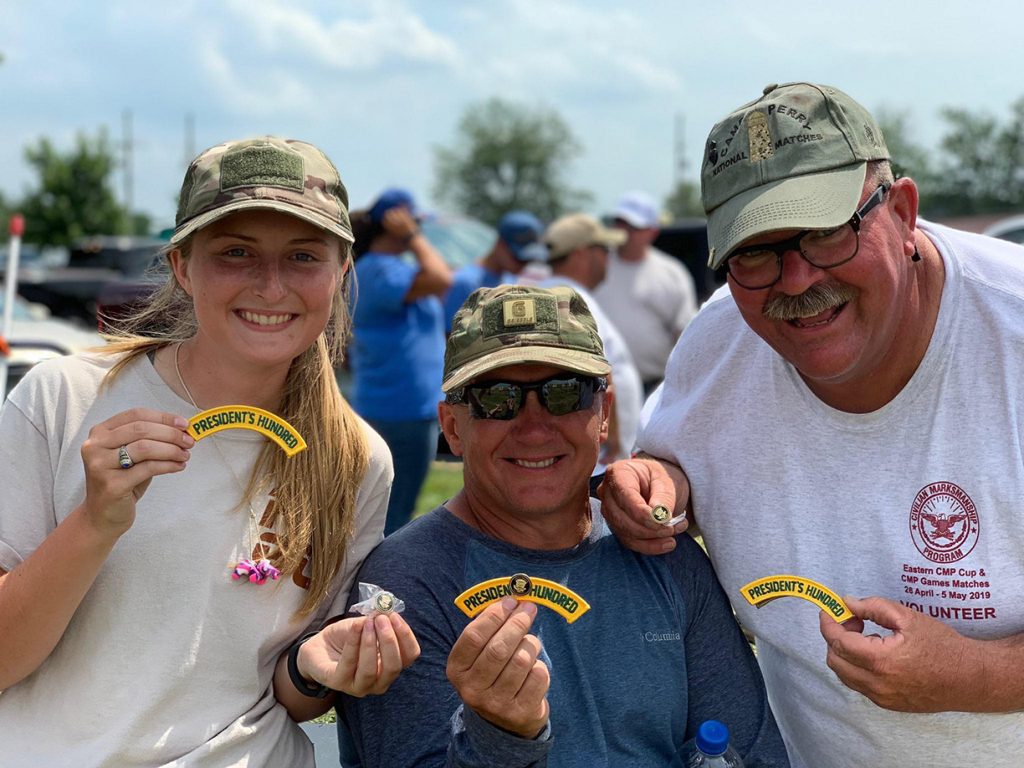 After her success in the President's Rifle Match, Robinson went on the next day to set a new Women's Rifle Trophy national record score of 496-25X in the National Trophy Individual Match – finishing 10th overall out of a field of almost 800 competitors that included several decorated civilian and military athletes.
Seemingly arriving out of nowhere and covering the leaderboards, Robinson claims being a newcomer to the sport with a budding reputation can come with its own challenges.
"It's very different, especially when people don't know who you are," she explained. "And it's different being out here and being female, because they treat you a little different."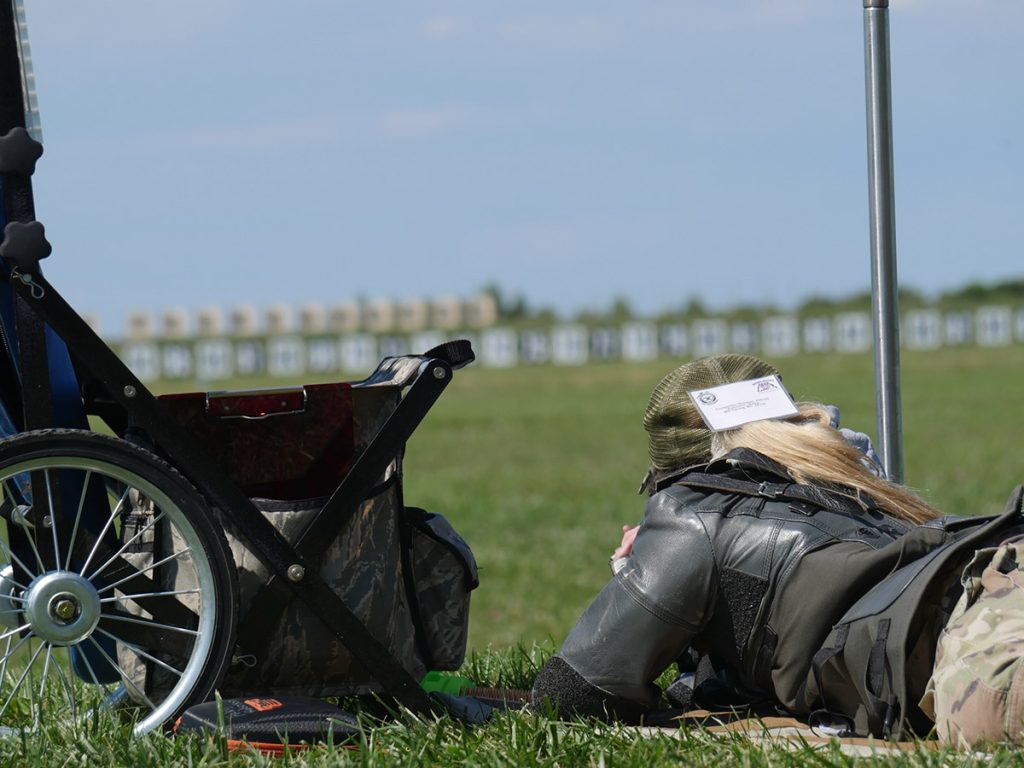 She welcomes tips and advice, but to those who may underestimate her talents because of her age or her gender – she lets her scores do the talking.
"I don't say anything to anybody," she said. "I won't even tell people my score, until they ask me. I'm very humble, and I don't want to be THAT person."
Besides that, she's not out on the line, day after day, to prove anything to anyone else – she's doing it all for herself.
"And him," she said, pointing to her dad. "It's me and him."
As for her future plans in marksmanship, Robinson keeps it simple, saying, "Still shoot. Keep going."
And coming back to the National Matches in 2022 to claim that President's Rifle win?
"I mean, I'll try," she said as she laughed.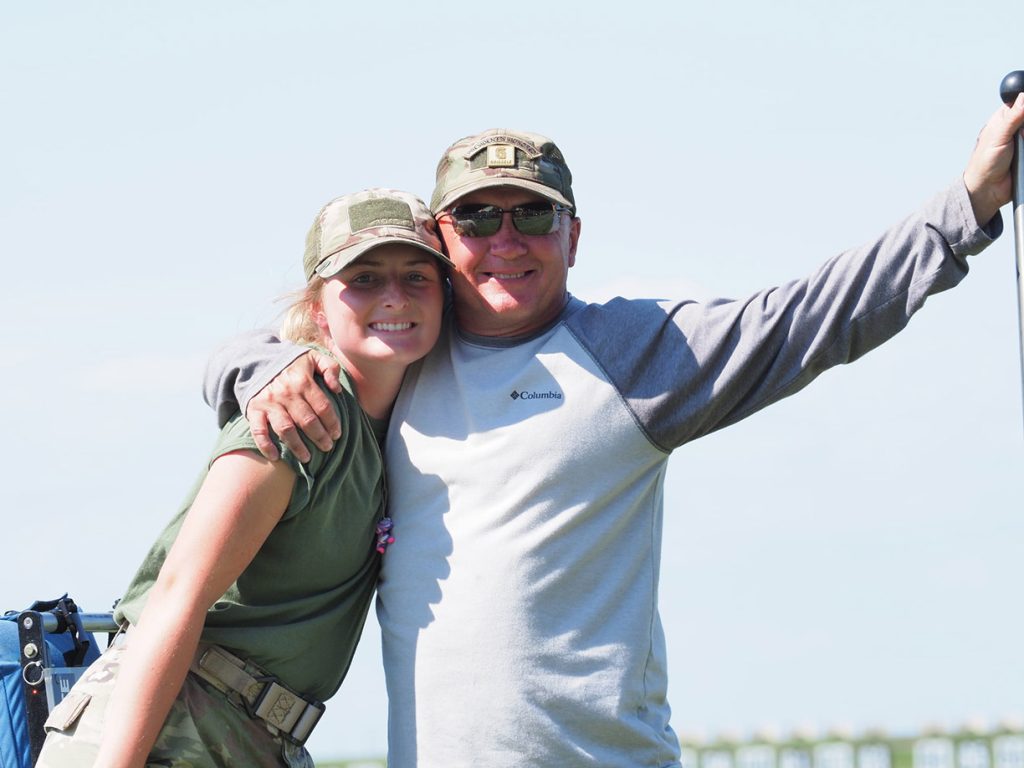 View a complete list of results of this and other 2021 Camp Perry National Rifle Matches at https://ct.thecmp.org/21nmrifleresults.
Photos of this and other National Matches rifle events can be found and downloaded for free on the CMP's Zenfolio page at https://cmp1.zenfolio.com/f641171691.
Welcome to North Carolina's CMP State Director Page
Follow this page for the latest updates and news in the state of North Carolina.