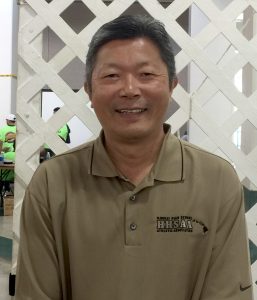 State Director Info
Background
I have volunteered my time as a Scoutmaster for 4 years and currently holds my position as a high school Air Rifle coach for Pac 5 over 7 years. My wife and I volunteer our time being State Junior Air Rifle Coordinators for National Rifle Association and Civilian Marksmanship Program. We are proud parents of two NCAA collegiate shooting daughters participated in University of Nevada Reno and Ole Miss. I enjoy my competitive rifle shooting and hold State Smallbore Conventional Prone Champion title for many years.
Awards
Interscholastic League of Hawaii Coaches of the Year
Personal Info
Married to Robynn Hata, four children
Reasons
To continue the legacy of our previous State Director, Alan Tokumura, deceased.
Goals/Hopes
Win a lottery and build our own shooting range in Hawaii and hold future international shooting competitions here in paradise.
---
Hawaii Director's page
Setting up Hawaii Director's page for the first time.
Welcome to Hawaii's CMP State Director Page
Follow this page for the latest updates and news in the state of Hawaii.