John D Becker
Granbury, TX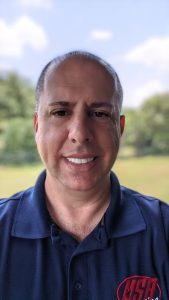 State Director Info
Background
I have coached many junior disciplines including BB Gun, light rifle and the Olympic disciplines of Precision Air and Smallbore for more than 11 years. I have earned the following certifications: USA Shooting Certified Advanced Rifle Coach, NRA/USAS Level 3 Rifle Coach, CMP/JMIC Marksmanship Instructor, Certification NRA Range Safety Officer, USAS / ISSF Official Rifle Level 1, 4-H Rifle Coach
Awards
I have coached individuals and teams that have had tremendous success at local, regional and national competition events, including national team members. Currently involved with the 3 Time national champion Granbury High School MCJROTC team.
Personal Info
I have been married for almost 30 years and have 1 son
Reasons
I love this sport and have seen many juniors benefit from participating in it. Whether that may be simply learning safe gun handling, the thrill of competing and earning a medal for their efforts, all the way up through competing collegiately or as part of Team USA. It is the most pure of all sports as shape, size, speed do not play a factor as much as disciplined practice and dedication do. I want to continue to see this promoted and moved forward in one of the largest states in the country and one that has produced so many shooting sport athletes.
Goals/Hopes
Continue to grow the legacy of our sport by reaching out to all corners of the youth shooting sports scene from 4-H clubs, JROTC's up through private competition clubs. Continue to educate youth and parents of the various opportunities that exist for juniors to learn gun safety, to collegiate scholarships up though representing the USA at the Olympics. Opportunities for increased education exist as I frequently encounter people who do not know opportunities exist for juniors in our sport.
---
Texas Hill, Walrath Repeat Last Year's Performances at 2022 National Three-Position Championships
Those in attendance at the 2022 National Three-Position Precision Championships might have been feeling some déjà vu.
At last year's event, which was held in two different locations to accommodate COVID restrictions, Texas Hill Country Shooters set a new Team 3×20 national record score in the Junior Olympic (JO) match. Texas Hill returned in 2022 to not only fire a new Team 3×20 national record in the JO event but also turned around to break and set a new record in the CMP competition the next day – reaching an overall score of 2379-200X. Team members included Elizabeth Probst, Braden Peiser, Camryn Camp and Briley Sralla.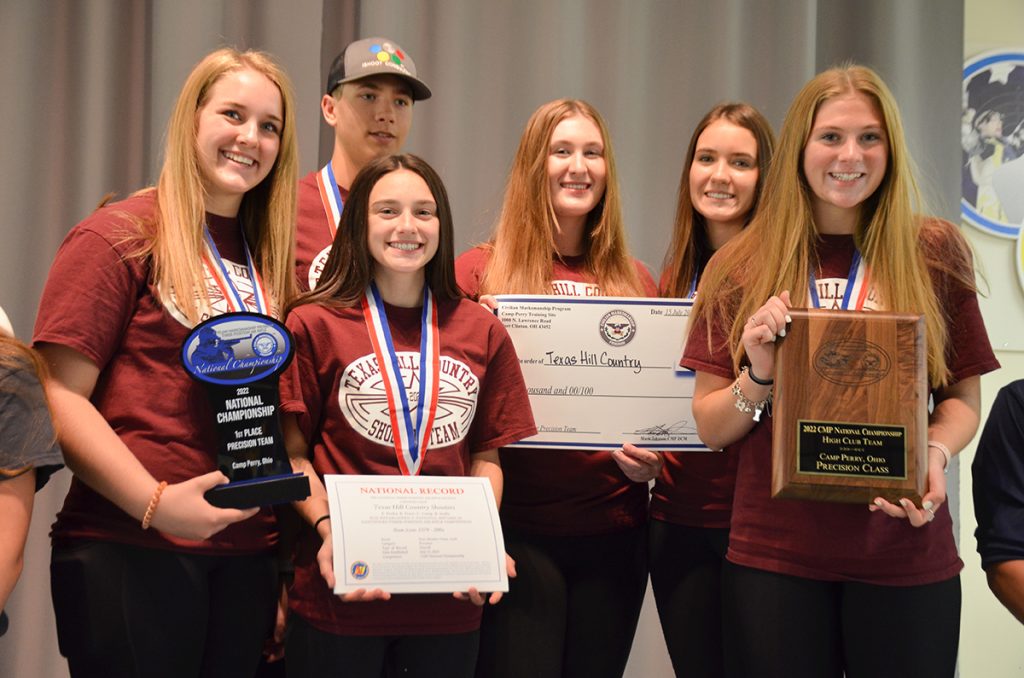 The National Three-Position Precision Air Rifle Championships were held at the Civilian Marksmanship Program's (CMP) Gary Anderson Competition Center at Camp Perry, Ohio, July 13-15, 2022. The two-day junior event featured the Junior Olympic National 3PAR (three-position air rifle) match along with the CMP National 3PAR match.
Individual winners were chosen each day through a three-position elimination final, where the top eight qualifying athletes started from a score of 0.0 and fired shots at prone, kneeling and standing positions to accumulate aggregate scores. Lowest scores were eliminated from the final until only one remained. Overall winning teams were also determined from four-person qualifying aggregates from each day's scores.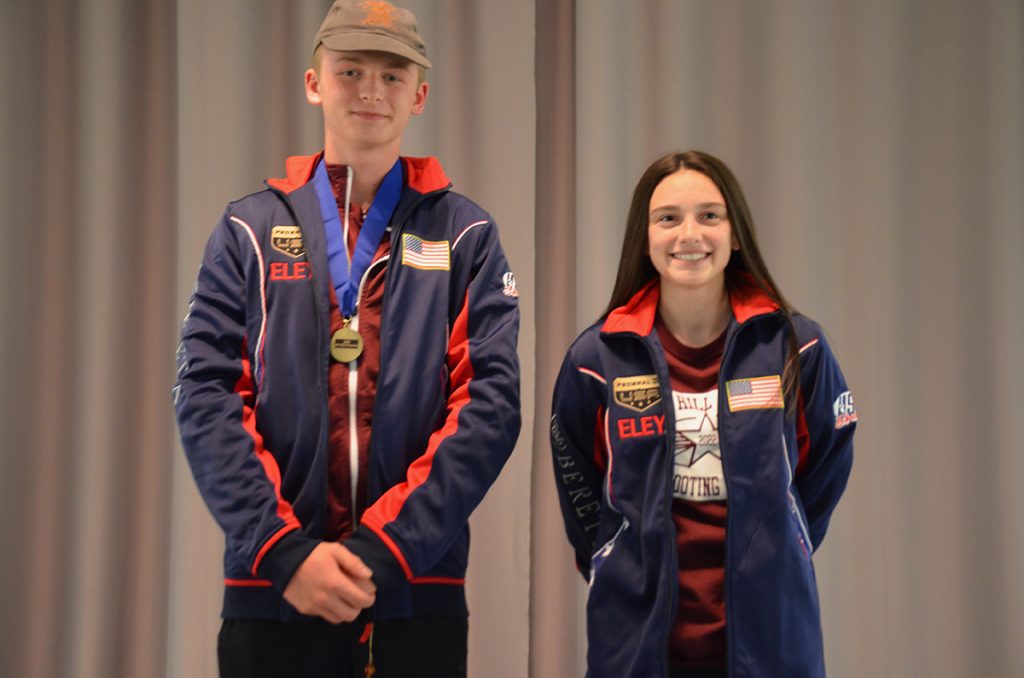 "This event brings out the best junior air rifle shooters, and this year was no exception," said Katie Harrington, CMP program coordinator and match director for the National Three-Position Championships. "The scores this year were very impressive. We had over 25 individuals fire in the 590s each day, and we got to watch some very exciting finals. It was great to have all the competitors back firing shoulder-to-shoulder this year."
Like Texas Hill, Emme Walrath, 16, of Grand Rapids Rifle & Pistol Club, and Katie Zaun, 19, of Buffalo Sharpshooters, gave spectators a thrilling show reminiscent of last year's JO match – when the two battled out a tough finals performance side-by-side. Just as last year, Walrath and Zaun were the last competitors on the line during this year's JO match, with Walrath again earning the overall win. Walrath went on to claim this year's CMP national title – again, just as she did last year.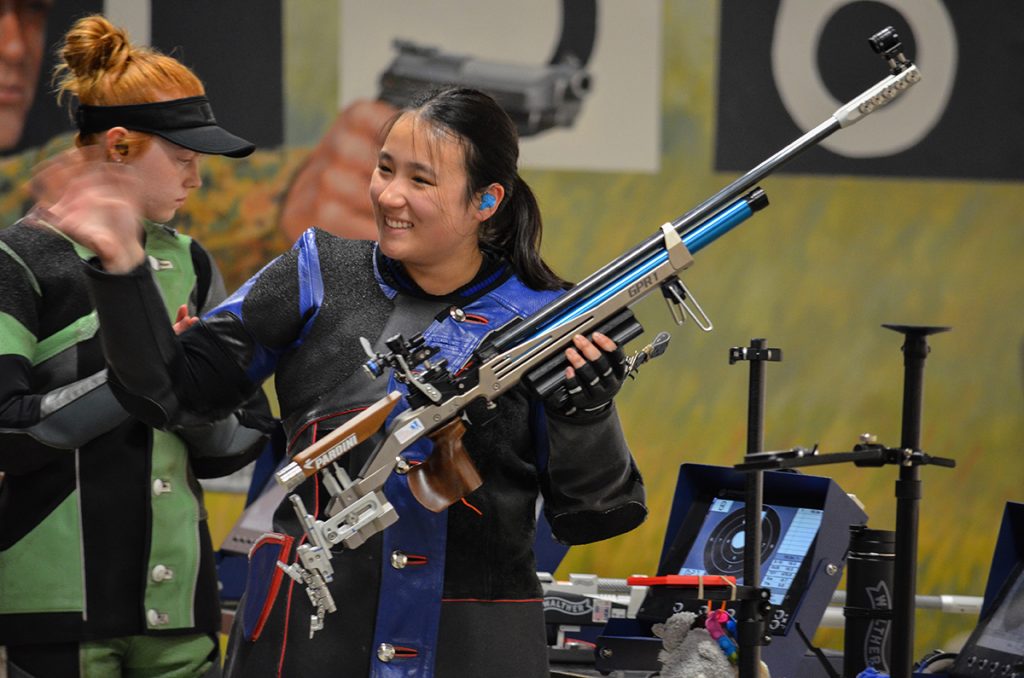 "Coming into the match, I was just kind of thinking, 'Okay, it's another year – we can do this. We can definitely keep it up this year,'" she explained.
Last year's Nationals was her very first experience in shooting finals. Now more familiar with the process, she went into this year's competition with a simple yet encouraging view to lead her once (or twice) again to overall wins.
"Even if I don't win, that's okay," Walrath said. "I've learned how to control my reactions to stress – my heart beating. I know it's there, but that's normal. It's coming to terms with, 'Yes, I'm shooting a final.'"
"I feel like finals are a lot more fun for me," she added. "They're a lot more stressful, yeah, but the stress part adds more fun to it."
Following Walrath and Zaun in the JO event was Elizabeth Probst, 16, of Texas Hill. Probst also earned second behind Walrath in the CMP match, as Isabella Baldwin, 18, of Harpeth Hall High School, overtook the third place position.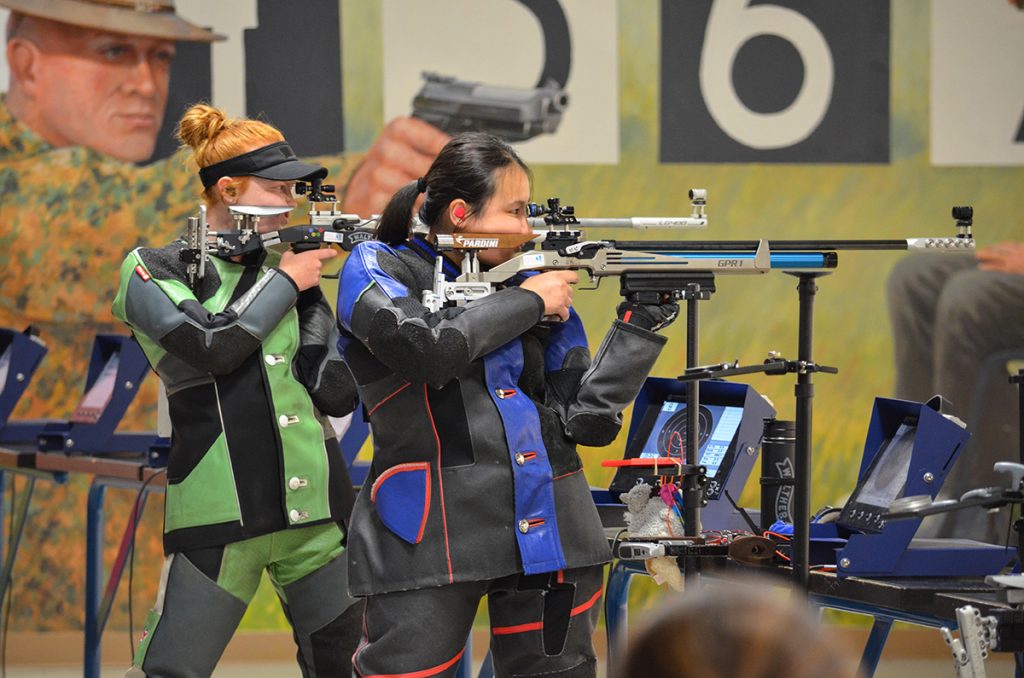 "Every year is a huge joy to see everyone," Walrath said of competing at the national level. "It's a very cool feeling that you get to shoot alongside people that you know, and even if you don't get [the win], you can still cheer on as loud as possible for your friends. I find that very rewarding."
Other leading teams of the events behind Texas Hill were Central Illinois Precision Shooting, who earned second in both the JO and CMP competitions, as well as Acorns Green (Virginia) and Oil City Jr. Rifle Team (Pennsylvania), who landed in third place in the JO and CMP matches, respectively.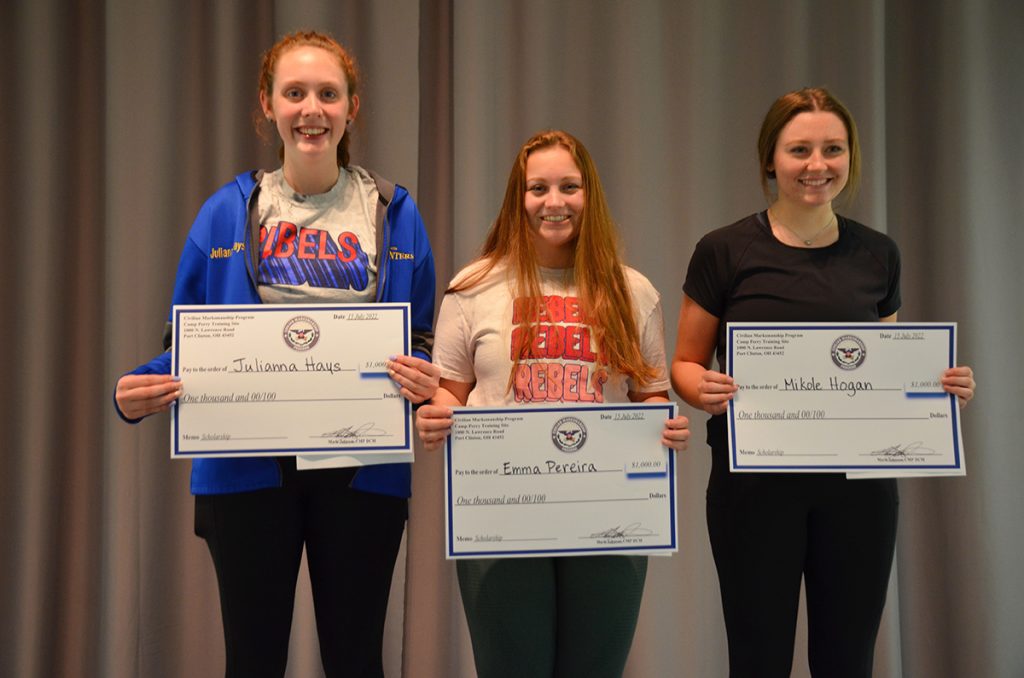 As part of the continued support of youth athletes, the CMP also awarded $1,000 scholarships to the top three leading graduated seniors. This year's recipients were Emma Pereira of Virginia and Julianna Hays of Minnesota, who will both be joining the Ole Miss rifle team in the fall, as well as Mikole Hogan of Texas, who is set to become a member of the Texas Christian University rifle team.
For a complete list of results, visit the CMP's Competition Tracker page at https://ct.thecmp.org/2022N3PARCresults. Photos of the event are available online at https://cmp1.zenfolio.com/f65061194.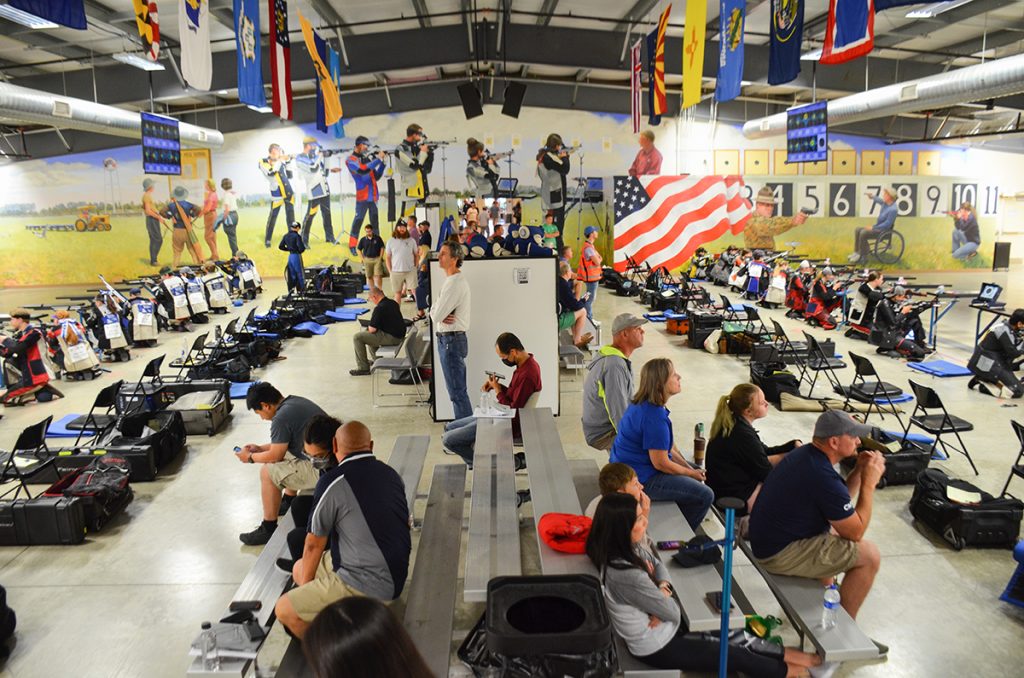 The CMP would also like to thank Larry and Brenda Potterfield, co-founders of the MidwayUSA Corporation, who again provided generous donations for the National 3PAR Championship. The MidwayUSA Foundation is a 501c(3) public charity that helps communities and organizations raise funds to support youth shooting teams and activities. The Foundation is an endowment which helps fund team expenses today and into the future.
Junior Caroline Martin Responds to Down Year by Discovering Merit On and Off the Range
Caroline Martin, 17, of Nemo, Texas, has been a member of the Granbury High School Marine Corps JROTC precision air rifle team since her freshman year. The team is full of talent – recently earning its fifth consecutive JROTC National Three-Position Air Rifle Championship national title in March while producing a number of other team and individual honors.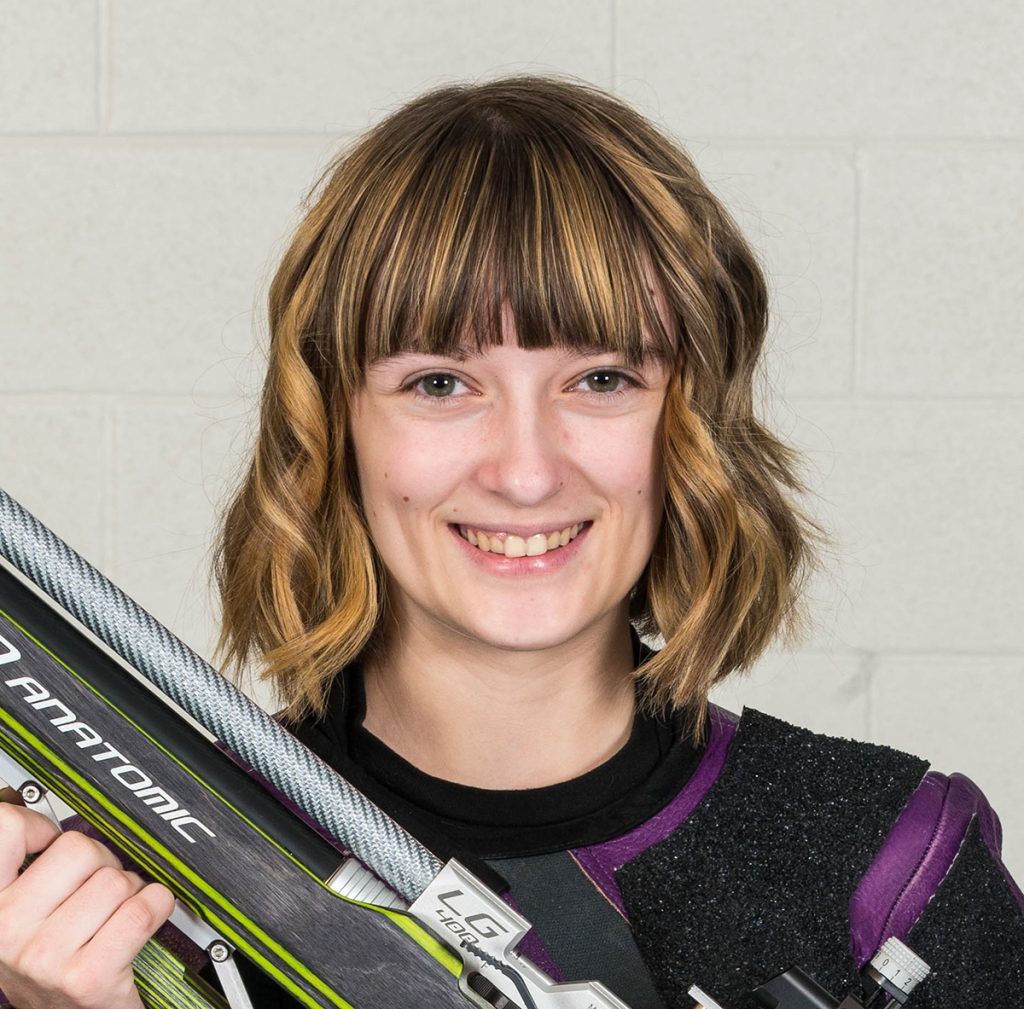 A junior, Martin was part of the fourth place overall precision team at the event and even finished in seventh place as an individual out of over 80 other cadets from around the country. She's one of four Granbury team members who will graduate next year, and she's been working hard to reach a strong finish to her high school career as well as to build a positive foundation into her future.
"I've always grown up around marksmanship," she said. "My dad is an avid competitor in field target competitions, and I was usually right behind him at those competitions."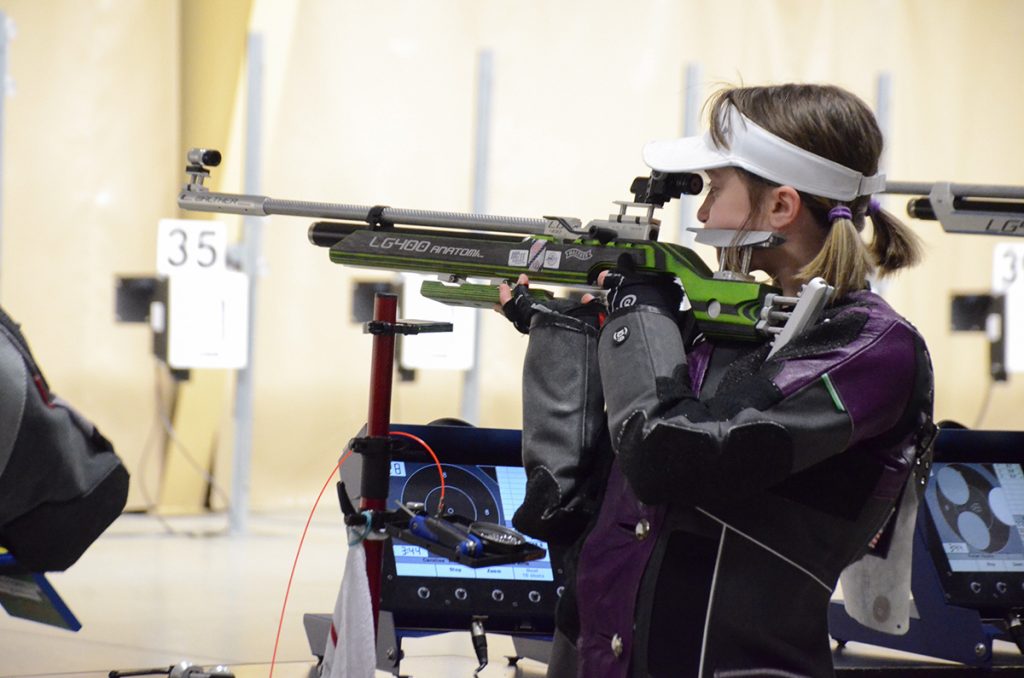 Ready to get involved within the sport herself, Martin attended Granbury's summer rifle camp for three years in a row before becoming a member of the team when she entered high school. Though she had a successful freshman start, her sophomore year put her into an unexpected performance slump. It was a frustrating time for the young athlete.
"It lasted a really long time," she said. "I wasn't really sure why I wasn't performing as well as everybody else – I was doing all of the same things as them and even practicing more."
"I struggled with that," she went on. "I obviously wanted to be the best, but my scores didn't quite measure up to that."
Though discouraged and her self-confidence fading, she didn't give up.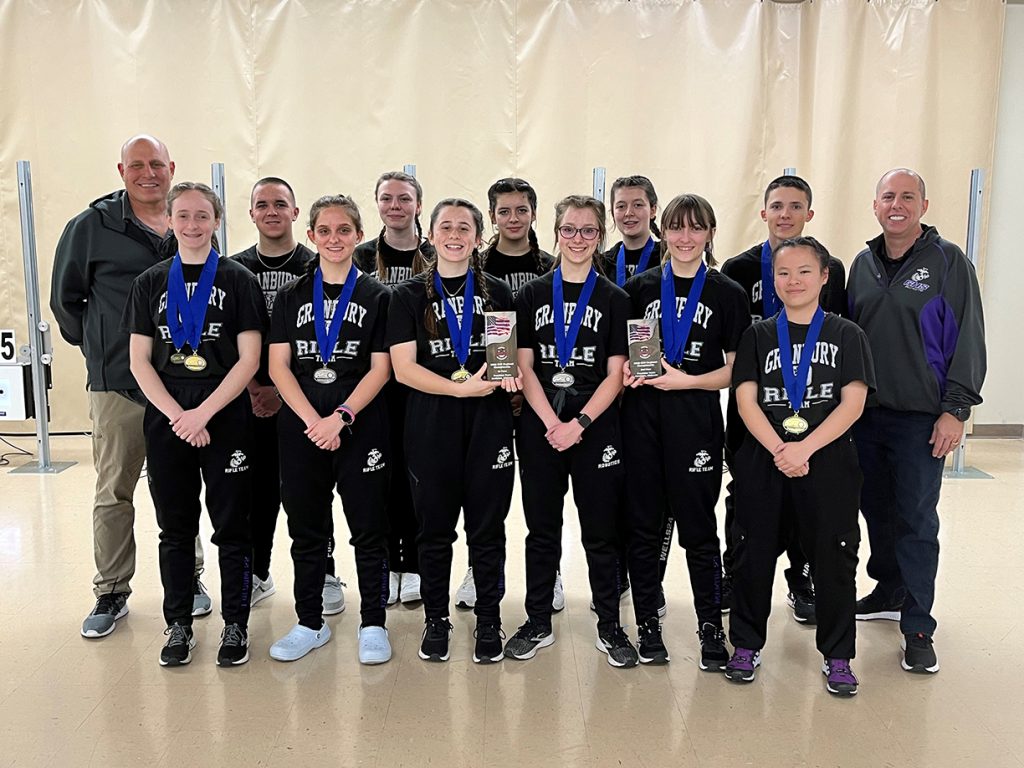 Near the end of her sophomore year, Martin's team qualified for the 2020 JROTC National Three-Position Air Rifle Championships. She competed in the event with a brand new suit and gun and fired two consistent scores.
"After that, it only went up from there," she said. "I made very steady progression. I practiced all summer, and my 3×20 scores got even better, but I still struggled with separating my worth with score."
When she began to improve, she started to email college coaches and even heard back from her dream school. The response motivated her to put even more effort toward her skills – attending as many open practices as she could.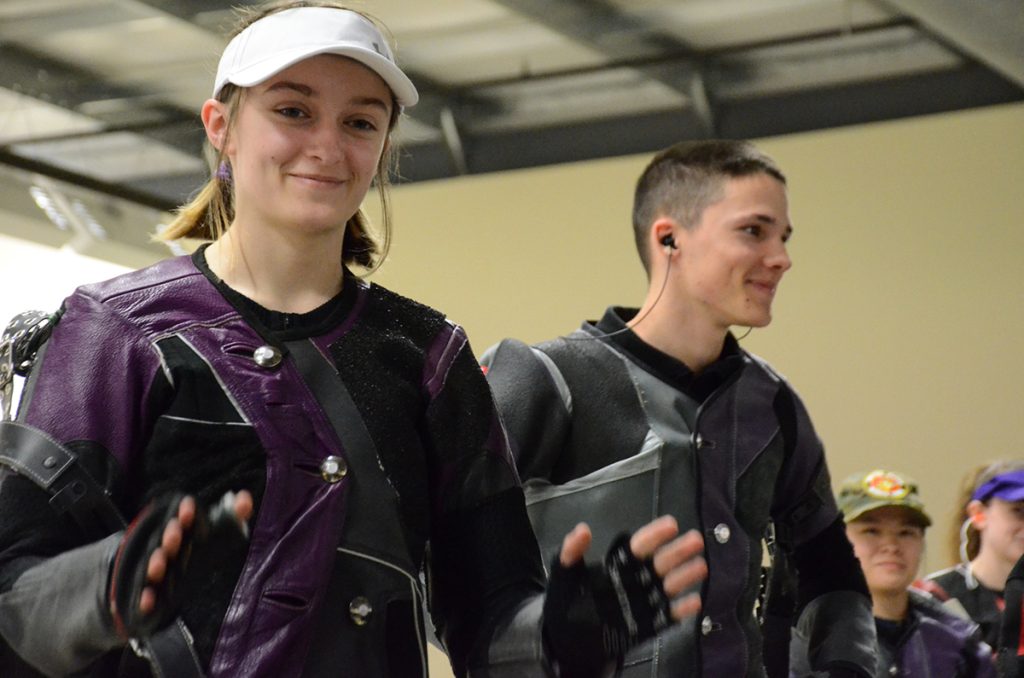 "I came back to the drawing board and started working on the basics," she said. "I found a new position that worked better for me. I had better equipment that adjusted to me better. It was like all of the pieces of the puzzle were coming together."
That's not to say she doesn't still have her ups and downs.
At the 2022 JROTC Service Championships in Chandler, Arizona, she suffered one of her worst performances all year.
"I really thought I had made a fool out of myself," she admitted.
It wasn't until a few cadets from a competing rifle program approached her and asked to take a photo with her that she was reminded that she's more than just her scores.
"I was astonished," she said. "Isabelle Zantow (of Glynn Academy High School in Georgia) is one of many people that I can accredit to a boost in my self-confidence as well as scores!"
Others who have uplifted Martin are the ones who helped get her into the sport in the first place.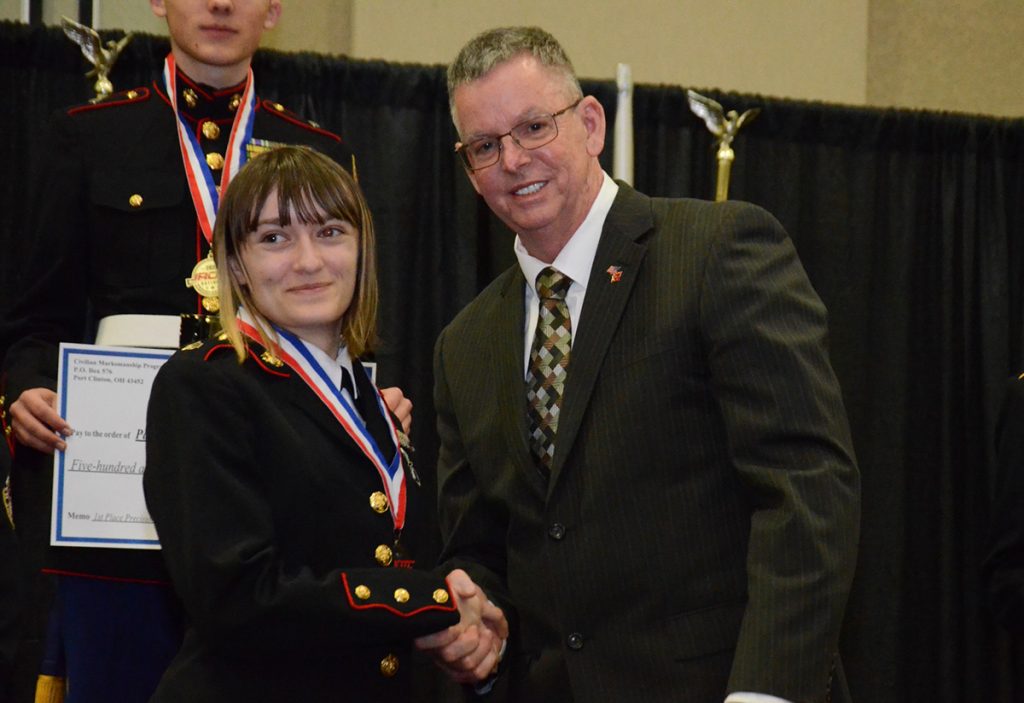 "My parents have been such a huge support system for me since I started shooting," she said. "They've helped me through so many decisions I have had to make, and at least one of them is always at our matches, no matter how busy they are."
And, of course, she also gives credit to her teammates for her comeback.
"We have this type of camaraderie that is hard to find in a lot of programs," she continued. "No matter what, I know I can always count on them, and they can count on me. Their support has been never-ending, and I'm very thankful for that."
The self-assurance, support and extra training paid off. During her junior year, Martin was honored as the Orion National Air Rifle League Most Valuable Player. She earned the highest average on the winning team during the postseason – 614.7.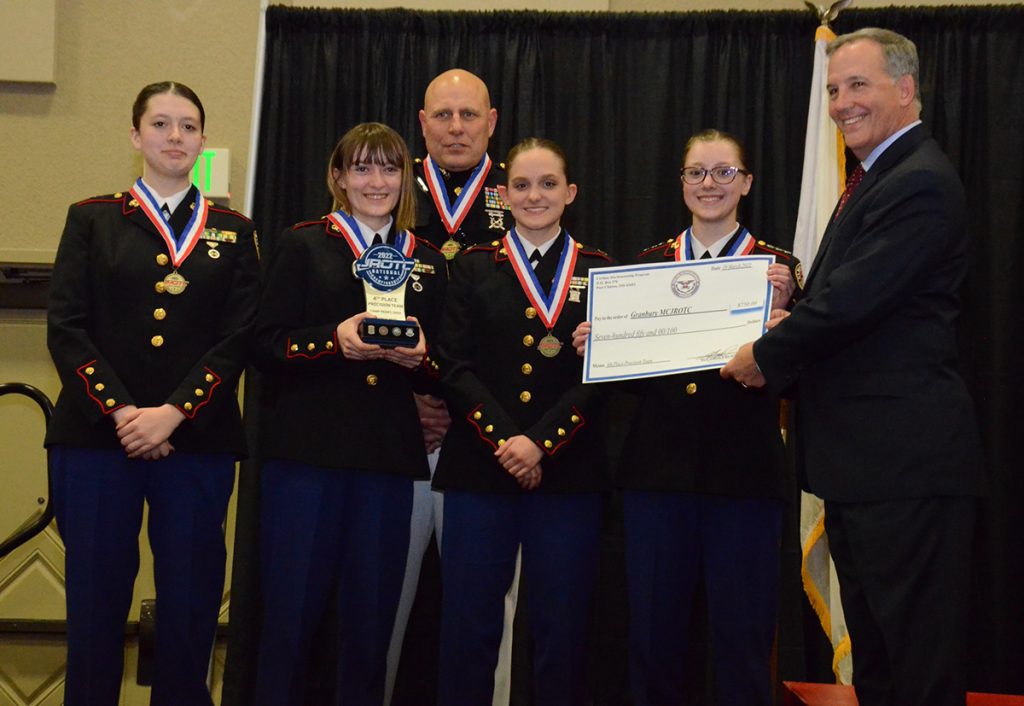 "I had tons of people whom I don't even know come up to me and congratulate me on my accomplishment that two years ago I didn't think I could even accomplish," she said.
Senior Marine instructor and coach at Granbury, Lt. Col. Scott Casey, has called Martin an "anchor" for the team – praising her determination, even during her time off.
"In practice, I focus A LOT on my process," Martin said. "I've been really working toward just letting score not be a reflection of my process."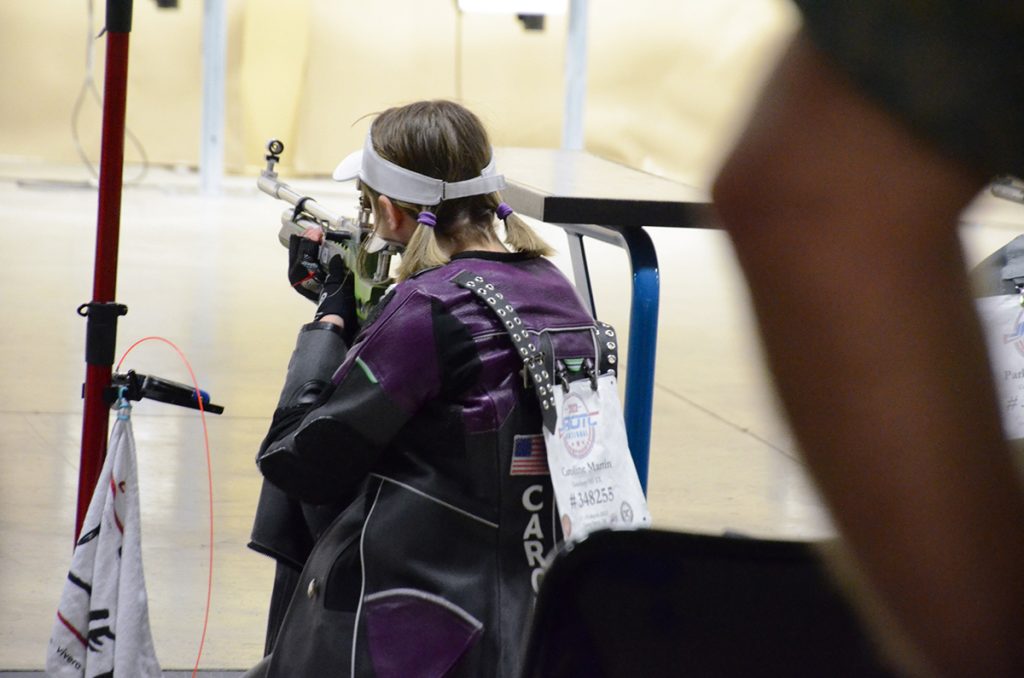 This summer, Martin will attend the U.S. Military Academy at West Point Summer Leader Experience (SLE) as well as the U.S. Naval Academy Summer Seminar – sponsored by American Legion Post 278.
The West Point SLE provides rising high school seniors with a week-long immersion into the academic, military and social life of a cadet. Participants explore West Point from all angles, including high-tech educational facilities, team-building athletic activities and realistic military training. The one-week Naval Summer Seminar allows students to experience first-class academic, athletic and professional training while building lifelong friendships with campers from all over the country.
"Their coaches have been so good to me during this recruiting process, and I am so excited to attend their leadership courses!" she said.
Martin's not yet ruling out the possibility of a spot on the U.S. Army Marksmanship Unit, maybe after some time at the Naval Academy and U.S. Military Academy at West Point. She's also considered studying psychology at the University of Akron in Ohio, though she has prospects at many outstanding schools.
"I have a friend, Jakob Rankin, who shot for Granbury and now shoots for Akron. He has been a huge help in getting in contact with the coaches and helping me find a school that's right for me," Martin said. "The fact there are great coaches from great programs looking at me as a recruit just astounds me."
Whatever she decides, Martin will certainly bring with her a willingness to succeed and the grit and poise to lead her there.
"Mostly I've just been working on trusting myself," she said. "I mean, I've proven I can accomplish anything I put my mind to."
Granbury's Folsom is the National Female Ultimate Fitness Champion
Submitted by Lt. Col. Scott Casey, Senior Marine Instructor, Granbury High School MCJROTC
Cadet Lt. Col. Sarah Folsom, a member of the Granbury High School MCJROTC Pirate Nation Physical Training (PT) Team and the National Champion Precision Air Rifle Team, competed in the National JROTC Fitness Challenge April 15, 2022, in Daytona Beach, Florida, and was crowned the Ultimate Female Fitness National Champion out of a field of over 100 female cadets.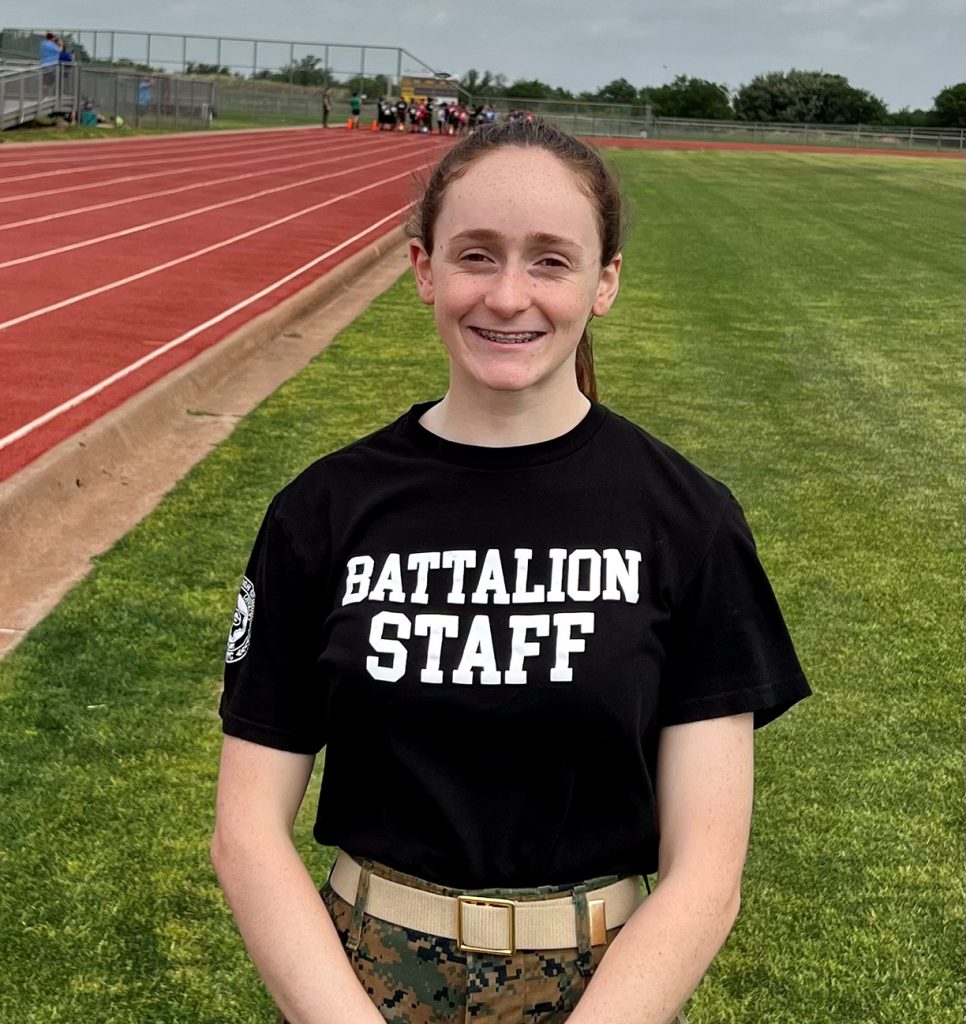 The JROTC Fitness Nationals attracted many of the best male, mixed and female JROTC fitness teams in the country. The single-day championship event was a strong test for Granbury's Pirate Nation team, challenging each member's conditioning, teamwork, strategy, strength, quickness, power and determination.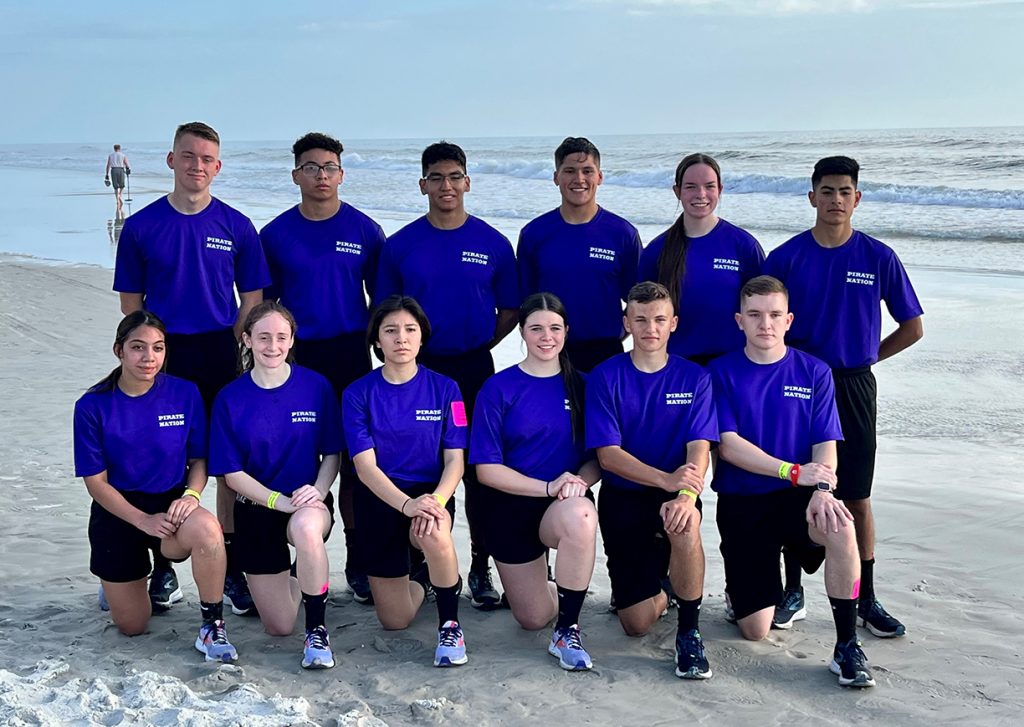 The Pirate Nation competed in the mixed division that consisted of 15 teams. Each team of nine cadets (six male and three female) competed in five events. The first event was a three-kilometer run on the beach in which the team had to carry a 10-foot PVC pipe throughout the run. The next event was a Physical Training Test event designed to test the strength, balance, stamina, strategy and endurance of the team over a distance of 800 meters, using a variety of physical obstacles. Other events included maximum pull-ups for males, flexed arm hang for females, standing broad jump and a seated power throw of a two-kilogram medicine ball.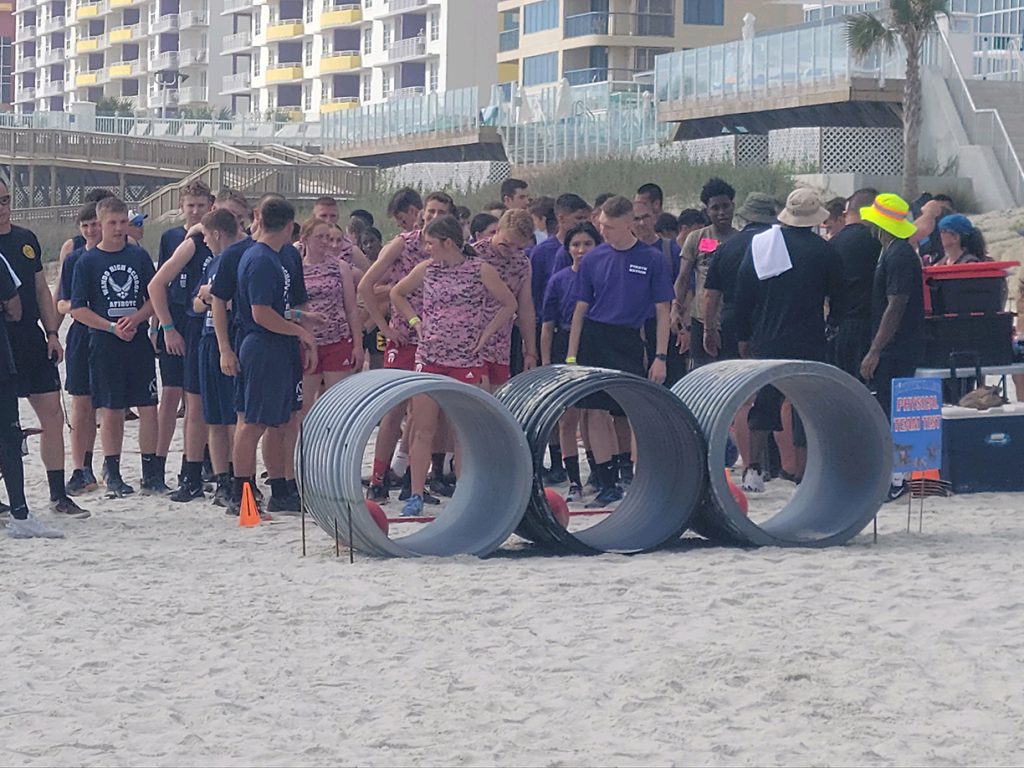 The Pirate Nation earned recognition in the following events: second in the pull-up/flexed arm hang, second in the Physical Training Test and fifth in the standing broad jump. Team members consisted of Sarah Folsom, Dianna Koch, Grace Larsen, Vanity Lopez, Ariana Tirado, Jett Burrell, Anthony Garcia, Jonathan Hutchison, Mason Light, Tyler Milligan, Fernando Ruiz-Contreras and Nathan Wilson.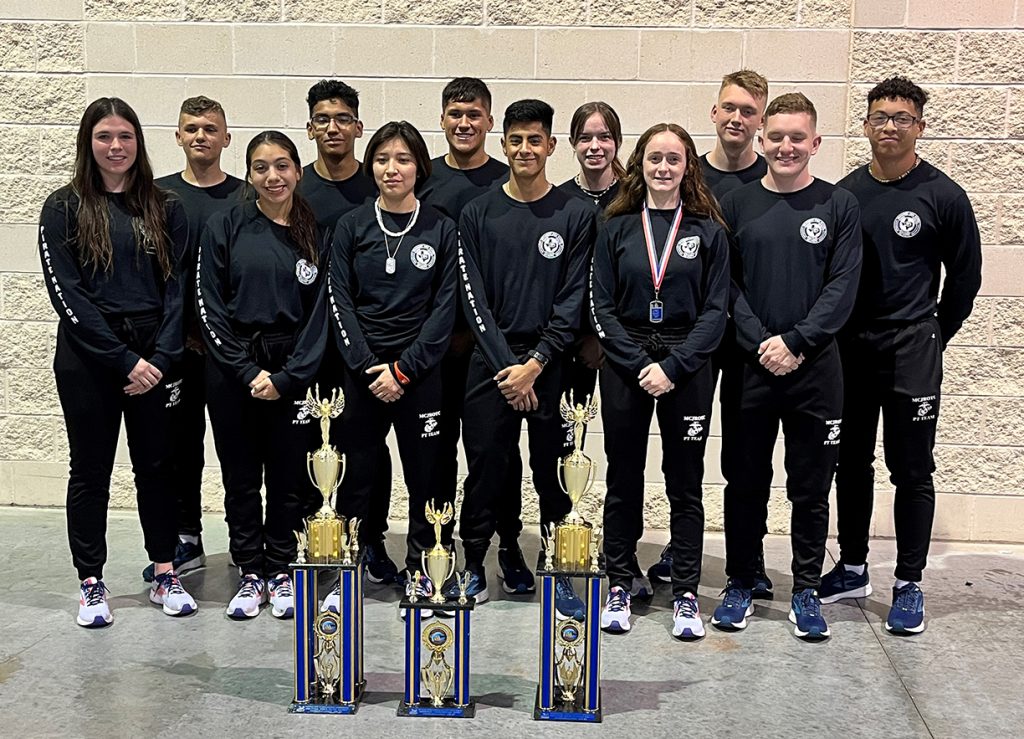 Sarah Folsom also placed second overall in the seated power throw. This summer, Folsom will be heading to the United States Military Academy West Point to commence her professional military career.
Texas Junior Rifle Team Finds Successful Start at First Regional Match
The Texas Junior Rifle Team set a strong foundation at its first regional tournament of the season this spring. The team fielded 18 junior competitors at the Greenwood Gun Club Spring Regional in March, obtaining numerous accomplishments over the three-day event.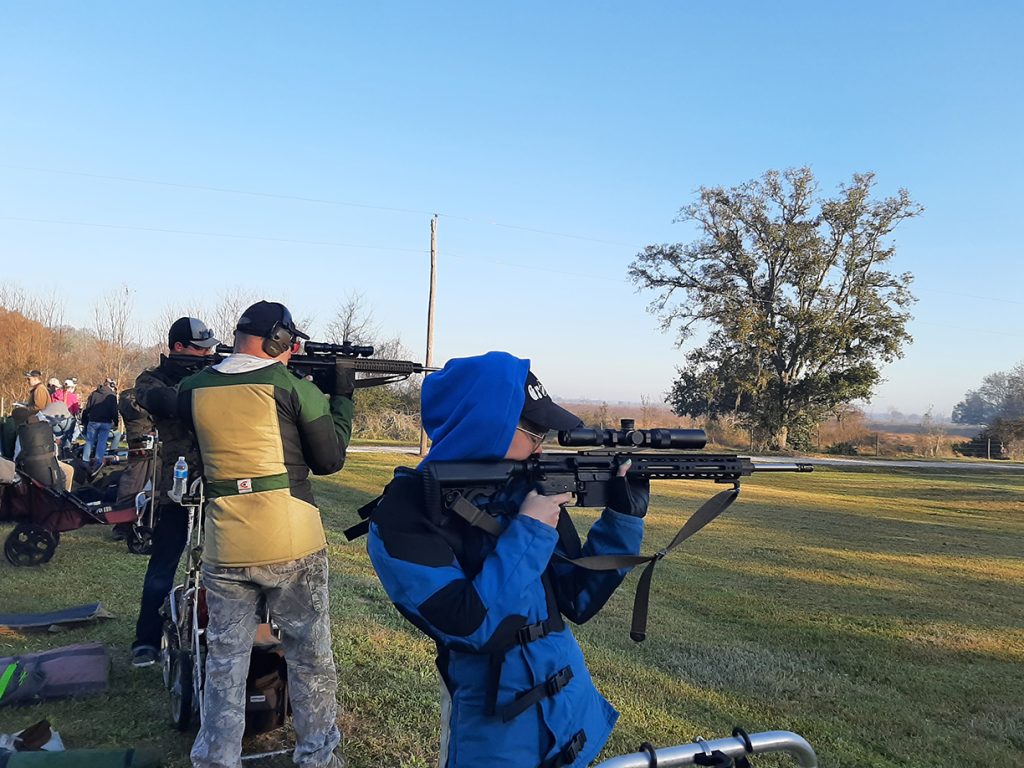 "It was a fun weekend and a good start for the 2022 competition season for the Texas Junior Rifle Team," said Dan Ramsey, a coach and treasurer/director of the organization.
During the match, national-level champion Charisma Owen was named the 2021 Texas Junior Service Rifle Champion as well as the 2021 Texas Junior Mid-Range Champion. Owen teamed up with Carter Forest and Gary and Greg Troxell to overtake the 4-Man team competition before she moved on to win the overall regional event. The Texas team also accrued personal best scores by Loni Barry, Luke Hoysa and Emma Swicegood.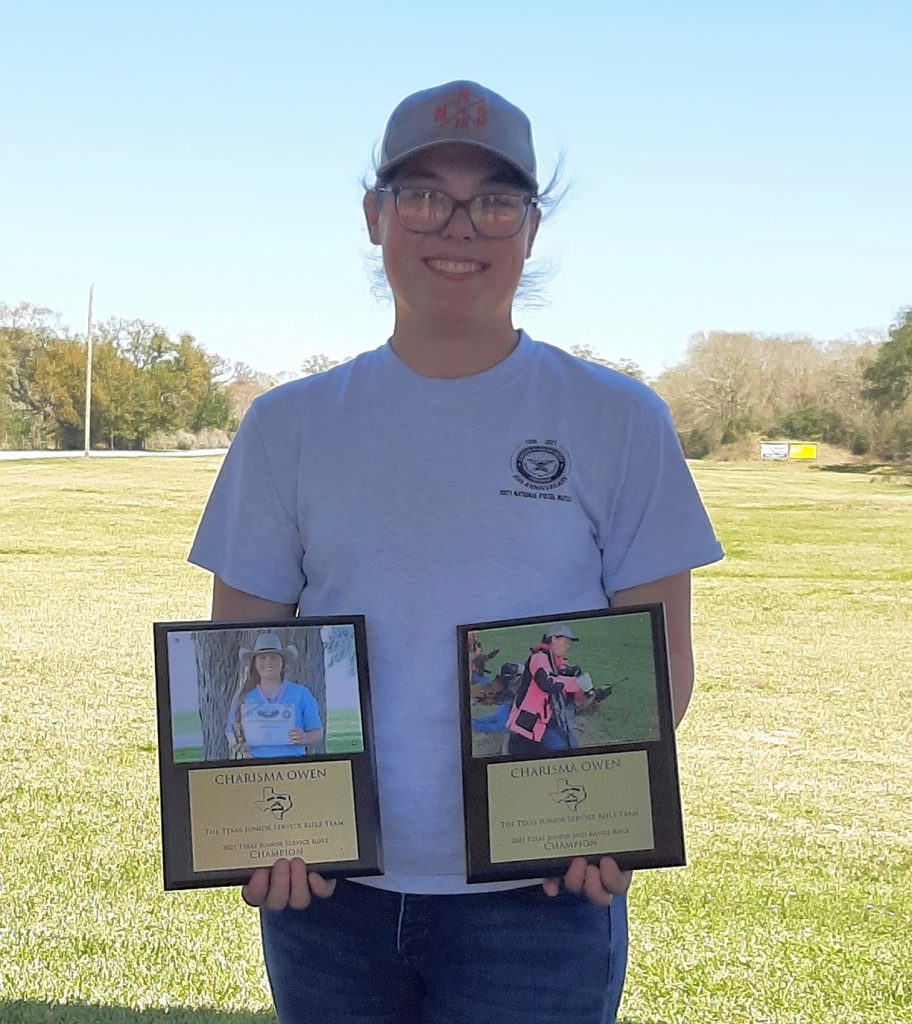 The accompanying open EIC (Excellence-In-Competition) match saw the Texas Junior Rifle Team fielding 18 of 29 non-distinguished competitors. Distinguished Badges are the highest individual awards authorized by the U. S. Government for excellence in marksmanship competition. An individual earns a badge from the CMP after receiving enough EIC points at qualifying matches, also referred to as leg points.
Three leg points were awarded at the Greenwood Gun Club match, including to two juniors: Emma Sjodin, who took the bronze medal and eight points, and John Ramsey, who claimed his first six-point leg.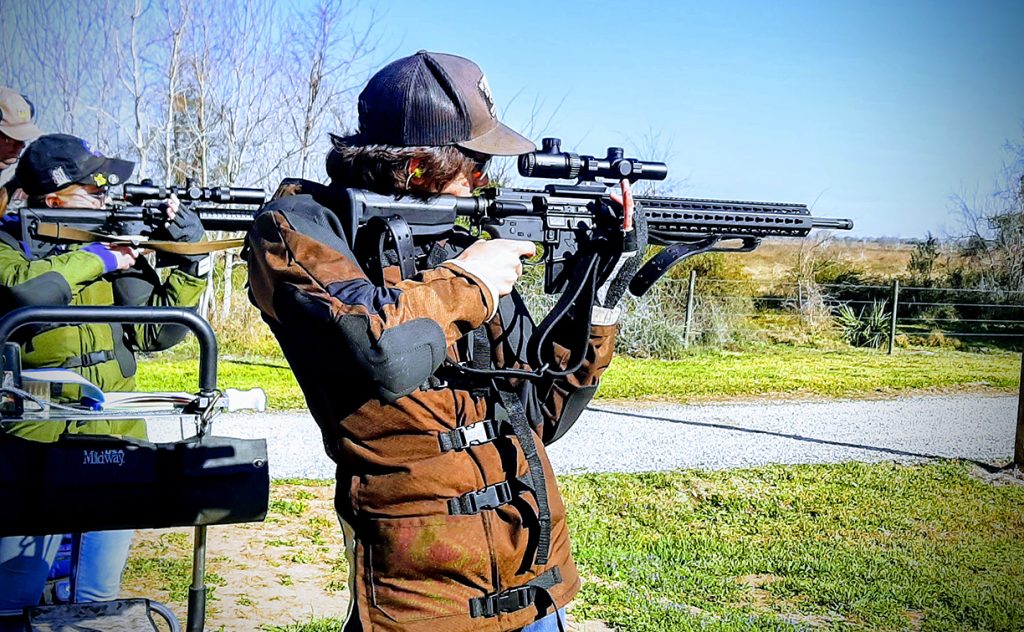 The Texas Junior Rifle Team is just warming up as its athletes and coaches prepare for other events throughout the year, including the annual CMP National Rifle Matches at Camp Perry – set to fire in July.
About the Texas Junior Rifle Team:
The Texas Junior Rifle Team, Inc., is a 501(c)3 non-profit organization, sanctioned by the Texas State Rifle Association. Texas state teams have been in existence for over 40 years, thanks to the efforts of local gun clubs and supporters. Range access, equipment and active adult leaders have allowed junior marksmen aged 12 through 20 to learn, practice and compete – moving from local matches to success on the national stage.
The team is funded through families, local clubs, businesses and donations and currently includes five districts: Northwest Texas Field and Stream (Wichita Falls), Central Texas Rifle and Pistol (Waco), Austin Rifle Club, Golden Triangle Rifle Club (Beaumont) and Greenwood Gun Club (Brazoria County). Learn more about the organization, including how to join, by visiting the team's website at https://www.texasjuniorrifleteam.org.
Granbury MCJROTC Rifle Team is the American Legion JSSP Texas STATE Precision Champion
Submitted by Lt. Col. Scott Casey, Senior Marine Instructor, Granbury High School MCJROTC
The Granbury MCJROTC Rifle team earned first place overall in the precision team competition for the Round 1 Qualifier of the 2021-2022 American Legion Postal Competition.
Results were announced on Feb. 16, 2022, with all individuals firing a 3×20 course of fire. Their combined score of 2359 edged out Texas Hill Country, whose members recorded a score of 2357. Granbury's State championship team members were Parker Haydin, Ashton Arlington, Sarah Folsom and Sunnee Schumann.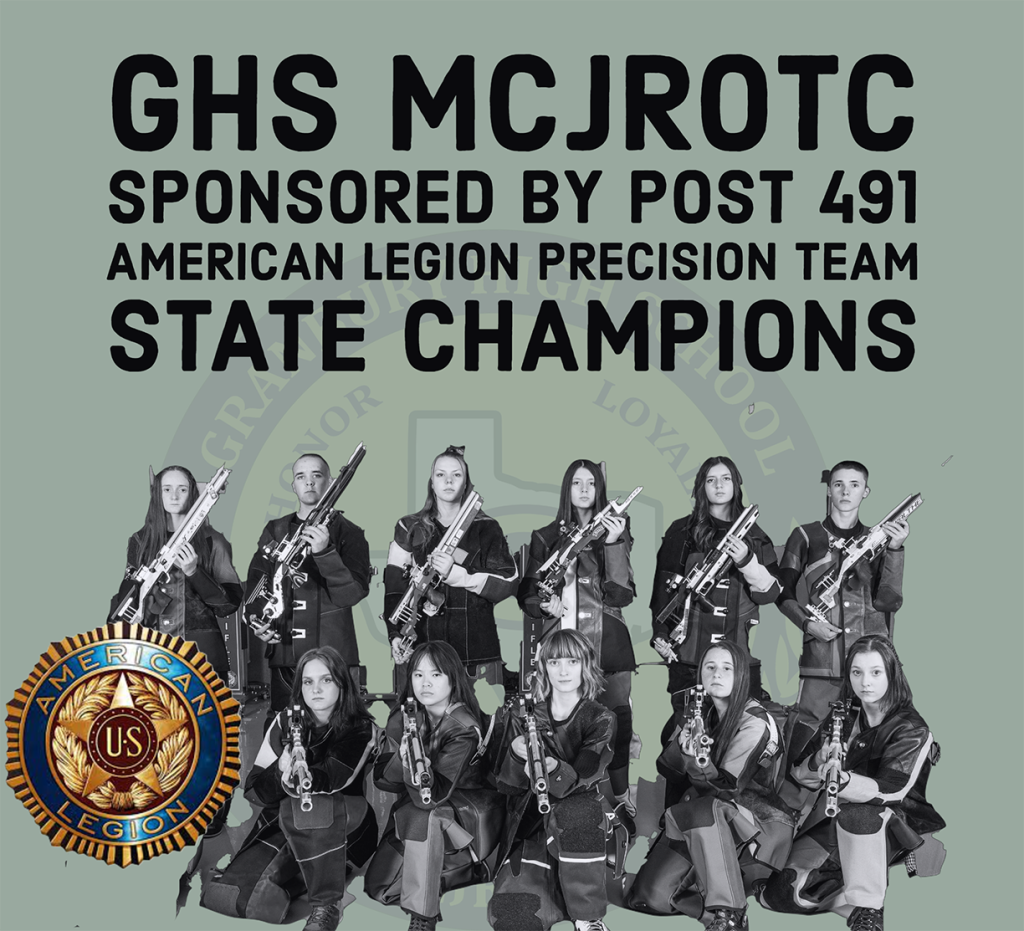 Along with the team state championship, Granbury MCJROTC Rifle team individual shooters receiving an invite to shoot in the national postal qualifier are Parker Haydin, Ashton Arlington, Sarah Folsom and Sunnee Schumann, as well as Caroline Martin, Julia Czernik and Kaylynn Salughter.
Scores from this match will determine who will receive an invite to Colorado in July to compete toward a $5,000.00 college scholarship, provided in part by The American Legion and The Sons of the American Legion. Also, the overall winner will receive an expense paid trip to the American Legion national convention city, where they are honored as part of the Youth Champions Delegation.
American Legion Post 491 is the sponsoring post for the Granbury Rifle Team.
If you'd like to find your local club, visit the CMP Competition Tracker Page at https://ct.thecmp.org/app/v1/index.php?do=clubSearch to become involved.
Have an article to share or want to highlight your CMP Affiliated Club? Send us your photos, reports and articles to highlight in The First Shot – email [email protected]. We look forward to hearing from you.
A Note from the CMP: At the CMP, we are not only dedicated to an increasing number of those involved in marksmanship within our own programs but are also devoted to supporting the efforts of those who are creating their own legacies in their own ways. Our Club News articles are our way of displaying the successes of our clubs, in the hopes of encouraging others to take the same respectable paths – both in marksmanship and in life. We are proud of our clubs for all of their endeavors and are honored to show them off within our news feed.
Granbury Rifle Team Wins Marine Corps Service Championship for Fifth Year, Breaks National Record
Submitted by Lt. Col. Scott Casey, Senior Marine instructor, Granbury High School MCJROTC
Members of the Granbury Marine Corps JROTC dominated at the Marine Corps Service Championships, held Feb. 3-5, 2022, in Phoenix, Arizona. High school cadets from Army, Navy, Marine Corps and Air Force JROTC (Junior Reserve Officers' Training Corps) met on the firing line to complete a journey that has been months in the making. Over 8,000 junior shooters participated in the 2021 CMP Postal Competition in October with the highest-scoring shooters in each branch qualifying for the JROTC National Service Championships in February 2022.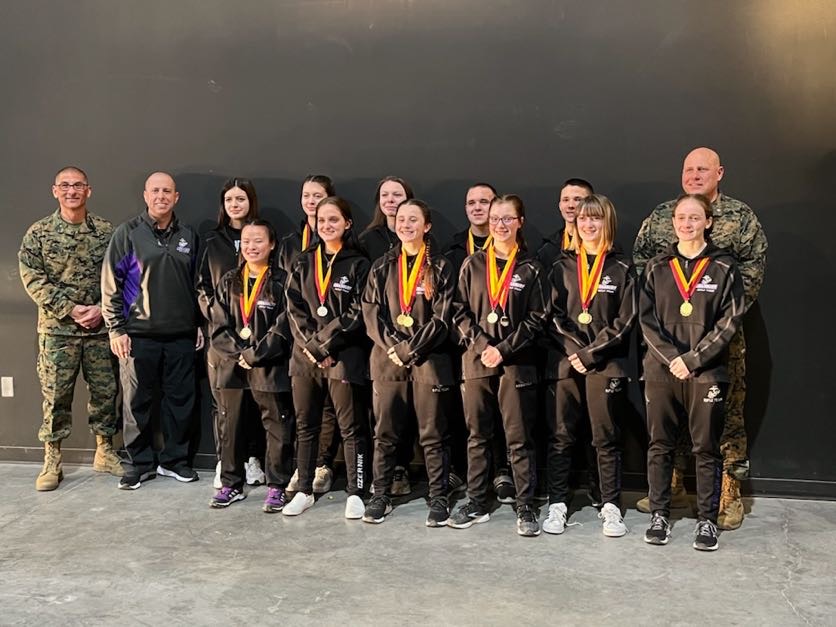 Granbury High School was represented by Parker Haydin, Tye Foster, Ashton Arlington, Sarah Folsom, Julia Czernik, Sunnee Schumann, Caroline Martin, Cadince McGrath, Kaylynn Slaughter, Kameron Wells and Kennedy Well. The event was a 3×20 air rifle match, meaning competitors fired 20 record shots from three positions (prone, standing and kneeling) over the two-day period in Phoenix.
After the first day of competition, the Pirates A Team was ahead by 53 points over the second-place team, which happened to be Granbury's other team in the competition (Schumann, Slaughter, Kameron Wells, Julia Czernik). Also, after the first day, the A Team of Haydin, Folsom, Arlington and Martin shot some remarkable scores and set a new open National Record and a Marine Corps National Record.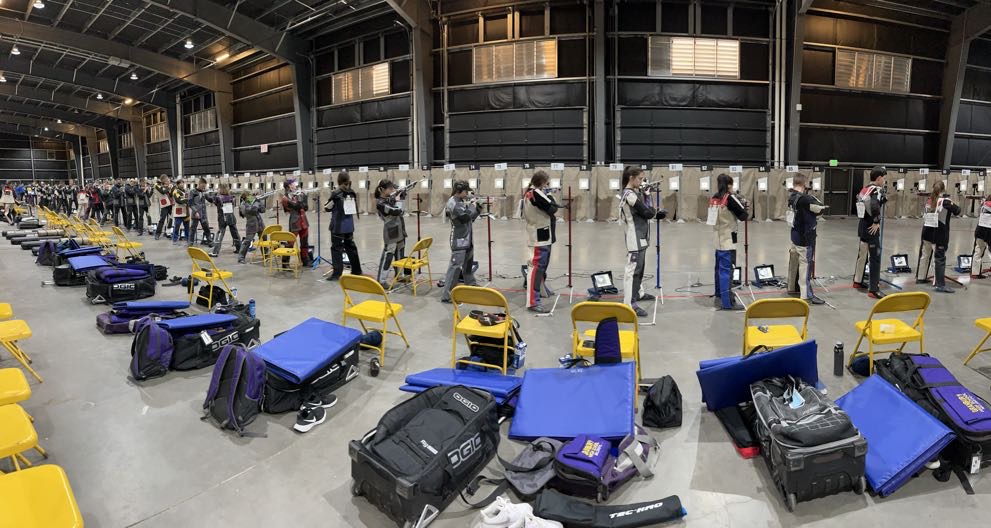 Rounding out the competition on day two, Granbury's A Team posted a 93-point lead, winning the National Service Championship. Also, Granbury's B Team placed second among all Marine Teams and qualified to compete at Nationals in March at Camp Perry, Ohio – where the true national champions among all JROTC teams throughout the nation will be determined.
Additionally, seven of the eight shooters making finals were from the Granbury squad. Pirates making finals were Haydin, Arlington, Schumann, Martin, Foster, Slaughter and Folsom. During a very exciting finals, Haydin dominated the competition and came out with the gold for the championship. Also making the podium were Slaughter (placing second) and Arlington (third place).
"The Pirates came to play this past weekend, dominating the competition and setting a national record," said Lt. Col. Scott Casey, Granbury's senior Marine instructor. "I'm super proud of this team and their accomplishments. Our kids are the best teams in the Marine Corps – that is an amazing achievement. Also, it was great to see seven of the eight individual finalists wearing Granbury purple and sweeping the medal stand."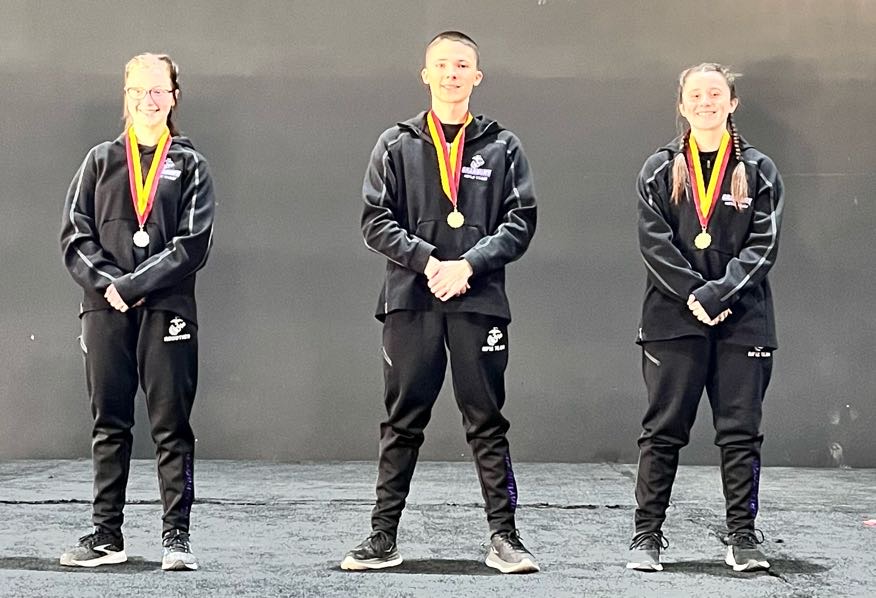 Casey went on to say, "I'm impressed with our senior – Foster. He made finals for the first time in his four-year career, placing eighth overall. This is a true testament on how well he shot under the pressure at a national match – and a great way to round out his senior year."
Granbury Rifle's next competition is Feb. 28-March 2, as Granbury High School hosts the Air Rifle Junior Olympics.
Find out more about the Three-Position Air Rifle Program on the CMP website at https://thecmp.org/youth/air/.
CMP Club News: Granbury MCJROTC wins the Orion Precision Champions Division League Championship for the 3rd Time
Submitted by Lt. Col. Scott Casey, senior Marine instructor, Granbury High School MCJROTC
Granbury MCJROTC defeated Lafayette Gun Club 2449.3 to 2422.2 in the 2021 National Air Rifle Precision Orion Championship Tournament. This championship marks not only Granbury MCJROTC's third league championship but also their third perfect season.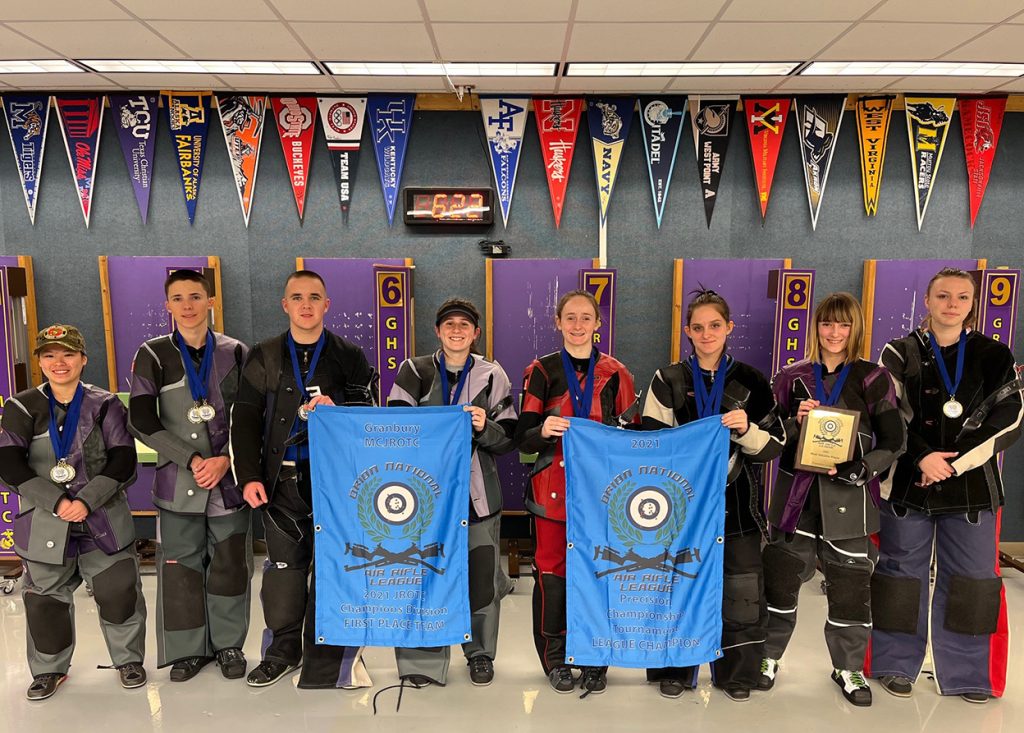 Granbury MCJROTC finished the season in first place overall and first place within their JROTC conference with a perfect 10-0 record. Granbury MCJROTC was led by Parker Haydin, who shot a 618.2. The remaining contributing members were Sunnee Schumann, Tie Foster, Ashton Arlington, Sarah Folsom, Julia Czernik, Caroline Martin, Cadince McGrath, Kaylynn Slaughter, Kameron Wells and Kennedy Wells.
Lt. Col. Scott Casey, senior Marine instructor and coach, said, "This was a good warm up for our Service National Championships next month in Arizona. The team is hitting on all cylinders – shooting some of the best scores in the past 10 years."
Also, during the tournament, Martin earned the Most Valuable Player award for having the highest average on the winning team during the postseason, averaging 614.7.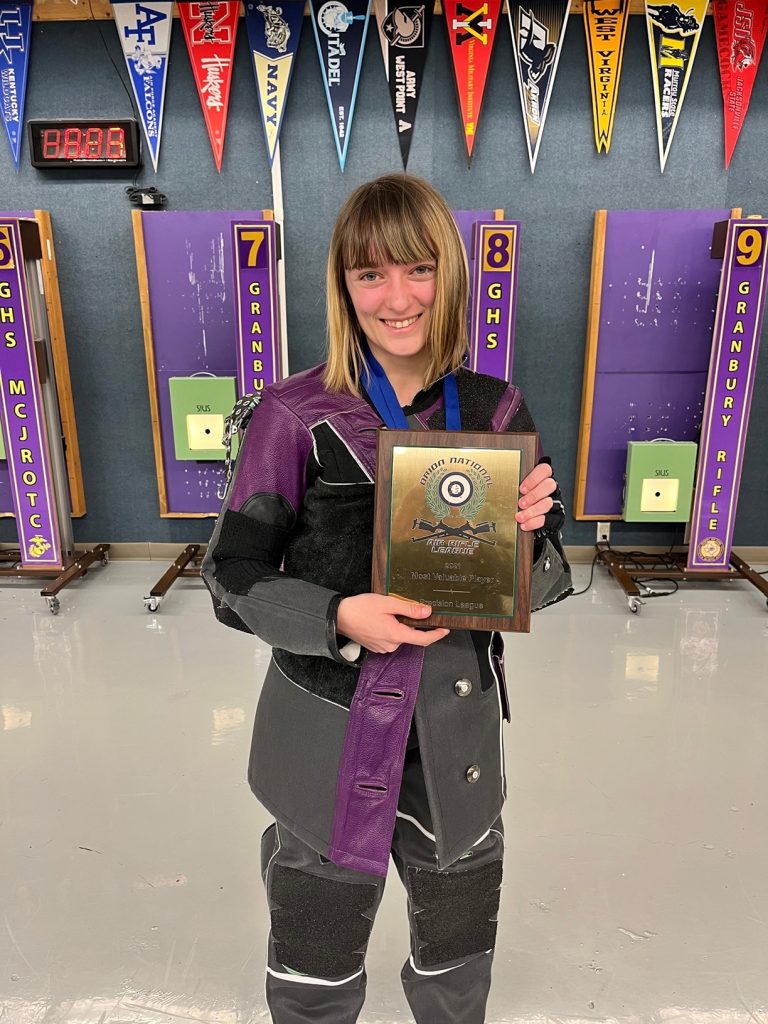 Casey went on to say, "I'm very impressed with how Martin has shot. She has been working hard in the range on her time off and it is showing. She is an anchor for the team as we get ready for Service and All Service Nationals."
The JROTC Service Championships are set to be fired Feb. 3-5 on the Civilian Marksmanship Program's (CMP) Mobile Range in Arizona and at the CMP South Competition Center in Alabama for Army, Air Force and Marine Corps cadets. Navy, Army and Air Force athletes will also travel to the Gary Anderson CMP Competition Center in Ohio and return to the South Competition Center in Alabama Feb. 10-12 to wrap up the Service Championships before moving on to the JROTC Nationals for all services at Camp Perry in March.
If you'd like to find your local club, visit the CMP Competition Tracker Page at https://ct.thecmp.org/app/v1/index.php?do=clubSearch to become involved.
Have an article to share or want to highlight your CMP Affiliated Club? Send us your photos, reports and articles to highlight in The First Shot – email [email protected]. We look forward to hearing from you.
A Note from the CMP: At the CMP, we are not only dedicated to an increasing number of those involved in marksmanship within our own programs but are also devoted to supporting the efforts of those who are creating their own legacies in their own ways. Our Club News articles are our way of displaying the successes of our clubs, in the hopes of encouraging others to take the same respectable paths – both in marksmanship and in life. We are proud of our clubs for all of their endeavors and are honored to show them off within our news feed.
Texas Junior Austin Stone Learns By Doing at First National Matches Showing
Austin Stone, 16, of Lindale, Texas, and Charisma Owen, 18, of Wichita Falls, Texas, were the overall winners at the 2021 National Matches Junior Team Trophy .22 Pistol Match, fired in July. The two young competitors represented the Texas State Rifle Association and claimed the Riding the High Places Trophy in their win.
The day of the Team match, the wind pick up dramatically. Stone had never shot in wide-open ranges like the ones of Camp Perry and was given an immediate, personal lesson on the range.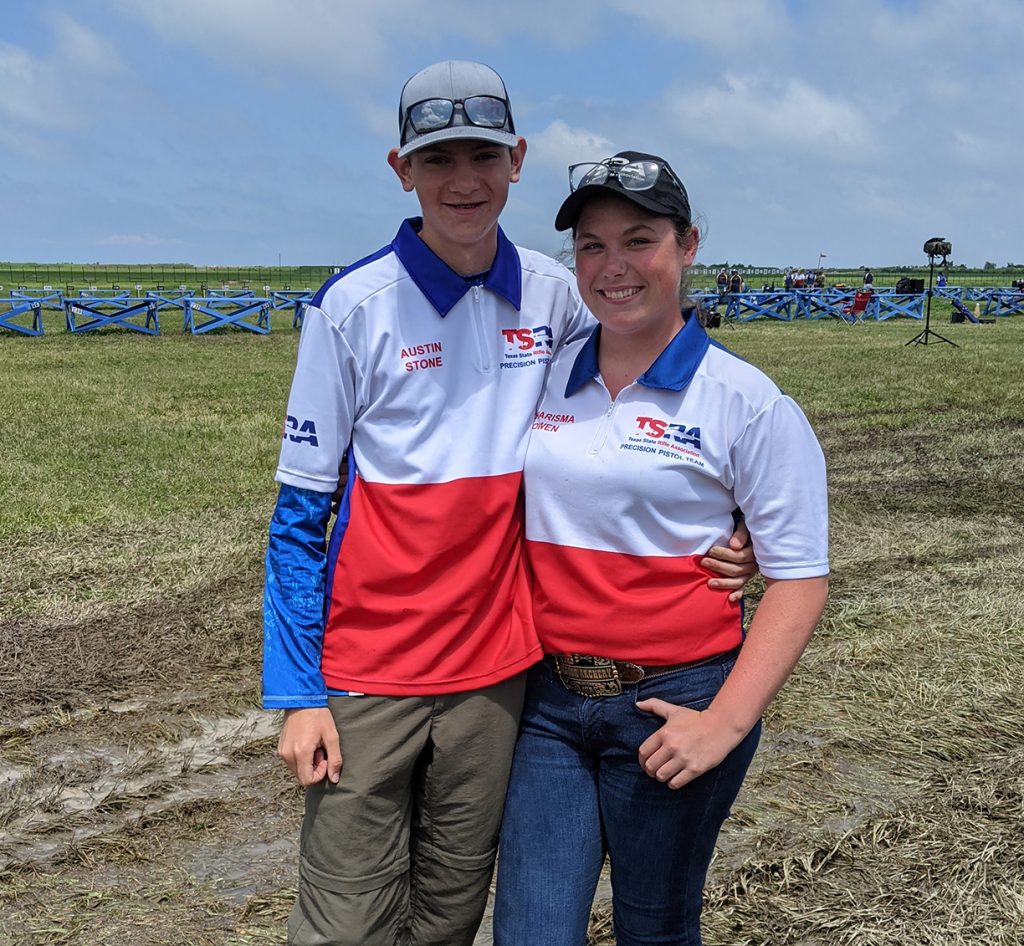 "I had to quickly adjust to the constant pushing and pulling of the wind," he explained. "I was a little nervous, but, mainly, I just wanted to perform well with Charisma, who has done well in this event in the past."
Owen, who competes in both service rifle and bullseye pistol, has been a part of the shooting sports world since she joined her local 4-H Club in 2012. Developing a strong interest in marksmanship, she became involved with the Texas Junior Service Rifle and Junior Pistol Team a few years later. She earned her Distinguished Rifleman Badge in 2019, the same year she attended her first National Pistol Matches and is now on her way to achieving the same honor in Service Pistol.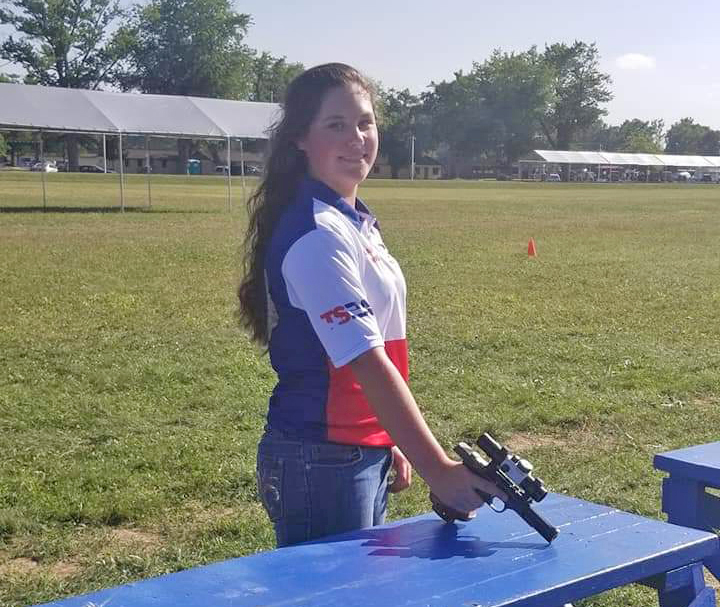 "Shooting with Charisma was so much fun, and there is so much I can learn from her," Stone said. "She is a great captain and is always encouraging the other juniors. She's very experienced with shooting and has been very successful."
"She's also very outgoing and fun to be around and puts everyone on the firing line in a good mood," he added.
Stone has been shooting competitive pistol for a little over two years now, since attending a safety training class with a friend.
"After the training, we went through a bullseye pistol style match," he explained. "Dan Miller, who has been shooting for years, asked me if I wanted to shoot bullseye competitively, and that's when it began."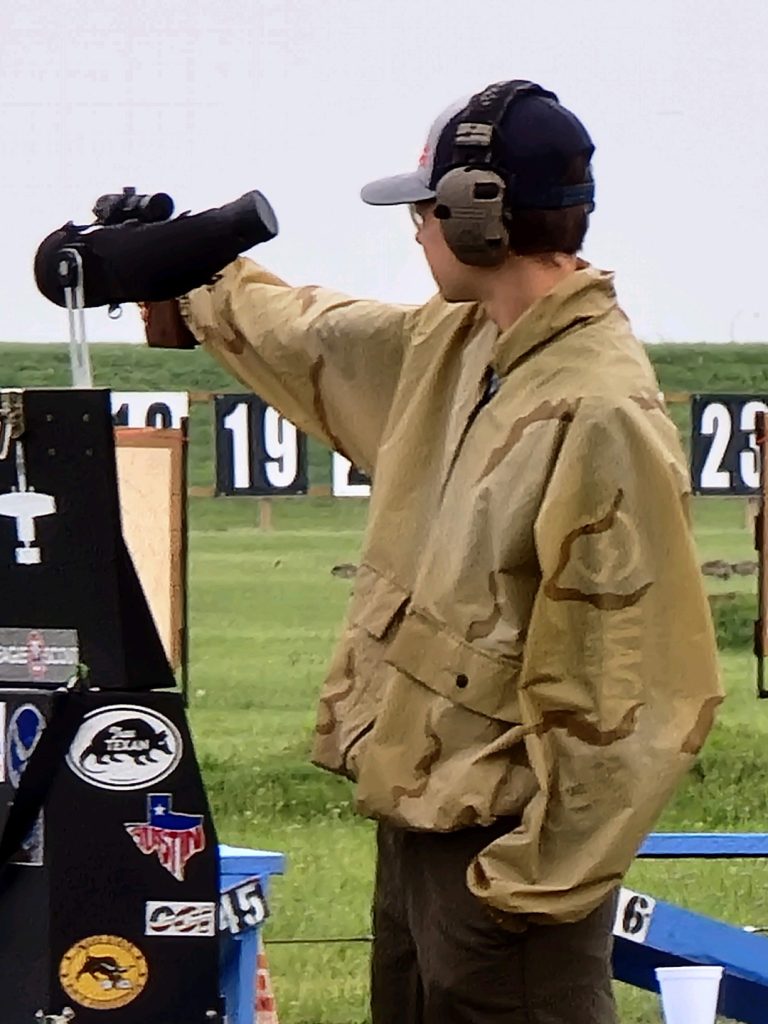 As a member of the Texas State Rifle Association Pistol team, Stone mainly competes in bullseye but also shoots ISSF (International Shooting Sport Federation) sport and air pistol, along with CMP EIC (Excellence-In-Competition) matches. He uses a .22 caliber Hammerli 208 International, built in the 1970s.
This year was Stone's first trip to the National Matches and, in his words, he "definitely got the Camp Perry experience with all the rain, and wind and challenges."
"But I enjoyed it. It was a great experience," he said. "I learned a lot about myself and how I shoot and learned a lot from all the other great shooters. It was different and difficult having to shoot multiple times a day for multiple hours each day, but very worth it."
"This sport has great people, and they were all very helpful and supportive of me as a junior," Stone went on. "There was always someone to help me with any question I had, from shooting in the moment to moving forward and developing as a marksman."
Some important advice he received was focusing on each shot individually, forgetting about the bad ones and trusting his shot process. Having encouragement from veteran marksmen was helpful to Stone as he navigated the tough, yet exciting, atmosphere of the National Matches.
"Camp Perry was a great experience, and I really appreciate the spirit of the games and shooters," he said. "This is a great sport, and I learned so much about shooting and mental techniques from all the very helpful and supportive people. The entire time, I felt very supported as a fairly new junior shooter."
For the future, Stone hopes to continue shooting .22 bullseye and sport pistol and working his way to a .22 Distinguished Rimfire Pistol Badge. He's even thinking about becoming part of a collegiate team one day.
Find out more on the CMP's Pistol Program by logging onto the CMP website at https://thecmp.org/competitions/cmp-pistol-program/. The 2022 National Match calendar is posted at https://docs.google.com/spreadsheets/d/1uCgLkHYEv4XWO1GXwGy3aoQfICXkFh1dms9-NqWNB6U/edit#gid=405070993.
Welcome to Texas' CMP State Director Page
Follow this page for the latest updates and news in the state of Texas.