'Late to the Party' Paula Crenshaw becomes Distinguished at age 67
December 22, 2020
Civilian Marksmanship Program
▸
The First Shot
▸
'Late to the Party' Paula Crenshaw becomes Distinguished at age 67
Paula Crenshaw, a 67-year-old grandmother, never stops reaching toward new ambitions. This November, Paula earned the prestigious Distinguished Rifleman Badge at the 29 Palms Marine Base.
"I've always been late to the party," she said. "I didn't start medical school until I was 37."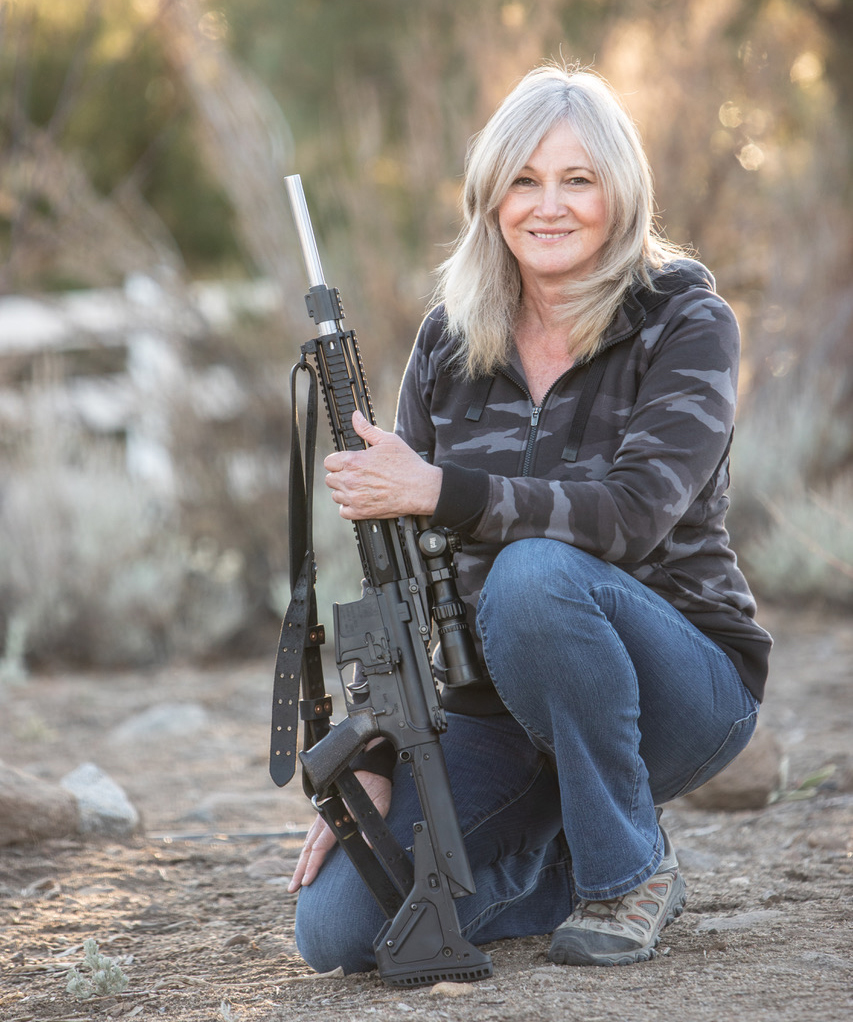 A physician from Reno, Nevada, Paula took up rifle shooting in her early 50's – an endeavor that began as an aggravating attempt to support her husband's interests and grew into a profound infatuation that led her to her own Distinguished Badge.
"The fulfillment of my dream," she said.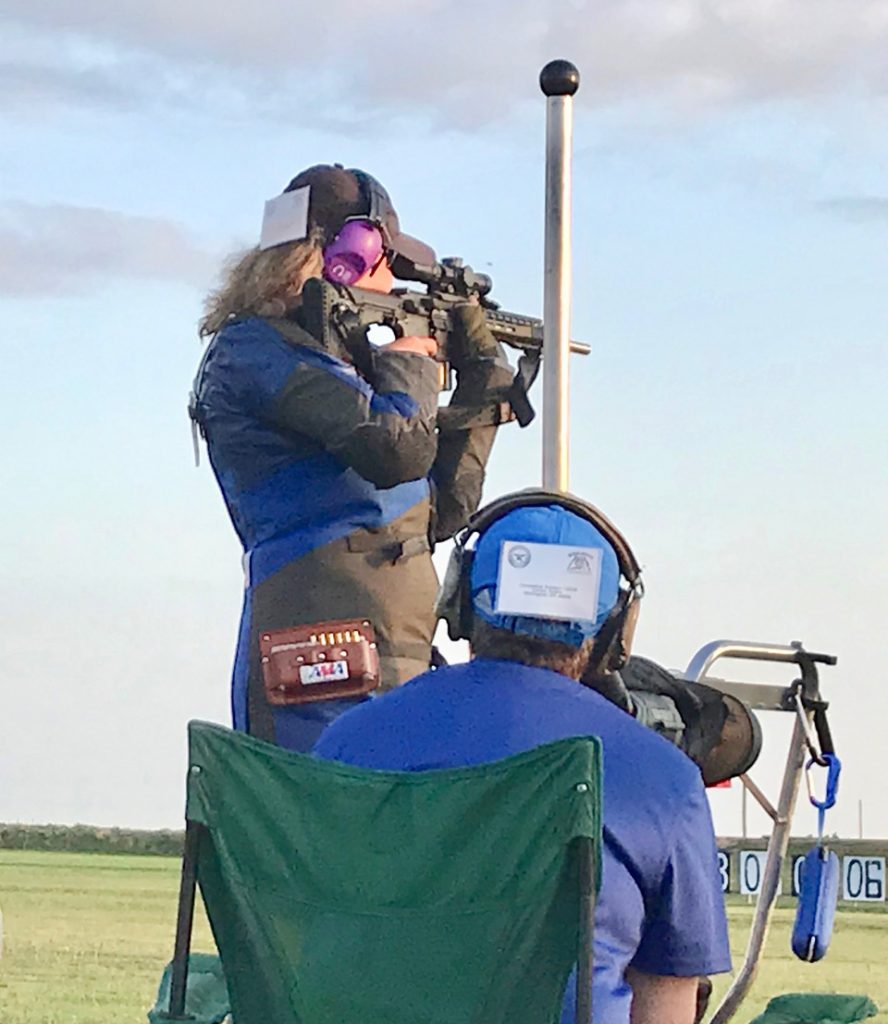 Distinguished Badges are awarded to marksmanship competitors who collect at least 30 Excellence-In-Competition (EIC) "leg" points – earned by placing in the top 10 percent of an EIC match. A program that was instilled by the War Department in 1884, the badge continues to be a valued accomplishment for determined marksmen on the firing lines today.
Paula is a member of the Coalinga Rifle Club in California and the Palomino Valley Gun Club in Nevada. She's been on the hunt for a Distinguished Badge since she earned her first points in 2018, then went on to claim her own "hard leg" (10 EIC points) at the annual National Matches at Camp Perry, Ohio, in 2019.
After that, "legging out" (that is, earning enough points to receive a Distinguished Badge) became a near obsession.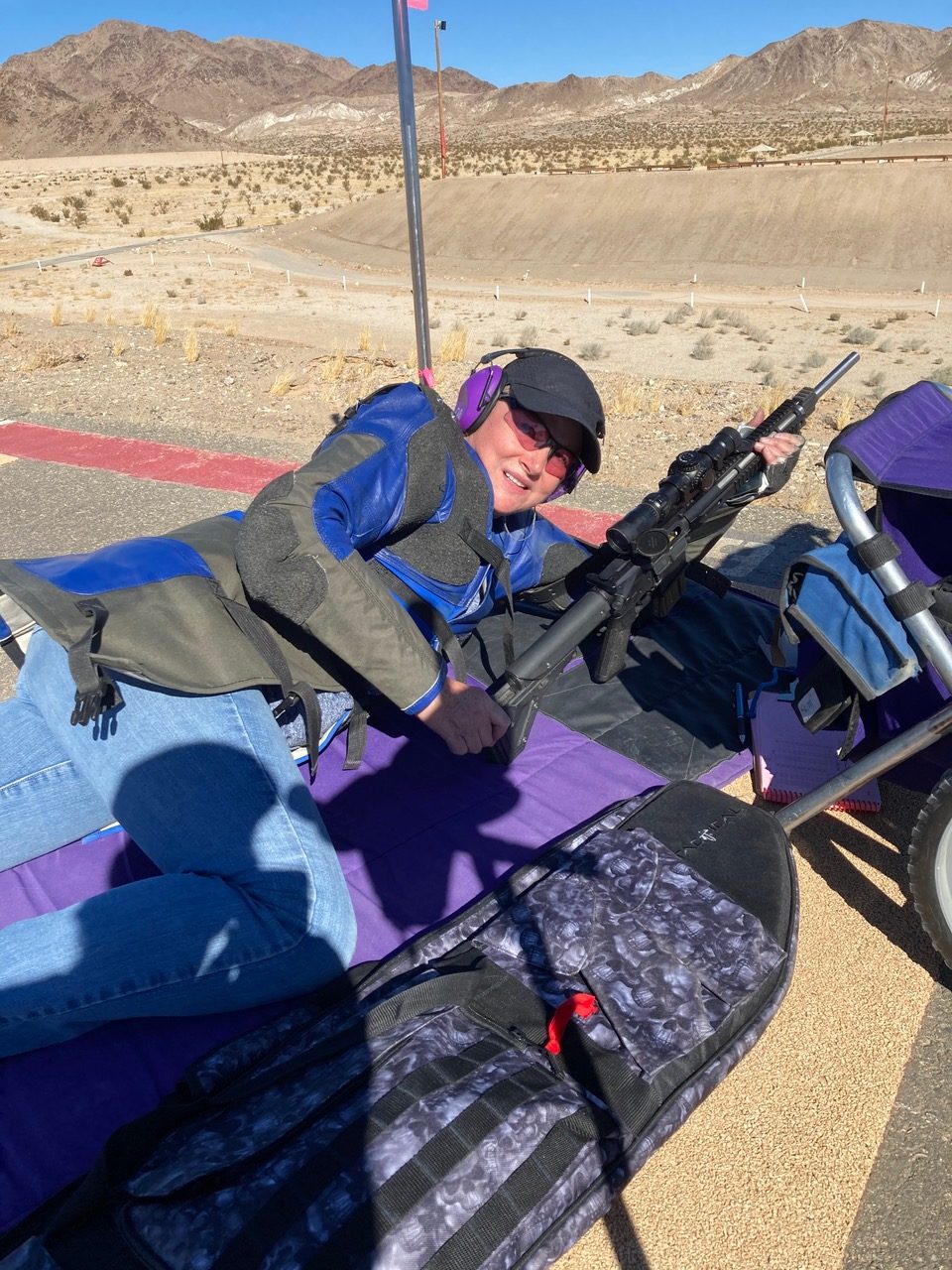 "I dry-fired almost every day," she recalled. "I worked out. I thought about winning first thing in the morning and as I fell asleep at night. I read many shooting books, sometimes multiple times. I drove my non-shooting friends away talking about shooting!"
By the end of 2019, she had been so dedicated to competing that she had wrangled up 22 EIC points – only eight away from a badge.
The start of 2020 met Paula with not only the difficulty of finding matches due to the enduring pandemic but also with nerve ailments that kept her scores below a point-earning level.
With the close of the 2020 shooting season rapidly approaching, Paula decided to go to the 29 Palms Marine Base in California in November for one of her last EIC match chances – carrying within her a newfound modesty and resolve to capture those final points she had sought after for so long.
Though her emotions were up, her competitive game was down as she fired a sub-par offhand score to start out the first stage of her match.
"I was done for, and therefore totally relaxed and enjoyed shooting the rest of the match," she said.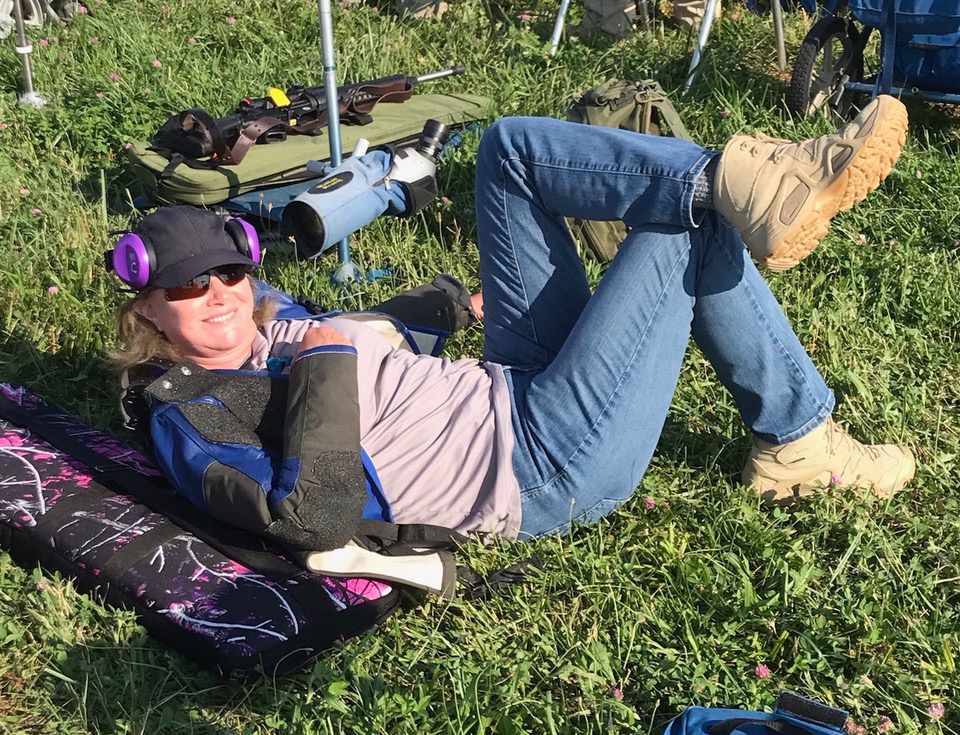 Her new leisurely approach to her final three firing stages, relieving her of any competition pressure, shockingly boosted her scores – enough to earn herself the final points she needed for her own Distinguished Rifleman Badge.
"No one was more surprised than me to learn I had won the eight-point leg," she said, proudly. "I had finally done it."
As a way of commemorating the moment, her shooting partner (her husband, Greg) pinned his own Distinguished Badge on her hat.
"(Greg) most certainly helped make this possible for me," Paula acknowledged.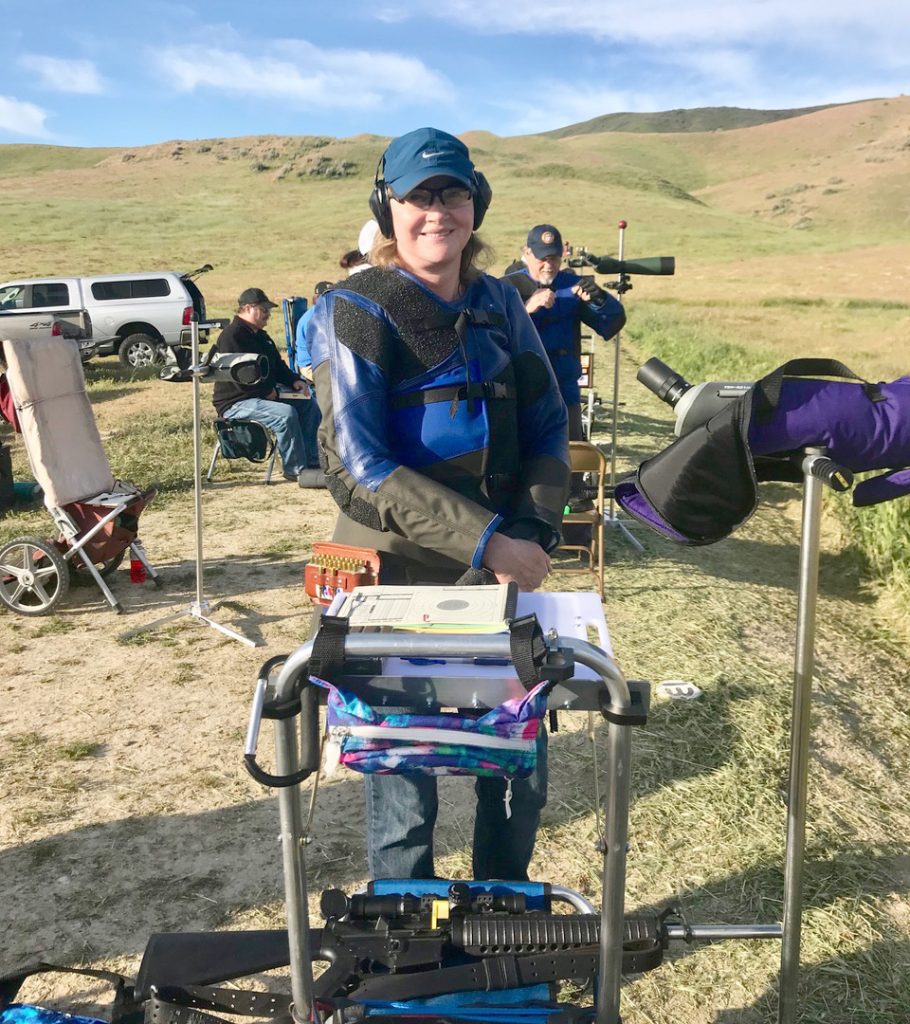 She also thought of all the others who assisted her along the way, saying, "I wish I could thank every person who gave me a tip, a word of encouragement, picked up my brass or brightened my day after I shot badly."
"The wonderful thing about shooting is you can do it at any age on equal footing with everyone else," Paula said. "No shooter accomplishes this without the help of others. I didn't."
— By Ashley Brugnone, CMP Staff Writer
Distinguished Badge Biographies. Read more about Paula's journey to earn her Distinguished Badge at https://ct.thecmp.org/app/v1/index.php?do=reportDistinguishedShootersByCriteria&filter=distinguished_type&filter_value=RIFLE# (search for Paula Crenshaw and then click on the Biography link). The Civilian Marksmanship Program would like to invite any Distinguished competitor to submit a biography. The biography should include information about your shooting career and your efforts to become Distinguished. To submit your biography, please email [email protected].
Earn Your Distinguished Badge! Distinguished Badges are the highest individual awards authorized by the U. S. Government for excellence in marksmanship competition. They are awarded by the CMP and competitors can earn EIC points by participating in EIC Matches. Learn more on the CMP website at https://thecmp.org/competitions/distinguishedbadges/ or call or (419) 635-2141 ext. 714.