2020 Western CMP Games & CMP Cup Matches
PHOENIX, ARIZONA MARCH 13-22 2020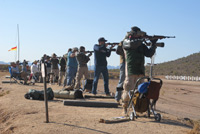 The Western CMP Cup & CMP Games Matches, sponsored by the Civilian Marksmanship Program, will be held at the Ben Avery Shooting Facility, Arizona.
The CMP Cup Matches include two CMP 1000 Aggregate Matches followed by a 4-Man Team Match and an EIC Service Rifle Match.  Following the CMP Cup Matches will be the CMP Games Matches. The CMP Games Matches include Small Arms Firing School (SAFS), Garand/Springfield/Vintage/Modern Military Matches, Carbine Match, Rimfire Sporter match and Vintage Sniper Team Match.
All Competitors firing on the High Power range will be firing on Kongsberg Electronic Targets (KTS). The KTS system registers each shot and relays the location and score value to a monitor beside each shooter on the firing line.
Electronic Target Scoring Rules are available here.
There will also be a GSM New Shooter Clinic and an M1 Maintenance Clinic held during the Western CMP Cup & CMP Games Matches.  CMP Sales will be at the event with a limited supply of rifles.  They will also have ammunition and CMP memorabilia available for purchase.
For answers to questions about the Western CMP Cup & CMP Games Matches, contact the CMP at [email protected] or call 888-267-0796, ext. 714.
If you are interested in becoming a Match Sponsor, please contact Christina Roguski at [email protected] or call (419) 635-2141, ext. 714.
Directions to the Ben Avery Shooting Facility and Highpower Range
The Ben Avery (Black Canyon) Shooting Facility is located 25 miles north of Phoenix, AZ. It is ½ mile west of I-17 on the Carefree Highway (Exit 223).
Competitors will enter through the gate behind the 1000 yard line; this gate is ½ mile west of the main gate. A map to the facility from the Interstate is located here.
For directions of the facility and shooting ranges once you get to Ben Avery, click here.
DIRECTIONS TO THE ACTIVITY CENTER FOR CLINICS AND BBQS
Upon entering the Ben Avery Shooting Facility off Carefree Highway, you will follow the entrance road north. As this entrance road turns to the west, you will notice the first range entrance as being the smallbore range. The next parking lot entrance will be the Activity Center. This entrance will be on your right.
Where to stay
Competitors who plan to stay overnight near the Ben Avery Shooting Facility should stay north of the Phoenix area. There are numerous motels in this area, many with attractively priced rooms.
For information about RV and camp sites at the Ben Avery Shooting Facility, click here. The camping area has electricity, water and toilet facilities available during the matches for competitors only.