National CMP Games Events
National CMP Games Events History
In 1998, the Civilian Marksmanship Program (CMP) inaugurated the John C. Garand Match and, with it, an exciting new concept in target competition.
The Garand Match is a unique competition where shooters fire older "as-issued" military rifles over a course of fire that makes target shooting attractive to the average shooter. The availability of surplus M1 and other older military rifle make target shooting accessible to thousands of shooters, many of whom do not participate in traditional target competitions. The Garand Match allows shooters to reenact military and marksmanship history and features camaraderie and a relaxed, fun-filled, yet challenging experience.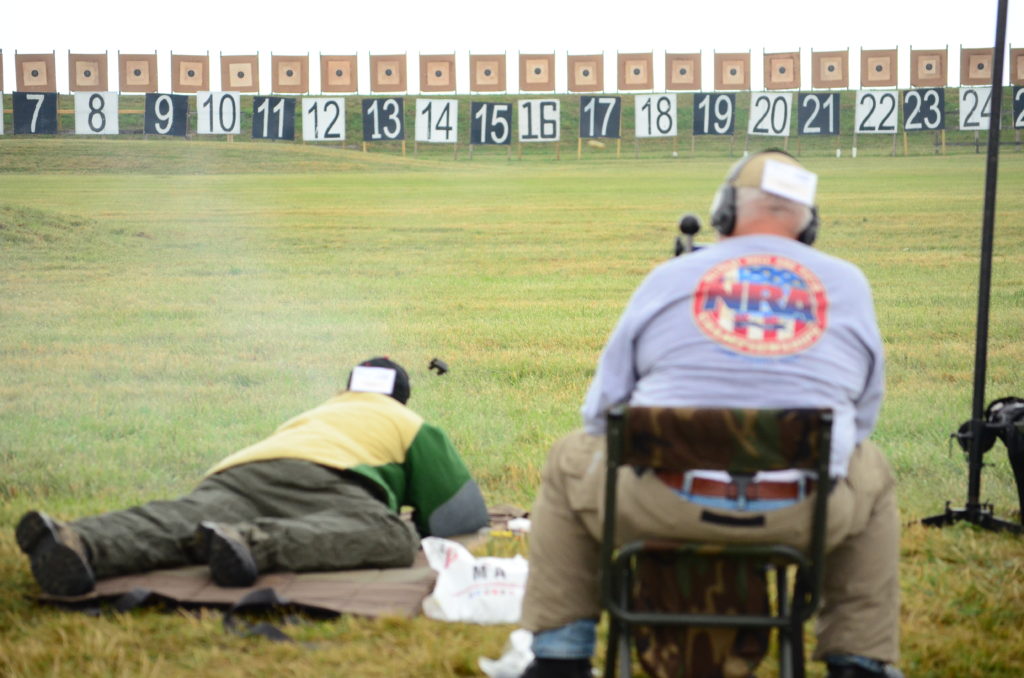 In response to the growing popularity of the Garand Match, the CMP established other competitions of the same type that now include the Springfield Rifle Match, Vintage Military Rifle Match, Rimfire Sporter Match, M1 Carbine Match, Vintage Sniper Rifle Team Match and Modern Military Rifle Match. Together, these matches have come to be known as "CMP Games Matches."
For more information on the National CMP Games Events, contact the CMP Competitions Department at [email protected] or (419) 635-2141, ext. 706 or 714.
Review the Rules and Register
Registration (Opens April 1st)
NATIONAL MATCHES CAMPS, CLINICS, AND SCHOOLS
National Trophy Rifle week at Camp Perry is always the biggest and most active week during the National Matches. In addition to the competitions themselves, there are many schools, clinics and special activities that combine to make this week a complete shooting sports experience for everyone who comes to the National Matches. Click here for more details.
Awards Ceremonies
The National CMP Games Matches Awards ceremony will take place at Petrarca Range on Sunday, 8 August 2021 shortly after the CMP matches conclude (approximately 5:00PM).
The CMP Games ceremony will include the presentation of awards for the Springfield, Vintage Military Rifle, John C. Garand and M1 Carbine Matches. There will be a Three Gun Aggregate award for the competitor firing a Garand, Springfield, and a Vintage Military Rifle and a Four Gun Aggregate award for the competitor firing a Garand, Springfield, Vintage Military Rifle and Modern Military Rifle.
All competitors in any of the CMP Games Matches are encouraged to attend this short, but meaningful, awards ceremony. CMP awards plaques to the Overall Winner, High Senior, High Grand Senior and High Junior in each match. The GCA (Garand Collectors Association) plaques for the NTT, President's Rifle Match and the NTI Rifle Match will also be presented.
The Vintage Sniper Match awards will be held Monday, 9 August 2021 at Petrarca Range shortly after the Vintage Sniper Match concludes.
CMP ARMORER VAN & RIFLE INSPECTIONS
The CMP maintains an Armorer Van in the Armorer Van area behind Young Range throughout the National Matches. Experienced gunsmiths staff the van. Hours of operation are generally the same as range firing hours.
All firearms, to be used in any CMP Games or CMP Service Rifle event, are required to be inspected by a CMP sanctioned armorer prior to any live fire at every event. Competitors will be required to present all applicable scorecards to the CMP Armorer in order to complete the inspection process. To expedite the inspection process, competitors are requested to apply their competitor label to each score card. Please include the last four digits of the serial number for the firearm to be used in the bottom right hand corner of the scorecard. Upon completion of the firearm inspection process, each scorecard will receive a stamp of approval from the CMP Armorer, indicating that no safety violations or rules compliance issues were observed at the time of inspection. Each rifle will also receive an inspection tag, verifying participation in the inspection process. Any inspection tags from prior events are to be removed at the time of inspection.
Upon conclusion of firing, any scorecard received by CMP staff which doesnot bear the CMP Armorer's stamp, will be entered as "Out-of-Competition". To accommodate unforeseeable circumstances, competitors will receive a 30 minute window after completion of firing in which a fired rifle may still be inspected.
This enhanced inspection process will aid in ensuring match compliance, as well as promote the safest experience that CMP can provide for all participants on our firing line. Please be advised that CMP Armorers are operating in an advisory role and cannot absolutely certify the safety or compliance of all firearms in the time provided. It is still the responsibility of each competitor to ensure compliance with all CMP mandated safety regulations and match rules. The Armorer's stamp will not serve as an alibi in the event that a violation is found before, during, or after participation in a match.
Sponsors
While CMP policy prohibits endorsement of any company product or service, we would like to recognize the following companies that will award their own separate products to the top shooters of the National Matches.
If you would like to become an award match sponsor, please contact Christina Roguski at (419) 635-2141, ext. 714 or email [email protected]. Once confirmation is received, sponsor logos will be listed.