The International Defensive Pistol Association (IDPA)
The International Defensive Pistol Association (IDPA) is the governing body of a shooting sport that simulates self-defense scenarios and real life encounters. One of the unique facets of this sport is that it is geared toward the new or average shooter, yet is fun, challenging and rewarding for the experienced shooter.
The founders developed the sport so that practical gear and practical guns may be used competitively. An interested person can spend a minimal amount on equipment and still be competitive. The main goal is to test the skill and ability of the individual, not equipment or gamesmanship. "Competition only" equipment is not permitted in this sport. For more information, visit http://www.idpa.com/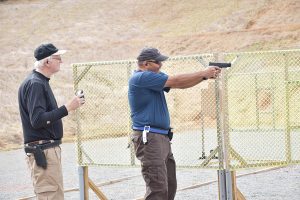 The Talladega Marksmanship Park's IDPA matches are held every 1st Saturday of the month at 9:00 am. The cost to fire in this match is $25.
Match registration is conducted online at https://practiscore.com/. 
Match director: Scott Glanze [email protected]