National Trophy Team Match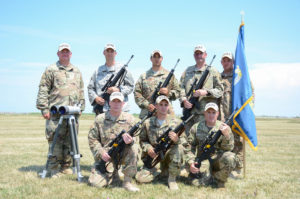 GENERAL INFORMATION: The National Trophy Rifle Team Match (NTT) is a National Trophy Match. It was first fired in 1903 when competitors in the first National Matches competed for the "National (Dogs of War) Trophy" that was commissioned pursuant to an appropriation by the U. S. Congress. The NTT is a six-person team match with a requirement that at least one firing member be a "new shooter." The NTT Trophies are among the most valuable and most important of all National Trophies.
COURSE OF FIRE: Each member of the six-person team fires the National Match Course of Fire. No sighters are permitted in National Trophy Rifle Matches. Firing is done on the SR target at 200 and 300 yards and the MR target at 600 yards. Teams must pair fire the standing and prone slow-fire stages.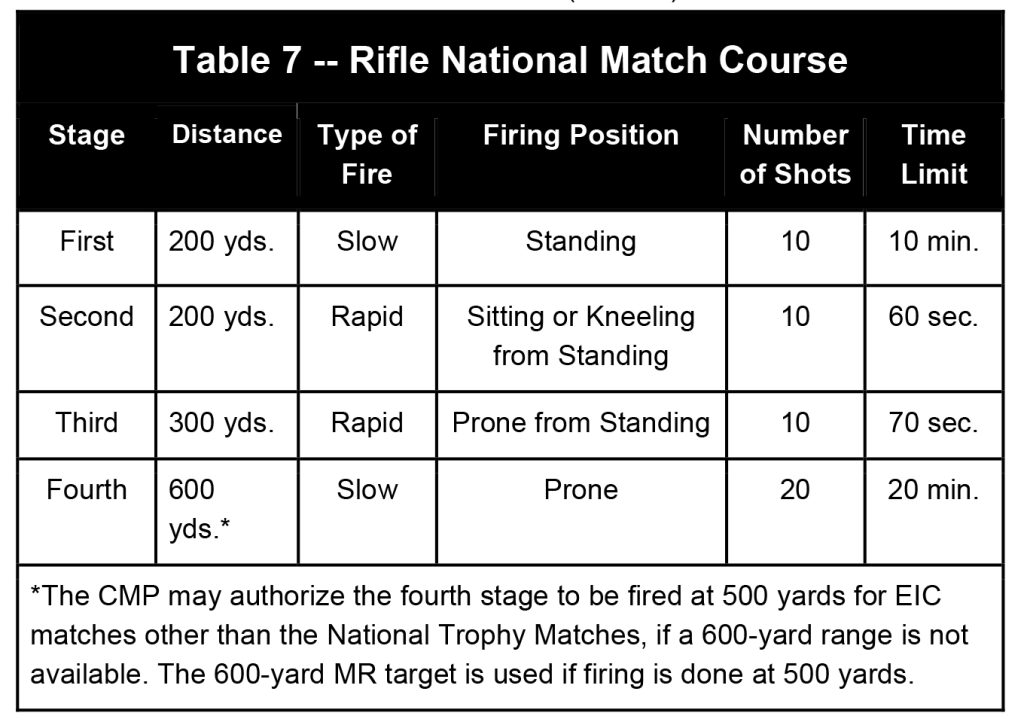 TARGET PULLERS: Each team must provide two target puller to work in the pits. Target pullers must be experienced and physically able to handle targets for highpower rifles matches. Failure to provide capable target pullers may disqualify a team. Target pullers must go into the pits to their team's assigned target. Team captains/coaches will be called to firing line at 6:30AM to turn in their Team Target Puller Assignment Cards. All target pullers must check in at the NM Welcome Center and receive CMP Competitor Labels.
SQUADDING: The National Trophy Team Match is fired on Viale Range. A maximum of 131 team entries can be accepted. Entries may be made at the National Matches Welcome Center. The entry deadline is the close of In-Processing, one day prior to the match. Teams will draw firing points and be issued scorecards when they enter. The NTT Entry Confirmation Card must be completed with labels for each team member, coach and captain. This card must be turned in to CMP staff no later than the start of the first NTT preparation period on the day of the match. Team captains/coaches will be called to firing line at 6:30AM to turn in their Team Target Puller Assignment Cards.
NON-FIRING TEAM OFFICIALS: Non-firing team captain or coach who is not entered in the National Trophy individual events is still required to enter the matches as a Non-Firing Team Member. There is no entry fee for this, but it is necessary to have non-firing captains or coaches in the match so CMP competitor labels can be issued and their names can appear in results bulletins. Non-firing team officials will receive CMP competitor labels when they go through In-Processing at the National Matches Welcome Center.
OUT-OF-COMPETITION TEAMS: The "out-of-competition" team entry option makes it possible for more competitors to shoot team matches when they cannot form an eligible team. If your team, club or state association does not have enough shooters at Camp Perry to form an eligible team or you do not have or do not want to burn a new shooter, you can form an out-of-competition team and fire in the team matches. Out-of-competition team scores will be posted and listed in the results bulletin, but new shooter eligibility is not affected and, of course, these teams are not eligible for awards.
RIFLES: Service rifles that comply with CMP Highpower Rifle Competition Rules.
AMMUNITION: Any safe ammunition may be used in accordance with CMP Highpower Rifle Competition Rules.
OTHER RULES: Specific rules governing the conduct of the National Trophy Team Match are found in the CMP Highpower Rifle Competition Rules. Please note that this match is a National Trophy Match that requires all firing members of teams that wish to be eligible to win National Trophies to comply with the rules (including the rule requiring competitors to begin the rapid-fire sitting stage and prone stage from the standing position).
AWARDS: The winning team in the National Trophy Team Match receives the National "Dogs of War" Trophy (six team members, the team captain and the team coach, receive trophy plaques; the name of the winning team is permanently engraved on the trophy; the trophy is retained by the CMP on permanent display at Camp Perry). Special awards recognize these winning teams:
ENTRY FEES: $100.00 for adult teams, $75.00 for junior teams. Team cards are also available for purchase online prior to arriving at Camp Perry.