National Trophy Infantry Team Match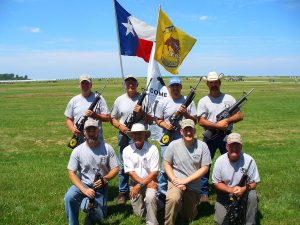 GENERAL INFORMATION: The National Trophy Infantry Team Match (NTIT) is a National Trophy Rifle Match that was first fired in 1922. Only two Civilian teams have ever won the prestigious Infantry Trophy that goes to the winner of this match. The first Civilian team to win this honor was the Nebraska Civilian team who won in 1930. Seventy-nine years later, in 2009, the California Grizzlies Junior Team won the Infantry Trophy. The NTIT is sometimes called the "rattle battle" because it emphasizes extremely fast, accurate fire. It is also an exciting competition for spectators to watch.
COURSE OF FIRE: Six-person teams will fire the Infantry Team Match Course of Fire. Teams begin with 384 rounds to allocate among team members. Teams begin at 600 yards. They must distribute their fire so that, if possible, all targets receive at least six hits. Army "E" silhouettes are used at the longer ranges; Army "F" silhouettes are used at the shorter ranges. Hits at 600 yards count four points, at 500 yards, three points, at 300 yards, two points and at 200 yards, one point, plus each team receives a bonus at each yard line equal to the square of the number of targets with six or more hits.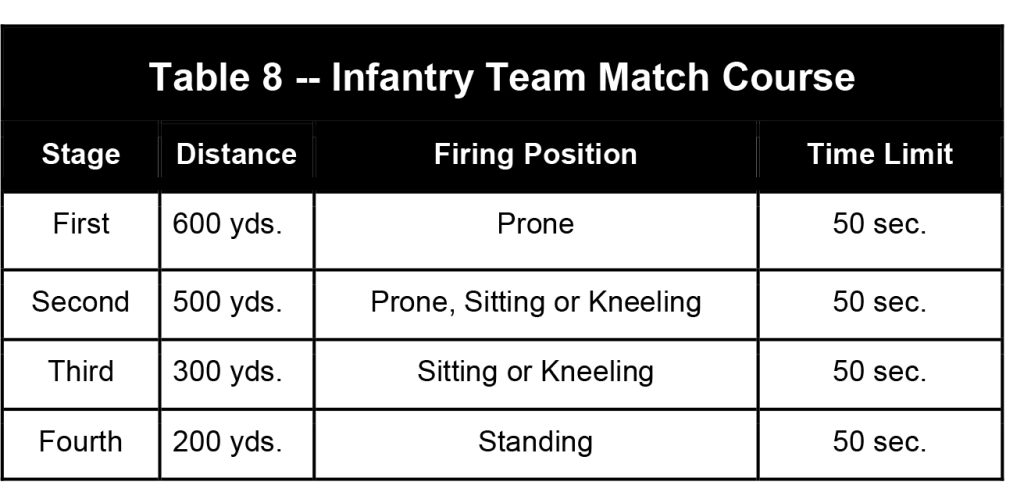 Infantry Trophy Clinic: Thursday, 30 July, 5:30-6:30 PM (or at the conclusion of firing) at the Gary Anderson CMP Competition Center (Air Gun Range) for classroom instruction (no live firing in this clinic). This clinic is taught by the U. S. Marine Corps Rifle Team and includes classroom instruction on Infantry Trophy firing techniques. Anyone who plans to shoot in the Infantry Team Match for the first time is strongly encouraged to attend this clinic on the rules and procedures for this unique team event.
SQUADDING: The Infantry Trophy Match is fired on Rodriquez Range. A maximum of seven teams will be squadded on each relay. A maximum of 12 relays with 84 team entries can be accepted. The entry deadline is 12:00 PM the day prior to the match. Teams will be asked to provide a count of how many members of their Infantry Trophy Team also wish to fire in the Modern Military Rifle Match. Teams will be seeded and squadded according to the previous year's results to assure that the top teams' fire under as nearly equal conditions as possible. Team squadding assignments will be released no later than the end of firing the day prior to the match. There will be a mandatory NTIT Team Captains meeting on Rodriguez Range immediately after the NTT Match firing concludes. All Infantry Trophy Teams must be represented at this meeting. The NTIT Entry Confirmation Cards must be completed with labels for each team member, coach and captain and must be turned in to CMP staff not later than the start of the first NTIT preparation period on the day of the match.
NON-FIRING TEAM OFFICIALS: Non-firing team captain or coach who is not entered in the National Trophy individual events are still required to enter the matches as a Non-Firing Team Official. There is no entry fee for this, but it is necessary to have non-firing captains or coaches recorded in the match database so that CMP competitor labels can be issued and their names can appear in results bulletins. Non-firing team officials must check in at the NM Welcome Center and receive CMP Competitor Labels.
OUT-OF-COMPETITION TEAMS: The "out-of-competition" team entry option makes it possible for more competitors to shoot team matches when they cannot form an eligible team. If your team, club or state association does not have enough shooters at Camp Perry to form an eligible team or you do not have or do not want to burn a new shooter, you can form an out-of-competition team and fire in the team matches. Out-of-competition team scores will be posted and listed in the results bulletin, but new shooter eligibility is not affected and, of course, these teams are not eligible for awards.
RIFLES: Service rifles that comply with CMP Highpower Rifle Competition Rules.
AMMUNITION: Any safe ammunition may be used in accordance with CMP Highpower Rifle Competition Rules. Match officials must verify the number of rounds that each team has at the start of firing.
OTHER RULES: Specific rules governing the conduct of the National Trophy Team Match are found in the CMP Highpower Rifle Competition Rules.
AWARDS: The overall winning team in the National Trophy Infantry Team Match receives the Infantry Trophy (six team members, the team captain and the team coach, receive trophy plaques; the name of the winning team is permanently engraved on the trophy; the trophy is retained by the CMP on permanent display at Camp Perry). Special awards recognize these winning teams:
SPECIAL INFANTRY TROPHY M1 MATCH AWARD: A special award will be presented to recognize the highest scoring team that fires M1 Garand Rifles in this event. The six team members, team captain and team coach will each receive CMP Recognition Plaques donated by The Garand Collector's Association.
ENTRY FEES: $100.00 for adult teams, $75.00 for junior teams. Team cards are available for purchase online prior to arriving at Camp Perry.