Hearst Doubles Rifle Team Match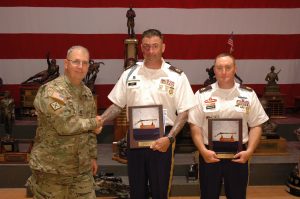 GENERAL INFORMATION: The Hearst Doubles Rifle Team Match was a new National Trophy Rifle Match in 2006. This is a two-person team match where both team members fire a 30-shot course of fire with service rifles.
COURSE OF FIRE: Two-person teams fire the President's 30-shot course of fire (Stages 1-3). No sighters are permitted in National Trophy Rifle Matches. Firing is done on the SR target at 200 and 300 yards and the MR target at 600 yards. Teams must pair fire the standing and prone slow fire stages (In pair firing, firers alternate shots).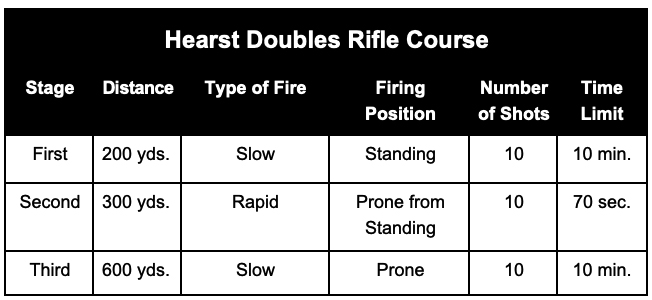 SQUADDING: The Hearst Doubles Match is fired on Viale Range. A maximum of 120 firing points will be used. Three relays of two shooters (one team) per firing point will be squadded. The range capacity for this match is 360 teams or 720 individual firers. Competitors who wish to fire in this match must enter the match as individuals, but may form teams any time until squadding is issued on the range prior to the start of the match. Scorecards and team squadding will be issued on the range starting at 6:30 AM. When you report to the range to pick up your squadding and scorecard, bring competitor labels for both members of your team. An area on the range will be designated for shooters who do not have partners. The relay rotation will be organized so that one team will fire, one team will score and one team will pull targets. To ensure that all teams complete firing at one yard line before moving to the next yard line, there will be three pit changes. The relay rotation schedule for this match has been reworked so that every relay that comes out of the pits will have a scoring assignment before they are required to fire.
RIFLES: Service rifles that comply with CMP Highpower Rifle Competition Rules.
AMMUNITION: Any safe ammunition may be used in accordance with CMP Highpower Rifle Competition Rules.
OTHER RULES: Specific rules governing the conduct of the Hearst Doubles Team Match are found in the CMP Highpower Rifle Competition Rules. Competitors are allowed to coach their teammates, but other coaches may not be used.
AWARDS: The overall winning two-person team in the Hearst Doubles Team Match receives the William Randolph Hearst Trophy (the winners receive two trophy plaques and their names are permanently engraved on the trophy base; the trophy is retained by the CMP on permanent display at Camp Perry). Hearst Trophy Medallions will be awarded to 2nd -25th place teams overall.
ENTRY FEES: $25.00 per individual. Competitors in this match must enter this match as individuals at the time they submit their regular National Trophy Rifle Matches entry. Teams do not have to be formed or declared until just prior to the start of competition at 7:00 AM. Juniors who do not compete in the National Trophy Junior Team Match may compete in the Hearst Doubles Match.