CMP 4-Man Team Match
GENERAL INFORMATION: This is a four-person team where all members will fire a 50-shot course of fire with service or match rifles. CMP Electronic Targets featuring KTS technology will be used.
COURSE OF FIRE: Each member of the four-person team fires the National Match Course of Fire. Sighters are permitted in this match. Firing is done on the SR target at 200 and 300 yards and the MR target at 600 yards. Teams must pair fire the standing and prone slow-fire stages.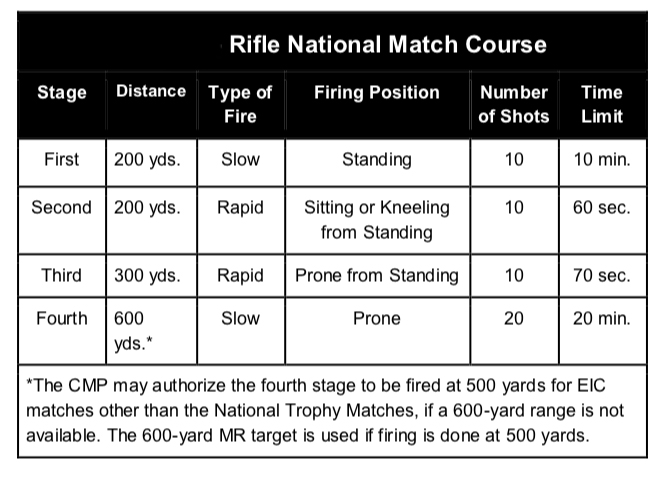 SQUADDING: Squadding will be issued when purchasing team cards at the NM Welcome Center.Team entry cards must be completed with labels for each team member, coach and captain and turned into CMP staff no later than the start of the preparation period.
NON-FIRING TEAM OFFICIALS: Non-firing team captain or coach who is not entered in the CMP Matches is still required to enter the matches as a Non-Firing Team Member. There is no entry fee for this, but it is necessary to have non-firing captains or coaches in the match so CMP competitor labels can be issued and their names can appear in results bulletins. Non-firing team officials will receive CMP competitor labels when they go through In-Processing at the National Matches Welcome Center.  
RIFLES: Rifles that comply with CMP Highpower Rifle Competition Rules. 
AMMUNITION: Any safe ammunition may be used in accordance with CMP Highpower Rifle Competition Rules. 
OTHER RULES: This match requires competitors to begin the rapid-fire sitting stage and prone stage from the standing position.
AWARDS: Plaques will be awarded to the top service rifle and match rifle team in the CMP 4-Man Team Match. 
ENTRY FEES: $60.00 for adult teams, $40.00 for junior teams. Teams may purchase your rifle team cards online or prior to the match at the Welcome Center. 
2019 SERVICE RIFLE TEAM WINNER: USAMU Craig, 1980-88X
2019 MATCH RIFLE TEAM WINNER: X-Philes, 1951-78X