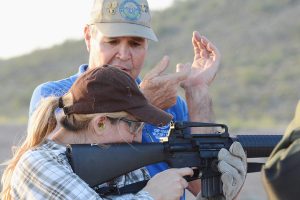 For the last century, the Small Arms Firing School (SAFS) has been an instrumental source for individuals to delve into firearm safety and competition technique. The SAFS course has been a staple event in the National Matches at Camp Perry since 1918 and has expanded its outreach to other areas of the country through CMP's Travel Games matches in recent years.
The school is structured toward teaching new shooters (both adults and youth alike), so no past firearm experience is required, though intermediate and advanced marksmen are also welcome to participate. During the course, students will learn basic instruction and firing practices, competition skills and live range firing, as well as compete in a real M16 EIC Match.
Equipment, including rifles and ammo, will be provided. Personal equipment, such as a shooting jacket or glove, will be permitted during the course as well. Participants are required to bring hearing protection and eye protection is strongly encouraged.
Led by certified military and/or civilian instructors, SAFS is a great opportunity to learn more about the marksmanship world in a safe and comfortable setting. For more information or ask additional questions, please contact Amy Cantu at [email protected] or (419) 635-2141 ext 602.
Rifle SAFS's location and dates:
2020 Pistol SAFS: