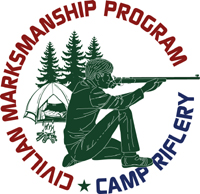 Camp Riflery programs are among the most popular activities at summer camps where riflery is offered. Camp Riflery offers boys and girls the opportunity to master safe gun handling and marksmanship skills while learning about the exciting Olympic Sport of target shooting. Campers learn to handle rifles safely and how to fire them accurately at targets while developing valuable life skills that will benefit them as they grow and mature.
The Civilian Marksmanship Program (CMP) has developed a Camp Riflery program for youth camps that can assist and support them in offering riflery programs to their campers.  The CMP will host two Camp Riflery Instructor Training Courses this year.  Camp Perry, OH 16-17 May 2016, and Anniston, AL 19-20 May 2016.  Download the Application Form for more information.
SOME INTERESTING FACTS ABOUT SHOOTING!
Riflery is one of the safest of all youth sports. In 2003, the CMP implemented new safety standards for all rifle shooting activities. Since those changes, there have been zero gun accidents in all supervised youth shooting sport activities in the USA.
Because of Camp Riflery's outstanding safety record, Riflery has little or no impact on camp liability insurance costs.
Gender, size, strength, speed, and physical ability are not important factors in determining success in the shooting sports.
Anyone can be a successful shooting sports participant if they are willing to practice.
Shooting sports teach life skills—discipline, responsibility ,the rewards of hard work, self-control and respect for others.
Shooting is an Olympic sport. Shooting is an NCAA college sport. Shooting is a varsity or club sport in many high schools.
It's Fun!
For additional information on the Camp Riflery Program, contact Catherine Green at [email protected] or (419) 635-2141, ext. 704 or Kathy Williams at [email protected], (419) 635-2141, ext. 709.
Camps with openings for Camp Riflery Instructors
This section is dedicated to listing openings for Camp Rifle Instructors. If you wish to list an opening at your camp, contact Kathy Williams at [email protected] or (419) 635-2141, ext. 709.