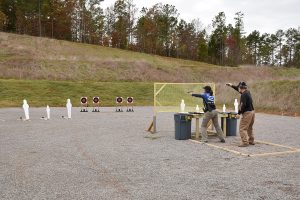 More Information:
Match Dates:
TBD
The Talladega Marksmanship Park's Steel Challenge matches are held very first Sunday of the month at 12:00 pm. The cost of the steel challenge match in Talladega is $20.00 for your first gun and $5.00 for a second gun if you choose to shoot a second pistol or pistol caliber rifle. (.22, 9mm, .40, .45) No high powered rifles are allowed in the Steel Challenge.
There is a limit of two guns. There will be 5 stages. You will need a minimum of 125 rounds to complete the match but 175 is recommended to be safe. Double that number if you are shooting two guns.
I must stress that we have a limited amount of time to complete the match, so if you cannot be registered by 11:45 and attend the safety briefing, YOU WILL NOT BE ABLE TO SHOOT THE MATCH. Registration is closed at 12:00. For this match we are capping the shooter number to 75 pre registers and 25 walk on's. We have a stringent time frame to complete the match and may alter the total number of shooters for following matches.
All competitors, visitors and spectators must stop at the main Club House, which is directly in front when you pull in. NO GUNS are allowed in the Clubhouse. CMP will be collecting the entry fee for the match and handling registration where you will sign the CMP Liability Agreement. There will also be a 15 minute safety briefing after which you will return to your car and drive to the action pistol bays (Range 5) where everyone will "gear up". If you miss the Safety briefing you will not be allowed to shoot. Please be registered by 11:45. We should be finished by 4:30. To pre-register for this match, click on this link
https://practiscore.com/speed-south-shooting-steel-challenge-at-the-cmp-3-5-17-clone/register
Match registration is conducted online at PractiScore https://practiscore.com/upcomingmatches
Match director Tony Pruitt, [email protected]
There is a steel challenge practice event held every last Sunday of the month at 12:00 pm. Cost for this event is $12.50 per shooter. Competitors are welcome to come out and shoot through the steel challenge stages to practice for upcoming events.