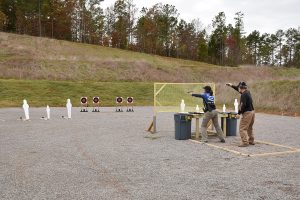 The Talladega Marksmanship Park's Steel Challenge matches are held very first Sunday of the month at 1:00 pm. The cost of the steel challenge match in Talladega is $20.00 for your first gun and $5.00 for a second gun if you choose to shoot a second pistol or pistol caliber rifle. (.22, 9mm, .40, .45) No high powered rifles are allowed in the Steel Challenge.
There is a limit of two guns. There will be 5 stages. You will need a minimum of 125 rounds to complete the match but 175 is recommended to be safe. Double that number if you are shooting two guns.
Match registration is conducted online at PractiScore https://practiscore.com/upcomingmatches
Match director Tony Pruitt, [email protected]
There is a steel challenge practice event held every last Sunday of the month at 1:00 pm. Cost for this event is $12.50 per shooter. Competitors are welcome to come out and shoot through the steel challenge stages to practice for upcoming events.
Steel Challenge Match dates:
February 5
March 5
April 2
May 7
Steel Challenge Practice dates:
Nov 27