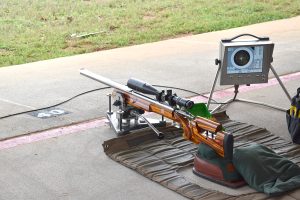 More Info:
Match Dates:
Aug 12
October 14
November 4
Twenty shots for record at 300 yards and forty shots for record at 600 yards. There will be a five minute  period unlimited sighter period prior to the  300 yard course of fire and prior to the  first 20 shot string at 600 yards. The second string of fire will provide for 2 sighter shots during the 20 minute shot for record time period. KTS Target system.  All firing will be Scored by the KTS  target system. F-Class  target  faces will  be used.
We have reached a milestone in the organization of the a nonprofit organization to host matches at the CMP range.  We now need to elect officers in order to complete the formation of the organization.  We will need some folks to step up and commit to serves as officers or directors of the organization.  We need a total of eight individuals to serve as directors of the organization.  That group will elect a president, vice president, secretary and treasurer.  Those individuals and the remaining directors will comprise the organizational committee.  After the filling of the articles of incorporation, the founding committee will be presented to the group for election to office.  Thru the organization process I will continue to serve in leadership position and stand for election with all officers.
No dues will be collected prior to the appointment of the organization committee but that committee will set the annual dues and those dues will be collect in the month following the filing of the Articles of incorporation and the receipt of the IRS Non-profit declaration.
Following the registration of organization with the State of Alabama there will be an IRS filing for non profit status.