Smallbore National Matches
14-22 JULY 2020
CAMP PERRY, PORT CLINTON, OHIO

The CMP is pleased to offer nine days of smallbore events during the 2020 National Matches at Camp Perry. One of our goals is to offer more shooting events at Camp Perry and grow participation. See the CMP Smallbore Match Program for additional match details and information.
Information Links
2020 Match Program (will be posted soon!)
Online Registration (opens March 1st)
All events fired on Rodriguez Range. We will utilize CMP electronic targets, located on Petrarca range, to conduct finals for the events. Clinics will be offered by the Army Marksmanship Unit and CMP Staff.
CMP has partnered with Shooters Technology to develop a mobile application that will greatly expedite the scoring process for smallbore matches. After firing is complete, range officers will go down range and take pictures of the targets using the app. The app will transmit the target images to Orion scoring system where a computer operator will score the targets. In theory, all scoring will be complete by the time competitors return from hanging their next target.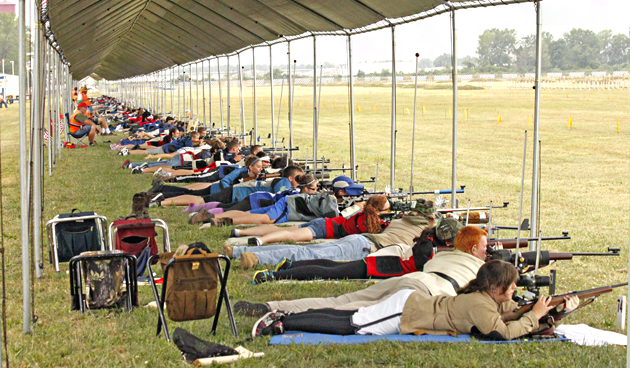 The CMP National Smallbore Championships are back for the second time, this time with a new and improved schedule. We hope to see you at Camp Perry this summer.
July 14 – Smallbore Small Arms Firing School, Check-In and Training
July 15 – Three Position (3×40) Iron Sight Championship and College Coach Q/A
July 16 – Three Position (3×40) Any Sight Championship & Final
July 17 – Junior Team Match, Three Position (3×20) Team Championship, Prone Check-in and Open Practice and 3P Award Ceremony
July 18 – Prone Iron Sight Championship Day 1 (1600)
July 19 – Prone Iron Sight Championship Day 2 (1600)
July 20 – Prone Elimination Final & Prone Team Championship
July 21 – Prone Any Sight Championship Day 1 (1600)
July 22 – Prone Any Sight Championship Day 2 (1600) and Prone Awards Ceremony
If you have any suggestions or comments, please contact CMP Program Coordinator, Brad Donoho at [email protected].
Sponsorships
While CMP policy prohibits endorsement of any company product or service, we would like to recognize the following companies that will award their own separate products to the top shooters of the 2020 Smallbore Match.