Ben Avery Shooting Facility, Phoenix, AZ
cmp games -- October 13-17, 2017
creedmoor -- october 18-22, 2017
More Info
The 14th Western CMP Games and Creedmoor Cup Matches are co-sponsored by the Civilian Marksmanship Program and Creedmoor Sports, Inc. and will be held at the Ben Avery Shooting Facility in Phoenix, Arizona. All interested shooters, whether new or experienced, recreation-oriented shooters or national championship contenders are invited to participate in these unique, national-level competitions.
**NEW IN 2018**
The CMP will set up CMP Targets featuring KTS technology. No pit duty required.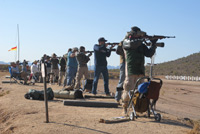 The Western CMP Games Matches include the following events:
CMP Games Match Clinic
John C. Garand Match
Springfield Match
Vintage Military Rifle Match
Modern Military Rifle Match
Small Arms Firing School/M16 Match
Rimfire Sporter Match
Carbine Match
Vintage Sniper Team Match
The Western Creedmoor Cup Matches include the following events:
Team CMP High Power Rifle Clinic
Creedmoor Cup (2400 point aggregate)
4-Man Team Match
Creedmoor EIC Match
Highpower Clinics at  Western Games
This free shooting clinic will be conducted by Team CMP and will offer lectures and demonstrations by some of the worlds leading highpower service rifle competitors. There will be plenty of instructors, as well as dry fire training with lots of hands-on coaching. Dry-fire training will be conducted on the range. Participants need to bring all shooting equipment and firearms, without ammo.
Registration for the Creedmoor Cup matches must be made on the Creedmoor Website, www.creedmoorsports.com.
For answers to questions about the Western CMP Games contact the CMP at [email protected] or call (888) 267-0796, extension 714.
For answers to questions about the Creedmoor Cup Matches contact Dennis DeMille, [email protected] or call (800) 273-3366 Mon – Fri, 9am – 6pm Central Time
While CMP policy prohibits endorsement of any company product or service, we would like to recognize the following companies that will award their own separate products to the top shooters of the  Western Games.

Once confirmation is received, sponsors logos will be listed. If you are interested in becoming a Match Sponsor, please contact Christina Roguski at [email protected] or call (419) 635-2141, ext. 714.