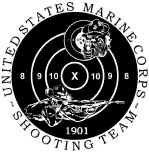 One of the most popular CMP youth marksmanship clinics during the National Matches is the CMP-USMC Highpower Rifle Clinic. Many juniors participate in highpower service rifle shooting, usually as members of state association junior highpower teams. This clinic is offered at Camp Perry, Ohio just prior to the National Trophy Rifle Matches.
Participants must have some previous highpower rifle competition experience and must have attend the Rifle Small Arms Firing School or the Eastern Junior Highpower Clinic at Butner, North Carolina. The CMP organizes the clinic and members of the U.S. Marine Corps Rifle Team provide instruction. The clinic lasts three days and includes both class instruction including effects of the weather, how to properly use and modify equipment, the rulebook requirements for shooting positions and juniors will compete in an Introductory EIC leg match. Days two and three are spent shooting on the range firing at 200, 300 and 600 yards where juniors fire while being coached by a Marine Corps Rifle Team shooter. All students will receive a CMP-USMC Highpower Rifle Clinic T-shirt, certificate and school handout materials. Bushmaster Firearms will sponsor a pizza party for clinic participants.
Again this year, eligible Juniors in the USMC Junior Highpower Clinic will be able to compete for the same "introductory" 4-point EIC credits that eligible competitors in the Rifle Small Arms Firing School are able to earn. These are one-time-only legs that can be earned by competitors who have earned no previous EIC points. USMC Clinic students will fire a 50-shot National Match Course over two days.
The 2015 CMP-USMC Junior Highpower Clinic will be held on 14 July - 16 July. All junior highpower rifle shooters who wish to attend the CMP-USMC Junior Highpower Rifle Clinic at the National Matches must apply and pay a $30.00 clinic fee.
If you have questions about the CMP-USMC Junior Highpower Rifle Clinic, contact CMP at 419-635-2141, ext. 707 or email [email protected].
While CMP policy prohibits endorsement of any company product or service, we would like to recognize the following companies that will award their own separate products to the top shooters of the CMP-USMC Junior Highpower Clinic.
Once confirmation is received, sponsors logos will be listed.