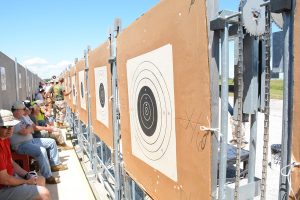 In 2019, Squadded Practice will replace the Oliver Hazard Perry Match.
Competitors who would like to shoot the practice at 1100 may pick up a squadding ticket at the CMP Competitions Center (600 yard line) on Rodriguez Range beginning at 1000 hours. Five relays will be squadded. After all squadding tickets are issued one random relay will be chosen not to perform pit duty. That random relay will be announced on the line after all squadding is issued. Space is limited to first come, first serve. We cannot guarantee that you will receive a firing point. Competitors MUST furnish their own ammunition. The course of fire will be 10 minutes slow-fire prone at the 300-yard line followed by 10 minutes of slow-fire prone at the 600-yard line. Shooters may fire as many rounds as they wish within these time limits.
SQUADDED SERVICE RIFLE PRACTICE FOR SAFS COACHES. All coaches in the Rifle SAFS will fire their squadded service rifle practice on Viale Range immediately after the M16 Rifle EIC Match concludes. The course of fire will be the same as the open squadded service rifle practice (10 minutes at 300 yards and 10 minutes at 600 yards).