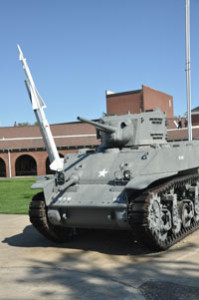 The National Matches at Camp Perry are Open to the Public . Click HERE for a full schedule of events.
While shooting sports are not always easy to follow due to their individual nature, there are still plenty of opportunities for shooting fans and the general public to see and experience the color and fanfare of contemporary marksmanship. Below is a list of events that you may wish to attend.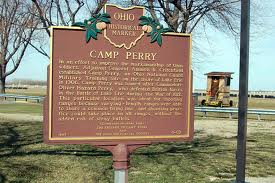 Camp Perry, home of the National Matches, is six miles west of Port Clinton, Ohio on the shore of Lake Erie. It's an Ohio National Guard training site that is open, with the exception of the actual firing areas, for you to explore and learn about its history and purpose. During the National Matches, spectators are welcome to bring their spotting scopes or binoculars to the ready line behind the competitors to get a bird's eye view of the matches. If you know what match you'd like to watch, simply review the match program and schedule that is posted on the CMP website.
Safety is the highest priority of all shooting events and clear and understandable announcements are made near the firing line throughout the matches. If ever in question, feel free to ask one of the many soldiers or range personnel for assistance and they will be glad to help.
Visit the National Matches Welcome Center (Bldg 3) Upon Your Arrival
If you need assistance in finding your way around or locating the time and place of a match or event, stop by the National Matches Welcome Center in Building 3 (center of the V-shaped arcade building at the east end of Lawrence Road). All competitors and visitors are required to check in at the Welcome Center to receive their Welcome Packet (CMP competitors will also receive their Competitor Packets). National Match Memorabilia is also available to the Welcome Center.
First Shot Ceremony – 10:00 a.m., Monday, 9 july 2018
Each year the First Shot Ceremony kicks off the National Matches when the guest speaker fires the ceremonial opening shot on the 600-yard Rodriguez Range at the conclusion of remarks. Dignitaries from the CMP, National Guard, NRA, all branches of the armed forces and government representatives will be on hand. Public viewing from bleacher seating is open to the public and encouraged. Fanfare including a color guard, a military band, military combat maneuver from the Ohio Air National Guard make for an exciting opening to the Matches.
Gary Anderson CMP Competition Center
Plan to visit the Gary Anderson CMP Competition Center while you're here. Our 80-point indoor, climate-controlled air gun range is a state-of-the-art 10-meter shooting venue that's on par with Olympic ranges around the world. Try your hand at sporter air rifle or the new National Match Air Rifle (AR15 clone).  The CMP Competition Center also hosts the National Match Air Gun Events The range is open to the public and re-entry matches will be held throughout the National Matches. It's a great, low-cost way to experience competitive marksmanship. The range is normally open on Tuesday and Thursday evenings and air gun rental is just $5.
President's Rifle Trophy Match Shoot-Off – 4 p.m., sunday, 29 july 2018
Approximately 1,200 competitors will attempt to win or at least reach the top 100 place finishes in the President's Rifle Trophy Match. The qualifying event is fired with a service rifle - 10 shots standing at 200 yards, 10 shots rapid-fire prone at 300 yards and 10 shots slow-fire prone at 600 yards. The top 20 competitors will line up shoulder to shoulder and fire an additional 10 shots prone, slow fire at 600 yards in front of spectators at the foot of Rodriguez Range, just off the Shooters' Memorial Plaza. Each competitor's shots will be marked on large scorecards in plain view of spectators who can follow the shoot-off to determine the best of the best. The top 100 will receive special recognition as the President's Hundred. A trophy and awards presentation is made upon conclusion of the match on the firing line.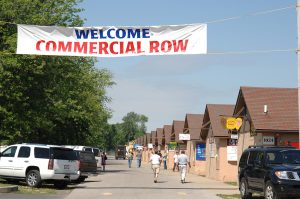 Commercial Row
Whether you're a competitor, casual shooter or collector, Commercial Row awaits you with new and used firearms, ammunition, competition gear, parts, accessories, apparel and more. Commercial Row consists of several buildings leased as retail space by manufacturers, retail firearms stores, resellers and specialty shops during the National Matches. If you're a shooter who forgot his cleaning kit at home or looking to add to your shooting collection, chances are you'll find something of interest on Commercial Row, opposite CMP Headquarters on Lawrence Road.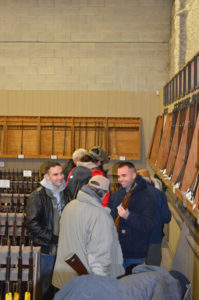 Visit the CMP Store
Be sure to stop by the CMP North Store located on base, Bldg 2500. Browse our racks of military surplus rifles, personally handle rifles and hand-pick your treasure. Our friendly store staff will be happy to help you select the rifle you've always wanted – whether it's to build your rare collection, own a piece of history, shoot in competition or impress your buddies at the range. Our store also carries a selection of ammunition and shooting equipment.
If you have any questions about National Matches, please feel free to contact the CMP at [email protected] or (419) 635-2141.