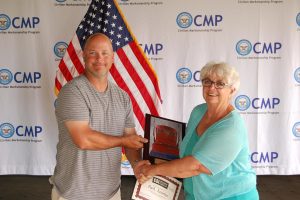 GENERAL INFORMATION: The National Springfield Rifle Match is a CMP Games event where all competitors must fire "as-issued" M1903 or M1903A3 rifles that comply with CMP rules for as-issued military rifles. As a CMP Games event, the Springfield Match stresses participation, camaraderie and history and offers an ambience that makes Springfield Match Day a truly enjoyable experience for competitors.
COURSE OF FIRE: The 200-yard As-Issued Military Rifle Match Course A is used for the Springfield Match.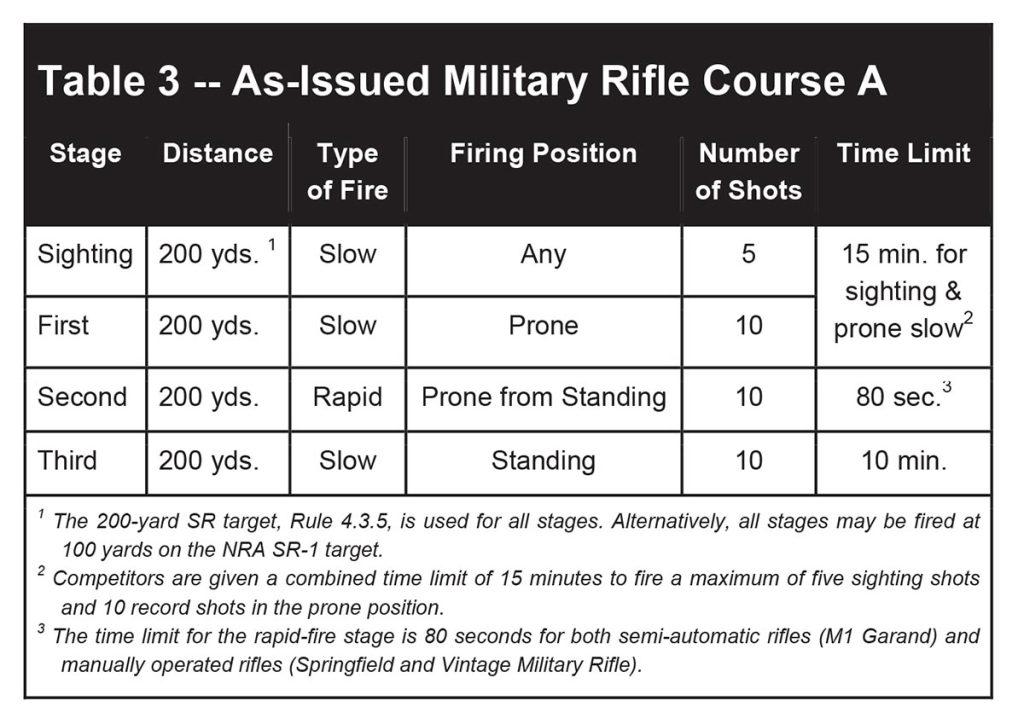 RIFLES: Rifles used in the Springfield Rifle Match must be "as-issued" U. S. M1903 or M1903A3 Springfield rifles that comply with Competition Rules for CMP Games Rifle and Pistol Matches Rule 4.2.3. During the match a minimum of five rifles will be selected through a random draw from each relay to be inspected and have triggers weighed. Competitors who fire scores of 280 or higher will also need to have their rifles inspected.
AMMUNITION: Competitors in this match must bring their own ammunition that complies with Rule 4.3.3. Hand loads may be fired. NO AMMUNITION WILL BE ISSUED FOR THIS MATCH.
OTHER RULES: Rules governing the Springfield/Vintage Military Rifle Match are found in the Competition Rules for CMP Games Rifle and Pistol Matches (see especially Rule 4.6.3). Competitors who wish to compete for overall awards must follow Rule 3.7.9 (standing prior to rapid fire stages). The Springfield Rifle Match is a no alibi match; there are no refires for rifle or ammunition malfunctions. It is important that rifles and especially rifle chambers are clean and in good working condition so as to minimize the possibility of malfunctions or difficult cartridge extractions (often caused by rough or dirty chambers). Competitors may use spotting scopes for shooting or scoring. Scopes do not need to be turned away from the target during the rapid-fire stage. Cloth, canvas or leather shooting jackets may be used. Standard-issue web or leather slings or slings of this same type are permitted. Shooting gloves or mitts and ground cloths or shooting mats may be used.
AWARDS: All competitors who complete the Match and turn in scorecards will receive a Springfield/Vintage Military Rifle Match T-shirt. Special gold, silver and bronze Springfield Match Achievement Medals, with neck ribbons, will be presented to competitors who shoot qualifying scores. Springfield Match Medal award scores listed in the CMP Games Rules. The Springfield Rifle Trophy will be presented to the competitor who fires the highest score in the Springfield Rifle Match (the competitor receives a trophy plaque and his/her name is permanently engraved on the trophy; the trophy is retained by the CMP on permanent display at Camp Perry). CMP Recognition Plaques will be presented to the high junior, high senior and high grand senior in the Springfield Match.
ENTRY FEES SPRINGFIELD MATCH: $45.00 for adults, $25.00 for juniors.
2017 WINNER: PVT Sammy Richardson, USAR, 296-12X
2017 HIGH JUNIOR: Meghann Beaver, 281-5X
2017 HIGH SENIOR: Larry Stonecipher, 288-11X
2017 HIGH GRAND SENIOR: Kenneth Nichols, 276-5X
NATIONAL MATCHES RECORD: Dennis DeMille, 297-8X, 2011