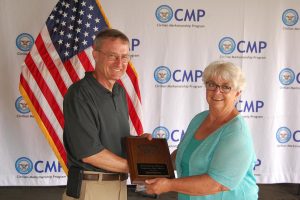 GENERAL INFORMATION: The National John C. Garand Match is a CMP Games event where competitors must use "as-issued" U. S. M1 Garands in the regular John C. Garand Match or they may use National Match or certain modified M1 Garand's in the Unlimited Garand Category. The Garand Match Course of Fire is designed so that both new and experienced shooters can complete it. As a result, the Garand Match attracts large numbers of recreation-oriented shooters who come to this match because its combination of camaraderie, history and competitive challenge makes firing in this match an especially enjoyable experience. The John C. Garand Match is a very colorful match, with many competitors appearing in World War II and World War I period military uniforms. The priorities for Garand Match day are clearly on fun, fellowship, enjoyment and respect for tradition. Both Rodriguez and Viale Ranges will be utilized for Garand Match firing.
DATE-TIME: Saturday, 4 August 2018. Firing begins at 7:00 AM.
COURSE OF FIRE: The 200-yard As-Issued Military Rifle Match Course A (Page 99) is used for the Garand Match.
SQUADDING: The John C. Garand Match will be fired on both Rodriguez and Viale Ranges. Twelve total relays will be squadded. Relays 1-4 will fire in the morning on both ranges. Relays 5-8 will fire in the afternoon on Viale Range. When competitors enter the Garand Match, they will be asked to specify their range preference and whether they would like to fire in the morning or afternoon. These requests will be accommodated to the extent possible with priorities established according to when paid entries are submitted. Specific relay and firing point assignments will be issued on the range starting at 6:00 AM for Relays 1-4 and starting at 10:00 AM for Relays 5-8. Range capacity for this match is 1,492 entries. Competitors who wish to be squadded with family members, friends or club members must be sure all members in their group request the same range and same firing time (morning or afternoon) when they enter on-line. They must also report together when picking up relay and firing point assignments on the range. YOU WILL NEED A COMPETITOR LABEL TO PICK UP SQUADDING. All competitors in this match will be expected to perform scoring and pit pulling duties as assigned.
STANDBYS FOR AM SQUADDING: Competitors in the Garand Match who have PM squadding and who wish to stand by for AM squadding may do so by reporting to the CMP Squadding Coordinator at the range on the morning of the match. If any firing positions remain open after all AM competitors who are present at 6:45 AM are squadded, those points will be filled first with competitors who were waitlisted for AM squadding and then with standbys in the order that they checked in with CMP staff at the range. AM competitors who report to pick up squadding after 6:45 AM will be re-squadded to a PM relay if AM relays are filled with standbys after 6:45 AM.
AS-ISSUED M1 GARANDS: Rifles used in the John C. Garand Match must be "as-issued" U. S. M1 Garand rifles, M1941 Johnson or Caliber .30 U. S. M1 Carbines that comply with Competition Rules for CMP Games Rifle and Pistol Matches Rule 4.2.2. During the match a minimum of five rifles per relay will be selected through a random draw from each relay to be inspected and have triggers weighed. Competitors who fire scores of 279 or higher will also need to have their rifles inspected. Prior to the competition, competitors may bring their rifles to the CMP Armorer Van at the rear of Young Range to have triggers checked and be inspected for compliance with Garand Match Rules. The CMP will have a limited number of standard M1 parts that it can exchange for non-complying parts (NM parts, glass bedded stocks). Exchanged parts will be returned after the match.
UNLIMITED GARANDS: Unlimited Garand Category allows shooters with many M1 Garands that were not previously allowed in the Garand Match to now fire those rifles in the National Matches. Competitors with National Match M1s, .308 M1s, commercial M1s or Garands with glass bedding or shims may fire those rifles in this new class. Detailed rules are given in Rule 5.2.5 in the Competition Rules for CMP Games Rifle and Pistol Matches. All John C. Garand Match scores will be divided into As-Issued Garand and Unlimited Garand Categories.
AMMUNITION: Competitors in this match must bring their own ammunition that complies with Rule 4.3.3. Hand loads may be fired. NO AMMUNITION WILL BE ISSUED FOR THIS MATCH.
OTHER RULES: Rules governing the Garand Match are found in the Competition Rules for CMP Games Rifle and Pistol Matches (see especially Rule 4.6.2). Competitors who wish to compete for overall awards must follow Rule 3.7.9 (standing prior to rapid fire stages). The Garand Rifle Match is a no alibi match; there are no re-fires for rifle or ammunition malfunctions. It is important that rifles and especially rifle chambers are clean and in good working condition so as to minimize the possibility of malfunctions or difficult cartridge extractions (often caused by rough or dirty chambers). Competitors may use spotting scopes for shooting or scoring. Cloth, canvas or leather shooting jackets may be used. Standard-issue web or leather slings or slings of this same type are permitted. Shooting gloves or mitts and ground cloths or shooting mats may be used.
AWARDS: All competitors who complete the match and turn in scorecards will receive a John C. Garand Match T-shirt. Special gold, silver and bronze Garand Match Achievement Medals, with neck ribbons, will be presented to competitors who shoot qualifying scores. Garand Match Medal award scores for competitors who fire As-Issued M1 Garands. The Achievement Award Scores are listed in the CMP Rules (2018 Scores TBA). Garand Match Medal award scores for competitors who fire Unlimited Garands are: 2018 Scores TBA. The John C. Garand Trophy is awarded to the competitor who fires the highest score with an As-Issued M1 Garand (rifle must have been inspected after the match) (the competitor receives a trophy plaque and his/her name is permanently engraved on the trophy; the trophy is retained by the CMP on permanent display at Camp Perry). CMP Recognition Plaques will be presented to the high junior, high senior and high grand senior who fire As-Issued M1 Garands in the match. An award plaque is also awarded to the Unlimited Class winner.
ENTRY FEES: $40.00 for adults, $20.00 for juniors.
2017 WINNER: Steven Skowronek, 199-11X
2017 HIGH JUNIOR: Gabe Rampy, 190-3X
2017 HIGH SENIOR: Richard Hamilton, 193-4X
2017 HIGH GRAND SENIOR: Michael Toscos, 190-3X
2017 UNLIMITED CLASS WINNER: Johnnie Pair, 194-5X
NATIONAL MATCHES RECORD: Larry Sollars II, Cumming, GA, 293-9X, 2014.