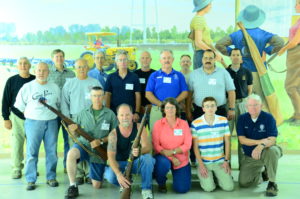 National Trophy Rifle week at Camp Perry is always the biggest and most active week during the National Matches. In addition to the competitions themselves, there are many schools, clinics and special activities that combine to make this week a complete shooting sports experience for everyone who comes to the National Matches. Check this list to find training events or other activities that will be of interest to you during your trip to the National Matches.
The National Matches offer a series of outstanding special clinics that are open to all competitors and other interested persons. The current clinic schedule includes these training opportunities:
M1 Carbine Clinic: 2018 Date TBA.  Held at the Gary Anderson CMP Competition Center. This free clinic is conducted by the CMP. It is offered for competitors who plan to fire in the Carbine Match that will take place on Wednesday, 1 August 2018.
Infantry Trophy Clinic: Wednesday, 1 August 2018, 6:30-7:30 PM (or at the conclusion of firing) at the Gary Anderson CMP Competition Center (Air Gun Range) for classroom instruction (no live firing in this clinic). This clinic is taught by the U. S. Marine Corps Rifle Team and includes classroom instruction on Infantry Trophy firing techniques. Anyone who plans to shoot in the Infantry Team Match for the first time is strongly encouraged to attend this clinic on the rules and procedures for this unique team event.
Garand & Springfield Rifle Maintenance Clinic: 2018 Date TBA. Held at the Gary Anderson CMP Competition (Air Gun Range). CMP Armorers will present this two-hour clinic on disassembly, assembly and maintenance of M1 Garand and M1903 Springfield Rifles. Special attention will be given to accurizing steps that can be taken with these rifles and still keep them legal for firing in CMP-sanctioned As-Issued Military Rifle Matches.
GSM (Garand, Springfield-Vintage Military Rifle) Clinics: These one-hour clinics will cover the Garand-Springfield-Vintage Matches with instruction and demonstrations. Topics include match rules, shooting positions and techniques, scoring and pit pulling procedures and how to fire the courses of fire. The clinic is open to all competitors. Any CMP Games competitors who have not previously fired in one of these matches are required to attend a clinic before they fire. All other competitors in these matches are encouraged to attend and take advantage of the information presented.
GSM Clinic Dates & Times at the Gary Anderson CMP Competition Center:
2018 Dates TBA