More Information:
2018 Forms will be
posted in late June
The Civilian Marksmanship Program (CMP) provides financial assistance for eligible members of junior highpower rifle teams sponsored by state associations, or CMP clubs that compete in the National Trophy Rifle Matches during the National Matches at Camp Perry.
This program was developed to promote junior participation in the National Matches and to encourage junior shooters to become actively involved in highpower service rifle competition. The funding provided is intended to be partial support to help offset travel, entry fee and accommodation expenses for the club or individual. Sponsoring state associations, clubs and teams are strongly urged to provide additional support for their juniors to help them attend the National Matches.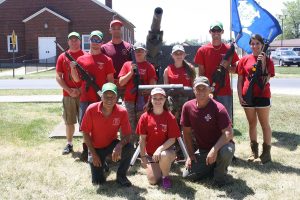 Support provided is limited by the total funds in the CMP budget for this program, the age of the junior participants, as well as the number of times a junior can receive support. Junior shooters who have received support for two previous National Matches are not eligible for additional support. The purpose of these limitations is to provide funding to junior shooters who have not attended the National Matches before.
For questions about this program, contact Jessica Lipstraw at (419) 635-2141, ext. 724 or email [email protected].