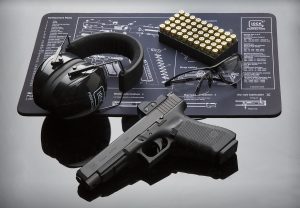 Glock GSSF Camp Perry
National Challenge
Saturday, 14 July 2018
 More Information:
The Inaugural Glock GSSF Camp Perry National Challenge was a HUGE success. With over 170 participants and almost 250 entries, Glock awarded six pistols during the CMP National Trophy Match award ceremony. Congratulations to the 2017 Winners:
Overall Match High Shooter, Overall Winner Stock Glock and High Guardian– SFC Keith Sanderson, USAR – 500-47x
High Unlimited Glock – Jonathan Shue – 500-44x
High Senior – Craig Odom – 496-41x
High Women – Lois Kaminski – 484-33x
High Junior – Derek King – 477-28x
Random Drawing Winner – Mark Lucas
Congratulations to those competitors who joined The GLOCK 500 Club:
SFC Keith Sanderson, USAR – 500-47x
Jonathan Shue – 500-44x
SPC Anthony Heinauer, USA – 500-37x
Stay tuned for dates for 2018!
Competitors must have a Glock Membership to compete in the event. Competitors who do not have a GSSF Membership can go to http://www.gssfonline.com/registration.cfm and follow the directions or join at the match registration at check in.

Course of Fire:
Competitor fire on NRA D1 paper targets at distances of 5, 7, 10, 15 and 25 yards, with firing times as follows:
D-1                 10 rounds                  5 yards          15 seconds
D-1                 10 rounds                  7 yards          15 seconds
D-1                 10 rounds                  10 yards        15 seconds
D-1                 10 rounds                  15 yards        15 seconds
D-1                 10 rounds                  25 yards        15 seconds
Categories:
There will be two categories Stock Class and Unlimited Class:
Stock Class - Glock firearms are considered stock if all firearm components are or ever have been available from Glock, Inc. Additional allowable modifications are as followed:
Hogue-Grip type sleeves, A-Grip panels, skateboard tape or other grip-enhancing materials that do not materially alter the function of the stock firearm.
Slide and barrel stripping and/or refinishing.
Pearce Grip Inc. grip extenders on G26, G27, G29, G30, G33, G36 and G42 magazines.
Aftermarket replacement non-metallic base plates on magazines.
Post and notch sights (patridge sights) excluding any sight requiring slide modifications.
Please note that fiber -optic and express sights are approved.
Unlimited Class - The following modifications will be placed in the Unlimited Class:
Any non-post and notch sights including but not limited to, ghost ring or laser, electronic or optical sights.
Wrap-around grip sleeves on magazines.
Aftermarket component parts and barrels.
Recoil spring guide/recoil reducer assemblies.
Aftermarket extender slide stop levers.
Firing pins (modified/aftermarket).
Connectors (modified/aftermarket).
Metallic magazine well funnels or slugs.
Lights or other barrel weights.
Any modifications deemed by the Range Master to create an unfair competitive advantage.
Pistols Available for Match!
In order to encourage even more participation and to promote competitive shooting, GLOCK has offered to bring extra pistols to the National Matches to be used by those who may not have access to a pistol but are interested in competing in the match.
Though free to use, those who borrow pistols will still need to purchase their own 9 MM ammo to fire in the National Challenge match, which can be purchased at the CMP Store for $15 or on the range during the competition. Participants may sign up to fire in multiple relays, so be sure to buy the appropriate amount of ammo!
For additional information, contact CMP Competitions at [email protected] or call (419) 635-2141, ext. 714 or 706.