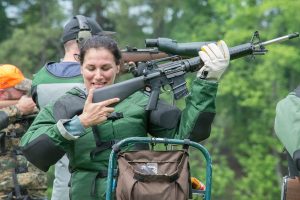 The CMP Cup Series Matches will take place June 26-30.
The CMP Cup Matches begin with a 4-Man Team Match on 26 June.  The 4-Man Team Match will follow the National Match Course of Fire.  The CMP Cup 240 shot (2400 point) aggregate match will be fired over three days, 27-29 June.  Competitors may fire one, two or all three days.  The course of fire for the CMP Cup 800 Aggregates is  20 shots, 200 yard slow fire, standing; 20 shots, 200 yard rapid fire, sitting; 20 shots, 300 yard rapid fire, prone; 20 shots, 600 yard slow fire, prone.  Competitors may fire CMP Service Rifle or CMP Match Rifles in the 4-Man Team Match and the CMP Cup Series, per current CMP Highpower Rifle Competition Rules.
The CMP Cup Series matches conclude on 30 June with an EIC Service Rifle Match.  This will be a regular EIC Service Rifle Match and will count as one of your five allotted club matches per year.