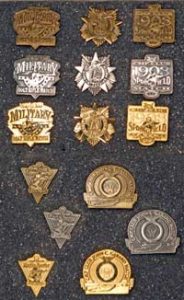 A CMP-sanctioned match or clinic is an event hosted or sponsored by a CMP affiliated organization where match sponsors agree to use CMP Competition Rulebook in conducting their events and clinic sponsors agree to follow CMP standards for the conduct of clinics. CMP-Sanctioned Matches or Clinics may be offered for M1 Garand, Springfield, Vintage Military, Rimfire Sporter, M1 Carbine, Unlimited Garand or Modern Military. Please read the Instructions to Conduct a CMP Sanctioned Match or Clinic prior to completing the application.
The CMP affiliated clubs sanctioned more than 1,400 matches last year for 10,000 competitors in 2013. CMP affiliated clubs are encouraged to download the CMP Games State Championship instructions and application (which needs to have approval from the State Association Club).
The NEW Vintage Sniper Rifle Team Match is the newest addition to the CMP Games Events. The Vintage Sniper Rifle Team Match is a two-person team match fired at 300 and 600 yards. Each team member will fire 20 rounds in the prone position using military sniper rifles issued prior to 1953 or replicas of those rifles. CMP Affiliated Clubs may now sanction their own Vintage Sniper Rifle Team Match by downloading the Vintage Match Application and Match Report Form. To view detailed rules for the Vintage Sniper Match, download the CMP Competition Rulebook (see Rule 9.9, Rule 6.4.3 and Annex B). This new and exciting team match will also be held at the National Matches at Camp Perry, the Western CMP Games in Phoenix, AZ and the Eastern CMP Games in Butner, NC.
Once your club submits the application form and match program to hold a Sanctioned GSM Match or State Championship, the application and program will be reviewed by our Competitions Department. Once it is approved, the CMP will post information about your match in the Upcoming Events listing on the CMP website. The CMP also offers ammunition for use in the match at discounted prices, scorecards, CMP Sales Catalogs and a Certificate of Achievement to distribute to participants.
Match sponsors may order CMP Achievement Pins for presentation or sale to competitors who fire achievement award scores that are given in the CMP Competition Rules. Gold, silver and bronze pins are available for Garand, Springfield, Vintage and Carbine matches and can be ordered on the Application Form. ECIs are also available for purchase on the application form at a cost of $4.99 for 12 ECIs. The CMP will provide a State Championship Medallion to the winner of CMP-sanctioned State Championships.
If you have questions or need additional information, please contact the CMP Competition Support staff at 419-635-2141, ext. 706 [email protected] or [email protected]