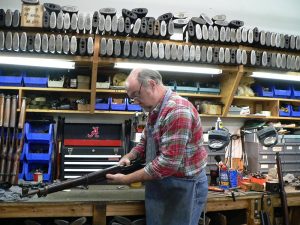 Inspection & Repair Operations Applications and Dates are now being accepted at CMP South, Anniston, Alabama
CMP is suspending our Sales Volunteer Program until further notice.  Any volunteers already on the schedule will be accommodated. 
CMP posted Friday, May 13, 2016, that we are not accepting orders for RM1SPECIAL, RM1SERVICE and RM1FIELD.  Any orders postmarked on or before May 16, 2016, will be accepted.  We are in a backorder status for all of the rifles listed.  It may take 6 months or longer to fill those orders.  Once our backorder log is filled, we will open sales for these rifles again.  We currently have M1D's and M1C's available for purchase and ready to ship. 
Thank you for your support of CMP.
Mark Johnson
Chief Operating Officer
If you have the desire to spend time with an organization dedicated to the advancement of America's marksmanship effort, and to work in a living history environment, CMP may be the right place for you.
There are many ways your time can be put to use in CMP activities. Our Inspection and Repair process, assisted by volunteers, helps CMP reduce its labor costs, and makes rifle purchases more affordable. Assignments are based primarily on individual level of familiarity with the M1 Garand rifle and CMP needs at the time. Although we do try to ensure that volunteers spend a part of their time learning about and working on the Garand, some time may be spent in warehousing, packing, or shipping operations.
Our volunteers have reported their visits as very educational, recreational and enjoyable and many have made several repeat visits from all parts of the country, and have become ambassadors for the program. The CMP is a non-profit organization and expenses associated with volunteering may be tax deductible.
Volunteers absorb all costs for transportation, lodging and meals. We are limited to ten volunteers per day and most stay 3-5 days per trip. Tools and gauges are available, but we encourage volunteers to bring their own. Volunteers must be pre-approved. Because of nature of the commodity with which we deal, all volunteers must be scheduled in advance. Walk-ons will not be accepted.
We require volunteers to submit your request at least two weeks prior to your visit, although we expect most dates to be booked months in advance. Cameras are allowed, but volunteers are asked to not bring their private firearms. Working conditions are what to be expected - it gets very hot in the summer and very cold in the winter, and the work is always dirty. For more information or to schedule days, please contact Adam Hanvey at [email protected], or call 256-835-8455, ext. 406.
Competition Volunteers Needed
In addition to volunteers needed to work in Inspection and Repair, CMP also needs volunteers to help conduct its competitions programs around the country at different times of the year. Please see our Competition Volunteer web page for more information.