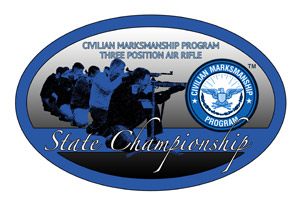 ­­­­CMP State Championships
CMP State Championship matches are shoulder-to-shoulder three position air rifle matches held on the state level.  These matches are hosted either by the CMP State Director or a match director appointed by the State Director.  State Championship medals may be purchased from the CMP at the time of sanctioning for $6.00 each.
Each state's team winners in sporter and precision, as well as the top individual (not on a qualifying team) will qualify to participate in one of the CMP Regional Championship. Shooters may also fire in the CMP Postal Competition in addition to the state championship matches and are encouraged to do so. Registration for the postal opens on 1 November.
CMP State Championship Guidelines
CMP State Championship competitions must be held 1 November 2017 – 31 January 2018.  All results must be uploaded to CMP or turned in by 5 February 2018.  *overseas teams are eligible, please contact CMP for additional information
One match per state (one location over one weekend) is preferred. However, regional matches may be granted for a state due to its size, but all results will be combined to determine the top shooters/teams.
Match sanctioned by State Director, the state director may appoint anyone other than themselves as the Match Director but the match sanctioning must be turned in my the State Director. If there is not a state director for your state please contact us.
Each State Championship match must allow both sporter and precision class athletes to participate.
Match must be a 3x20 course of fire using integer scoring. Finals are optional.
Each state's Championship must meet minimum size requirements to be eligible for qualification to the CMP Regionals. Sporter and precision classes are looked at separately and must meet requirements separately

There must be 2 or more teams
There must be 3 or more individuals

State winners will qualify for the Regional Championships. The top sporter and precision team as well as the top individual (not on a qualifying team). This invitation is only good for the winners; invitations will NOT be passed down. All additional teams and individuals have to qualify through the postal competition.

Teams and individuals who qualify through the CMP State Championships or the CMP Postal will have priority registration for the CMP Regional through March 2 where they are guaranteed a spot.
March 3rd an additional qualification list will be posted with cut scores for those who fired in the State Championship and/or postal competition. Teams/ individuals who fired above the cut scores are eligible to register for the match on a first come first serve basis. No spots are guaranteed at this time and when each Regional's capacity is full registration will be closed.
Teams that fire in both the State Championship and Postal will qualify their first team once, even if members are changed between the competitions. Additional teams are able to qualify through the postal, but their first team in the results (which is the top four scores) will be skipped so the second 4 scores would have to be one of the qualifying teams. After March 3rd, teams may bring additional individuals/ teams so long as they are above the cut scores posted.
Teams that wish to bring an athlete that did not fire in either the State Championship or the Postal competition will be handled on a case by case basis. Please contact CMP with any questions.

Teams/ individuals have to fire and qualify in their state's competition unless the team in which they participate regularly with is in another state, which they can then fire in that state's match as both a team member and individual.
Teams/ individuals may fire out of state for EIC points, but are ineligible to qualify out of state (with the team exception stated above)
States cannot combine their matches to meet minimum size requirements.
State Championship medals may be purchased through the CMP at $6.00 each by match directors.
Matches may be scored by any method. Center shots MUST be scored and recorded.
EIC points will be awarded based on cut scores listed in the current rulebook.
Important Dates
| | |
| --- | --- |
| Deadline to Sanction Match | 31 October 2017 |
| Deadline to Conduct Match | 1 November 2017 - 31 January 2018 |
Any questions regarding these guidelines or information about the CMP State Championships can be directed to CMP at [email protected] or 419-635-2141 ext. 731 or 702.