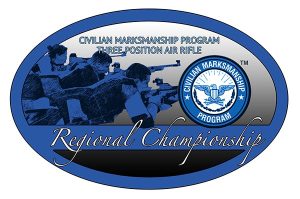 More Info
CMP Regional Championship
The Regional Championships will take place in three locations on two separate weekends.  Teams and individuals will be selected by regions based on their state.  Competitors will fire in two 3x20 competitions, with a final for the top eight individuals in both sporter and precision.  Only one alternate will be allowed to compete for each team (a total of 5 competitors).  Individuals will be invited from non-qualifying teams only.  Awards will be given at each regional championship based on that location's results only.  Results from all three regional championships will be combined to determine which teams and individuals advance to the National Championship.  Click http://thecmp.org/wp-content/uploads/2017AnnistonSquadding.pdfhere more information on the National Three Position Air Rifle Championships.
Dates and Locations:
North East Region
 Camp Perry, Ohio

Gary Anderson CMP Competition Center

Camp Perry Training Site

Port Clinton, OH

30 March- 1 April 2017
South East Region
Anniston, Alabama

CMP Competition Center

1470 Sentinel Drive

Anniston, AL

30 March- 1 April 2017
Western Region
Layton, Utah

Davis Conference Center

1651 North 700 W

Layton, UT 84041

6-8 April 2017
Qualification
Competitors will be invited based on their performances in the CMP State Championships and the CMP Postal Competition, as described below. If your team would like to compete at an alternate location, you may request a switch and we will try to accommodate all switches.
FIRST SELECTIONS
The first selections will come from the CMP State Championships.  The top team and individual in both sporter and precision from each state hosting a State Championship will be invited to attend the match from their region.  These invitations are not passed to the next team/individual from that state.
SECOND SELECTIONS
Second selections will come from the postal match.  The top teams/individuals nationally will be invited.   The number of teams and individuals invited will be based on the chart below.  Regional qualifiers will be posted on or before 15 February 2017. Teams and individuals that do not register on or before 2 March will NOT be guaranteed a spot in the event.
 THIRD SELECTIONS
 Additional selections based on the postal results will be posted as space at each location permits.  This will be NLT 3 March 2017. Match registration will close on 22 March 2017.
Region
Region States
Precision
Sporter
Total Participants
North East Region
Regional Location: Camp Perry, Ohio
Connecticut, Delaware, Illinois, Indiana, Iowa, Kentucky, Maine, Maryland, Massachusetts, Michigan, Minnesota, Missouri, New Hampshire, New Jersey, New York, North Dakota, Ohio, Pennsylvania, Rhode Island, South Dakota, Vermont, Virginia, West Virginia, Wisconsin
20 Teams
15 Individuals
20 Teams
15 Individuals
230
South East Region
Regional Location: Anniston, Alabama
Alabama, Arkansas, Florida, Georgia, Louisiana, Mississippi, North Carolina, South Carolina, Tennessee
20 Teams
15 Individuals
20 Teams
15 Individuals
230
Western Region
Regional Location:
Alaska, Arizona, California, Colorado, Hawaii, Idaho, Kansas, Montana, Nebraska, Nevada, Nevada, New Mexico, Oklahoma, Oregon, Texas, Utah, Washington, Wyoming
15 Teams
15 Individuals
15 Teams
15 Individuals
180
TOTAL REGIONAL PARTICIPATION
55 Teams
45 Individuals
55 Teams
45 Individuals
640
Lodging:
Camp Perry, Ohio
http://thecmp.org/competitions/cmp-national-matches/area-lodging-links/
Anniston, Alabama
http://thecmp.org/competitions/cmp-national-matches/area-lodging-links/area-lodging-links-al/
Layton, Utah
TBA
For more information, please contact us at [email protected] or (419) 635-2141, ext. 731.