More Info
National JROTC Championship Results
Service Results
Postal Results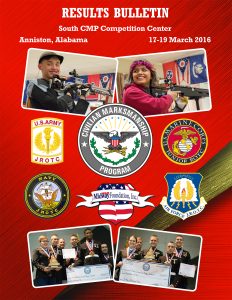 AL Housing Links
View Event Photos: Zenfolio
Live Target Views
JROTC National championship
The Civilian Marksmanship Program (CMP) proudly invites the top junior cadets from around the country to compete for the highest honors at the 2016 JROTC Three-Position National Championships, held March 17-19 at the CMP South Competition Center in Anniston, Ala. Air rifle athletes from Army, Navy, Marine Corps and Air Force JROTC (Junior Reserve Officers' Training Corps) units will compete together in order to establish who has the right to be called National Champions.
In October 2015, 7,483 junior shooters participated in the 2015-2016 Postal Competition, with the highest-scoring shooters in each branch qualifying for the JROTC Regional Service Championships in February 2016. Top shooters and teams from each Regional location (Ohio, Alabama and Utah) then earned a spot at the National Championship, where the overall winners will finally be determined.
The event is a 3x20 air rifle match, meaning competitors fire 20 record shots from three positions: prone, standing and kneeling. Visitors are welcome into the range to observe the National Championships at any time during the match – with free admission. All are encouraged to come witness this unparalleled display of young talent.
In 2016, Larry and Brenda Potterfield Co-Founders of the MidwayUSA Corporation have again provided generous donations for this Championship.  Funds will be distributed to winning teams and individuals of the JROTC Championships.  Those funds will be placed in the teams endowment account with the MidwayUSA Foundation.  The MidwayUSA Foundation is a 501c(3) public charity that helps communities and organizations raise funds to support youth shooting teams and activities. The Foundation is an endowment which  helps fund team expenses today and into the future.
The CMP South Competition Center houses an 80-point air gun range – equipped with 10-meter firing points and state-of-the-art electronic targets to accommodate air rifle, air pistol or National Match Air Rifle shooting. The electronic targets, used in some of the most elite ranges in the world, update scores automatically and display them on large television monitors within the range to allow spectators to keep track of the intense competition.
| | |
| --- | --- |
| | Postal Competition |
| 26 September 2016 | Online Registration Begins |
| 16 November 2016 | Online Registration Ends |
| 1 December 2016 | Targets must be received at CMP (late targets will not be scored) |
| 5 December 2016 | Preliminary Results Posted |
| 9 December 2016 | All scores final (protests may not be made after 8am) |
| | Service Championships |
| 9-11 February 2017 | Las Vegas, NV (USMC Service Championship, Army & Air Force Regional) |
| 9-11 February 2017 | Anniston, AL (Army & Air Force) |
| 16-18 February 2017 | Camp Perry, OH (Army & Air Force) |
| 16-18 February 2017 | Anniston, AL (Navy Service Championship) |
| | National JROTC Championship |
| 23-25 March 2017 | Anniston, AL (all 4 services) |
If you have questions regarding the JROTC Postal Championships, please email [email protected] or call (419) 635-2141, ext. 730.
The CMP also supports JROTC by providing training and curriculum to JROTC Instructors (see the JMIC Instructor Courses under "Training"). The CMP also offers scholarships. Find out more information by visiting the CMP Scholarship web page.