More Info
National JROTC Championship Info: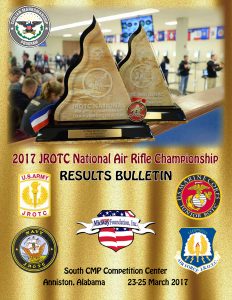 2017 JROTC AIR RIFLE National championship
Congratulations to all JROTC unit teams and individual cadets that qualified for the 2017 JROTC National Championships. This competition is the final leg of the JROTC Postal series, where the top qualifying teams and individuals from each JROTC Service, will compete in a shoulder to shoulder competition.  This competition is scheduled for 23-25 March in Annison, Alabama.
The U. S. Army Cadet Command, TECOM, the Naval Service Training Command, AFOATS and the Civilian Marksmanship Program (CMP) jointly conduct this competition. The 2016-2018 11th Edition of the National Standard Three Position Air Rifle Rules governs. Rulebooks may be downloaded from the CMP web site at http://thecmp.org/air/national-standard-three-position-air-rifle-rules/
If you have questions regarding the JROTC Postal Championships, please email [email protected] or call (419) 635-2141, ext. 730.
The CMP also supports JROTC by providing training and curriculum to JROTC Instructors (see the JMIC Instructor Courses under "Training"). The CMP also offers scholarships. Find out more information by visiting the CMP Scholarship web page.