More Info
Service Championship Info:
Service Championship Program
Anniston Schedule
Anniston Squadding (Feb 16-18)
Camp Perry Schedule
Camp Perry Squadding
Army Qualifiers
USMC Qualifiers
Navy Qualifiers
Air Force Qualifiers
Service Championship Registration
Decline Form
How to create a CT Number
Create a CT number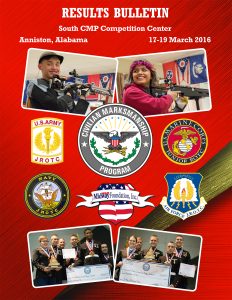 2017 JROTC AIR RIFLE service championship
Congratulations to all JROTC unit teams and individual cadets that qualified for the 2017 JROTC Service Regional Championships. This competition will give JROTC units and individuals who earned the right to represent their schools an opportunity to meet the challenges of a major shoulder-to-shoulder competition. The JROTC Service Championship is also the qualifying competition for the 2017 National JROTC Championship. Individual and team JROTC Championship awards will be presented and the top unit teams and at-large individuals will qualify for the National JROTC Championship CMP Competition Center in Anniston, AL on 23-25 March 2017. The Service Championship Program governs the conduct of the championship and provides information so JROTC units that qualified teams or individuals can plan their participation. Thank you to Midway USA for their contributions!
The U. S. Army Cadet Command, TECOM, the Naval Service Training Command, AFOATS and the Civilian Marksmanship Program (CMP) jointly conduct this competition. The 2016-2018 11th Edition of the National Standard Three Position Air Rifle Rules governs. Rulebooks may be downloaded from the CMP web site at http://thecmp.org/wp- content/uploads/Rules.pdf.
If you have questions regarding the JROTC Postal Championships, please email postals@thecmp.org or call (419) 635-2141, ext. 730.
| | |
| --- | --- |
| | |
| | Service Championships |
| 9-11 February 2017 | Las Vegas, NV (USMC Service Championship, Army & Air Force Regional) |
| 9-11 February 2017 | Anniston, AL (Army & Air Force) |
| 16-18 February 2017 | Camp Perry, OH (Army & Air Force) |
| 16-18 February 2017 | Anniston, AL (Navy Service Championship) |
| | National JROTC Championship |
| 23-25 March 2017 | Anniston, AL (all 4 services) |
The CMP also supports JROTC by providing training and curriculum to JROTC Instructors (see the JMIC Instructor Courses under "Training"). The CMP also offers scholarships. Find out more information by visiting the CMP Scholarship web page.