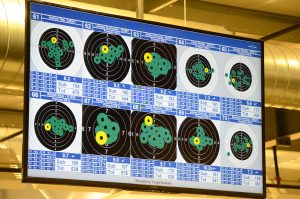 At this time, we are updating the software to allow for Live Target images with our newly installed CMP Targets featuring KTS Technology. Please check back for updates.
Each of our Marksmanship Centers, including our Mobile Range, contains state-of-the-art electronic targets that instantly record scores as each shot is fired. Shot-by-shot feeds are then displayed online through our Live Target Images and can be viewed anywhere there is an Internet connection.
SCORING ON ELECTRONIC TARGETS
Air Gun shooting is done at 10 meters and the size of the 10 ring is 0.5mm.  Target is same size as touching this dot: .  Scoring on electronic targets is recorded to the nearest tenth with a 10.9 being the highest score.