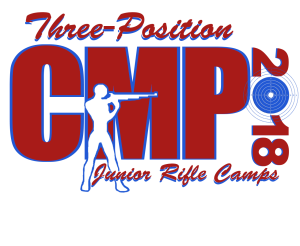 More Info
VENUES WANTED:
Results:
Each summer the Civilian Marksmanship Program sponsors a popular series of Junior Air Rifle Camps and Clinics to teach intermediate and advanced rifle marksmanship skills to junior shooters and their adult leaders. This bulletin provides detailed information about the camps and how to apply to attend them. You may click on each of the following camp links to learn site-specific information about each camp. All camps are one week long, three-position air rifle camps, with the exception of the Outreach Clinics and the Advanced Standing Camp.
Camp Dates:
2019 dates will be posted in January
CAMP COSTS:
The tuition the CMP charges for these camps does not begin to cover the total cost of operating the camps; the CMP subsidizes the camp program through its budget for the camps.
The 2019 CMP Junior Rifle Camp Fees are as follows:
$285 (athlete) $50 (adult) for Three-Position Air Rifle Camps
$225 (athlete) $50 (adult) Advanced Standing Camp
$175 (athlete) $30 (adult) for Clinics
CAMP REGISTRATION PROCESS:
First, read the camp information page linked to your desired camp.
A $50.00 deposit or full payment and a Medical Release Form is required with each athlete and adult Registration Form. Incomplete registrations will NOT be accepted. All deposits are nonrefundable.
Links to the Registration and the Medical Release Forms can be found at the bottom of this program. Payment for camp may be made via check or credit card. Fees submitted with registration forms will be returned in the event a desired camp is full.
Adult Leaders will be notified via email of athlete/team acceptance to a camp. Adult leaders: please provide a valid email address and phone number with registration form.
Fees are non-refundable once a participant is accepted into camp, but they may be applied to a substitute participant. To substitute a participant, a PARTICIPANT SUBSTITUTION FORM must be submitted to CMP, a link to this form is provided at the bottom of this program. Substitutions will not be accepted over the phone.
Participants unable to attend a camp, for which registration is complete and fees are paid, must notify Chance Cover or Catherine Green in writing two (2) weeks prior to the beginning of their selected camp. Fees (less the $50 deposits) will be refunded for good cause shown prior to 10 May. Cancellations, with good cause shown, after 10 May will receive a refund for half (1/2) of the camp fees. THERE WILL BE NO REFUNDS GIVEN FOR "NO SHOWS".
**FORMS AND INFO REQUIRED FOR REGISTRATION**
You will need a Competition Tracker Number (CT#) to Register. If you do not remember your CT#, or do not have one, please go here
Instructions to find or create a CT# can be found here.
ONLINE REGISTRATION LINKs:
To register online, you must log into Competition Tracker (CT) separately for each individual that is registering for your group. This means you will need the Competition Tracker User Name and Password for each person.
Team registration is not possible for Junior Rifle Camps. You must register each team member separately.
LINKS TO PAPER REGISTRATION AND MEDICAL RELEASE FORMS:
These are fillable PDF forms, meaning you can type directly on the form then save a mail, email, or fax into CMP.
MEDICAL RELEASE FORM AND CONTEST FORM
PAPER REGISTRATION FORM
SUBSTITUTION FORM
Civilian Marksmanship Program
Junior Rifle Camp Registration
P.O. Box 576
Port Clinton, OH 43452
FAX – 419 635-2802
Please make sure your contact information is correct so we may send you your confirmation email. If you have further questions about the CMP Junior Rifle Camps, please contact:
Or

Catherine Green

CMP Junior Rifle Camp Registrations

419-635-2141 ext 704

[email protected]
More Info In Junior Air Rifle Camps and Clinics